Tuesday, May 19, 2009
12:11 PM | Being Onion-Skinned, Roger Ebert, and Kinatay in Cannes
I kinda berated myself after
incessantly blogging
about the hostile reviews of Brillante Mendoza's
Serbis
in Cannes last year. After a few days of doing that, I thought Mendoza finally didn't deserve the clawing: being in Cannes was honor enough -- and I didn't even see
Serbis
to merit what I did.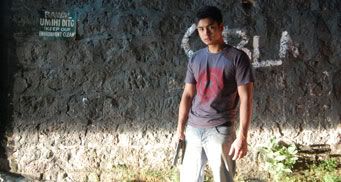 But
Roger Ebert
, a film critic I hold in such high esteem, now calls
Kinatay
(Mendoza's latest entry to the Main Competition) the worst film ever screened in Cannes history. Or more precisely: "Here is a film that forces me to apologize to Vincent Gallo for calling
The Brown Bunny
the worst film in the history of the Cannes Film Festival."
Ouch.
I don't know what to say -- and I won't say anything at all, with the film still sight unseen by me.
What I want to say though is this: some of the Filipino commenters in Ebert's blog post on
Kinatay
are so embarrassingly dramatic. Histrionic even.
Nakakahiya.
Read them and weep for our thin-skinned-ness.
Labels: cannes, criticism, directors, festivals, film, rants
[3] This is Where You Bite the Sandwich
---