This is the blog of Ian Rosales Casocot. Filipino writer. Sometime academic. Former backpacker. Twink bait. Hamster lover.
Interested in What I Create?
Bibliography


The Boy The Girl
The Rat The Rabbit
and the Last Magic Days
Chapbook, 2018




Republic of Carnage
Three Horror Stories
For the Way We Live Now
Chapbook, 2018




Bamboo Girls:
Stories and Poems
From a Forgotten Life
Ateneo de Naga University Press, 2018




Don't Tell Anyone:
Literary Smut
With Shakira Andrea Sison
Pride Press / Anvil Publishing, 2017




Cupful of Anger,
Bottle Full of Smoke:
The Stories of
Jose V. Montebon Jr.
Silliman Writers Series, 2017




First Sight of Snow
and Other Stories
Encounters Chapbook Series
Et Al Books, 2014




Celebration: An Anthology to Commemorate the 50th Anniversary of the Silliman University National Writers Workshop
Sands and Coral, 2011-2013
Silliman University, 2013




Handulantaw: Celebrating 50 Years of Culture and the Arts in Silliman
Tao Foundation and Silliman University Cultural Affairs Committee, 2013




Inday Goes About Her Day
Locsin Books, 2012




Beautiful Accidents: Stories
University of the Philippines Press, 2011




Heartbreak & Magic: Stories of Fantasy and Horror
Anvil, 2011




Old Movies and Other Stories
National Commission for Culture
and the Arts, 2006




FutureShock Prose: An Anthology of Young Writers and New Literatures
Sands and Coral, 2003
Nominated for Best Anthology
2004 National Book Awards


Follow the Spy




Recent Crumbs




Blogs I Read


© 2002-2018
IAN ROSALES CASOCOT
Tuesday, May 19, 2009
12:11 PM | Being Onion-Skinned, Roger Ebert, and Kinatay in Cannes
I kinda berated myself after
incessantly blogging
about the hostile reviews of Brillante Mendoza's
Serbis
in Cannes last year. After a few days of doing that, I thought Mendoza finally didn't deserve the clawing: being in Cannes was honor enough -- and I didn't even see
Serbis
to merit what I did.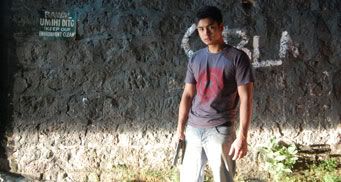 But
Roger Ebert
, a film critic I hold in such high esteem, now calls
Kinatay
(Mendoza's latest entry to the Main Competition) the worst film ever screened in Cannes history. Or more precisely: "Here is a film that forces me to apologize to Vincent Gallo for calling
The Brown Bunny
the worst film in the history of the Cannes Film Festival."
Ouch.
I don't know what to say -- and I won't say anything at all, with the film still sight unseen by me.
What I want to say though is this: some of the Filipino commenters in Ebert's blog post on
Kinatay
are so embarrassingly dramatic. Histrionic even.
Nakakahiya.
Read them and weep for our thin-skinned-ness.
Labels: cannes, criticism, directors, festivals, film, rants
[3] This is Where You Bite the Sandwich
---