This is the blog of Ian Rosales Casocot. Filipino writer. Sometime academic. Former backpacker. Twink bait. Hamster lover.
Interested in What I Create?
Bibliography


The Boy The Girl
The Rat The Rabbit
and the Last Magic Days
Chapbook, 2018




Republic of Carnage
Three Horror Stories
For the Way We Live Now
Chapbook, 2018




Bamboo Girls:
Stories and Poems
From a Forgotten Life
Ateneo de Naga University Press, 2018




Don't Tell Anyone:
Literary Smut
With Shakira Andrea Sison
Pride Press / Anvil Publishing, 2017




Cupful of Anger,
Bottle Full of Smoke:
The Stories of
Jose V. Montebon Jr.
Silliman Writers Series, 2017




First Sight of Snow
and Other Stories
Encounters Chapbook Series
Et Al Books, 2014




Celebration: An Anthology to Commemorate the 50th Anniversary of the Silliman University National Writers Workshop
Sands and Coral, 2011-2013
Silliman University, 2013




Handulantaw: Celebrating 50 Years of Culture and the Arts in Silliman
Tao Foundation and Silliman University Cultural Affairs Committee, 2013




Inday Goes About Her Day
Locsin Books, 2012




Beautiful Accidents: Stories
University of the Philippines Press, 2011




Heartbreak & Magic: Stories of Fantasy and Horror
Anvil, 2011




Old Movies and Other Stories
National Commission for Culture
and the Arts, 2006




FutureShock Prose: An Anthology of Young Writers and New Literatures
Sands and Coral, 2003
Nominated for Best Anthology
2004 National Book Awards


Follow the Spy




Recent Crumbs




Blogs I Read


© 2002-2018
IAN ROSALES CASOCOT
Thursday, November 26, 2009
10:13 PM | In Memory of Connie Jayme-Brizuela and the Other Victims of the Ampatuan Massacre
The massacre was spawned by a culture of impunity that has long been kept unchecked by a government that is now widely perceived by the international community to be tolerant or approving of extrajudicial killings, enforced disappearances and other human rights violations.
This culture of impunity imperils the exercise of the legal and media profession in the country and the defense of human rights and fundamental freedoms including the right to suffrage.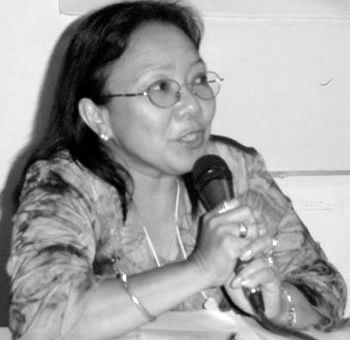 We can only surmise that, as a lawyer, Connie must have asserted herself as part of the negotiating panel to ease the tension or to remind their would-be attackers of the rule of law, if any such dialogue could have occurred at all. We are certain as well that Connie, having been a broadcaster herself, and her companions, had thought that a horde of media practitioners and the presence of women would deter any act of violence against their party.
But because of the culture of impunity in this country, these have become mere notions.
The unchecked rule of political warlords like the Ampatuans, army and police units like those controlled by President Arroyo's mistahs, and warmongers in government like General Hermogenes Esperon and National Security Adviser Norberto Gonzales, make up a culture of tolerance for killings and contempt for the rule of law. Thus, this culture of impunity traces itself right back at the doorstep of Malacañang.
Atty. Connie Jayme-Brizuela had been at the forefront of the campaign against impunity. We are outraged that it has caught up with her through this tragic and gruesome death. We will miss her. She was a gentle but firm and determined human rights advocate. In her diminutive frame loomed large a feisty peoples' lawyer and human rights defender undeterred by the rich and the powerful in Mindanao.
Labels: issues, murder, politics, rants
[0] This is Where You Bite the Sandwich
---