Read Part 1
|
Read Part 2
|
Read Part 3
"We do too many fashion shows in Dumaguete."
—PATRICK BOGLOSA,
event organizer
It was already 6 o'clock in the late Saturday afternoon of August 29—and Dumaguete was at the start of the difficult process of winding down after the weeklong founding celebration of Silliman University.
It was the last day for a partying month—and the night to come was to be the last call for letting down one's hair. "It was party to the limits, or bust," recalled Gerard Anthony Adiong.
The entire month was already a veritable beehive of activity, but the seven days before this day had been particularly crackling with the excitement of a mob let loose: Silliman's collegiate throng—and this is the only crowd that actually makes the city alive—saw no classes, and there was suddenly the excuse, the daily invention to party.
Mostly, they descended on Hibalag, the booth area near the Silliman gym—a bastion of tradition, and in the old days even bigger than the city fiesta, that had lasted decades. The year's edition of Hibalag, even if small, was still surprisingly particularly zesty, its sense of fun miraculously infectious after seven years of morass that had its size and ambition contract year by year. This year's Hibalag, needless to say, still mostly paled in comparison to the booths of more than a decade ago, when the soccer field became a virtual bustling city of
nipa
and
amakan
and
kawayan
, filling the entire span from Larena Hall to the Silliman Library, from the gymnasium to the Divinity School. There were a maze of byways and little streets that it was easy to get lost in the storm of organizations ready to spring on you both pranks and innovative commerce.
But even then, all throughout the week, there had been food fairs, and class reunions, and private parties, and exhibitions, and concerts, and horror chambers, and beauty pageants, and fashion shows, and tattoo artists plying their trade. August 29 was the last day of all that—and people seemed bent on giving the month that one last fling before they settled to the ides of September.
On that date, at six o'clock, Jaysun Penales, an event organizer and a clinical instructor at the College of Nursing, was still at Barefoot Bistro doing last minute preparations for the event he would be hoisting on the city late that night. It was the third edition of an annual "fashion fling" he called D'Ramp—and all pressure was on him. Already this one was the fourth—and the last—fashion show to hit Dumaguete in a week. Only that Wednesday, and in the same venue, Toto Marquez and his crew had already unleashed their Sneak Foam Party that featured a revealing ramp show of models wearing nothing but the skimpiest of beach wear. (The foam party part, however, was largely a bust—
there was no foam, and nobody partied
.) The following night, annexing Barefoot Bistro and El Camino Blanco this time around, Tyrone Tejam amped the ante with his X International Fashion Party that brought in a Manila deejay and a batch of international models, purportedly Eastern European and Brazilian.
Was Dumaguete already in a fashion fatigue? The tickets for the previous shows had already been priced quite high, one at P200 and the other at P500—enormous sums for the notoriously cheap Dumaguete crowd. The lingering question remained: was there a paying crowd left for D'Ramp 3, even at P150 per ticket? Better yet: would anyone be left to care for what passed for a fashion show in the city?
Fashion shows in Dumaguete are relatively a new phenomenon—although Dumaguete society had long since done their share from the 1960s on with private fashion shows exclusive to their well-heeled ilk. The city had never really been fashionable, given everybody's predilection for tropical uniform: a white shirt, a pair of "city shorts," and sandals. The idea of couture is largely lost, but in the late 1990s and finally in the 2000s, fashion shows became almost an epidemic—and it came out in all sorts of disguises, from low-brow bikini opens celebrating the carnal, to wedding shows at the boulevard at the height of May.
Some call the phenomenon a travesty.
"Sometimes," says local fashion designer Josip Estolloso Tumapa, "I do agree that we do a lot of fashion shows in Dumaguete. But it is quite an insult to attach the word 'fashion' in relations to many of these shows. Because some are done with intentions other than serving fashion. They're more like Monterey 'walking-meat' shows. They're partnered mostly RTW boutiques that make everything look ... commercial. If I were to pay P150 to see clothes that I see anytime I want just by walking the streets of this city, then hell I would rather sweat it by walking rather than paying. It's getting
kapoy
. And it's getting generic. That is why I do filtering on the events I am invited to—to only work with established or semi-established and competent, well-experienced people in the field of production whom also I can learn from. And to check the production plans and see that everything won't be half-baked.
Lisud naman gud
especially from my side. Here I am working and enslaving myself making clothes and—
ugh, utter disappointment
. But I think it comes in stages. Hopefully Dumaguete will get there sooner than later if we do serve the growing Dumaguete 'fashion crowd' with something deserving and worth the money. Nothing run-of-the-mill."
Mr. Penales, in the meantime, hung on to what he thought would make his show a little different—
this was going to be a bigger show
, featuring almost fifty models culled from the various social sets around Dumaguete and Cebu. And he was also launching Faces magazine, a project he was editing for Negros Chronicle, which for its first issue would showcase what he called "the fifteen hottest bachelors of the city." Most of those bachelors—which included the ragtag bunch of Gabby del Prado, Ian Lizares, Marco Ongsingco, Dudly Mark Realuyo Rios, Farzad E. Pakdamanian, Jonathan Keane Camat, Jacob Carl Jumawan, Ian Rosales Casocot, Saturnino Pacencia Jr., Bernard Piñero, Kyle Janruss Delfino, and Ralph Percidenes—would open the show and walk the ramp. He believed people would come.
It was the last night of the Founders Week, after all. People would come.
And then it started to rain hard.
Dressed only in a plain orange shirt and shorts and a pair of slippers, Mr. Penales had been doing last minute preparations, checking that everything was set—the lights, the sounds, the stage that had been hurriedly set up only that morning, the makeshift dressing area, the sponsors' various tarpaulin, the arrangement of the models' clothes. It would have been a logistics nightmare, but his production assistant Bogy Lim, a quiet young man whose unassuming air belies a sharp fascination for dealing with details, was busy zeroing in on the essentials. Somewhere in the chaos, Angel Gonzales, another production assistant, counted out the clothes, and the choreographer Janjaran was busy plotting out the intricate finalities of the models' movements on the long runway, a not-so-sturdy plank made of lawanit that was now beginning to get soaked in by the pouring rain. The models, meanwhile, were billeted in three hotels around town—in Hotel Carmila, in Hotel Nicanor, and in Ildesefa. Call time was six o'clock, and all were busy getting their makeup. They were all getting hungry, but no one dared eat—it wouldn't be good to look puffy and stuffed in front of a crowd. And some of them would be wearing lingerie and stylish briefs in a few segments. In Room 303 of Hotel Nicanor, event organizer Kathleen Hynson Patacsil was helping put on the makeup for the boys while the newly made-up Aesha Amigo Villanueva gingerly brushed away the hotel's curtains and looked out the window to see the rain pouring down like mad on San Jose Street. "Do you think it's still going to rain at 10 o'clock?" she asked no one in particular. "Will we even have a show?"
The show, of course, was still a distant four hours away, but the rain was not helping anybody—including those who planned to see the show—feel at ease. In her house somewhere in Valencia, Arlene Delloso-Uypitching was a little worried about the tickets she was promised, and also the possibility of getting wet. In Hotel Carmila, Miss Dumaguete Maria Luz Catan was not happy with her make-up, and swore to hop to another hotel and another make-up artist, her boyfriend and fellow model Ian Lizares in tow. Back in Barefoot Bistro, sitting quietly at the bar, Mr. Penales was already thinking in terms of contingencies—what he would do if the rain persisted, or if a blackout would occur? But he was also thinking:
what would I wear?
It had to be something that would make him look good on stage. He wanted to go home, take a shower. He felt sticky and sweaty despite the cold air.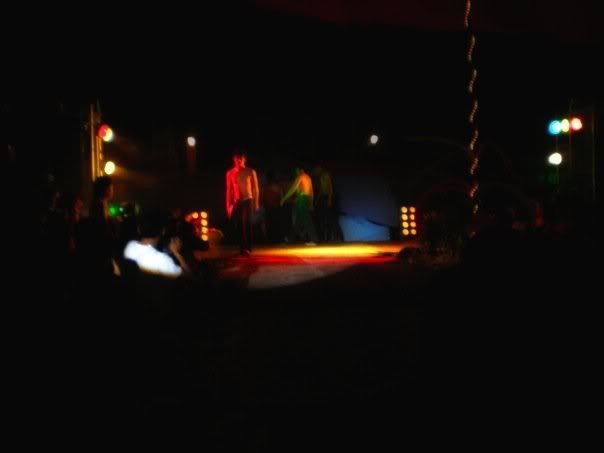 Earlier that Saturday morning, things were the very picture of preparations going well. The day was fine and bright, the skies blue. It had been rainless all of August, and no one would foresee the drench of rains ahead. That morning, El Camino Blanco and Barefoot Bistro—the twin venues for things nocturnal in Dumaguete—looked quite different in the daylight that at nighttime, at the height of weekend parties where the darkness hide the empty beer mugs, the ashtrays filled with discarded cigarette butts, the curious flirtations between friends and strangers alike. In the daylight, the remnants of Friday night were all too clear and topsy-turvy—it looked like the aftermath of a battle. The tables and chairs were haphazard, some in a dance of tumbled madness. Everywhere, the carpenters and electricians were busy putting in the effects for the duo events for the night—D'Ramp 3 and the Philip Morris Party. The ramp in the bistro was being built—a plywood runway held together by a flimsy wood frames. The speakers were being put in place, the tents unfurled. Inside Camino, new lights—better, more dramatic ones—were being installed, and a new deejay's booth being placed on stage. The models were in clusters were everywhere, all trying to get last minute instructions for how to move that night. Still, this was going to be my first time to walk the ramp—I have never "modeled" before, if that was the word for it, as I was always in the background of things as these events go. But I took to the experience as an observer of new things—and came to this conclusion once said to me by a friend, a socialite: "I like fashion shows. They're shallow fun, and vanity is the perfect excuse for being in the center of things." But considering the rain later, I asked ruefully,
would the "debut" even happen?
But by nine o'clock, the rain was slowing down—but it would not readily vanish away. It slowed down in spurts. It was still cold, but at least nobody was going to get wet, except by stray showers. By ten o'clock, the two red billowing tents that graced the catwalk and the rows of chairs that surrounded it were filling to the brim, and by the time the fifteen bachelors walked the ramp to open the show to the tune of Pitbull's "I Know You Want Me," the crowd was screaming. At nearby El Camino Blanco, the now legendary Philip Morris Party was also starting.
The night of August 29 was going to be a night everybody would remember.
Later on, Mr. Penales would tell me it was not glamorous at all, the staging of fashion shows—it was all of grit and tons of headache. But it was fun.
"Why do you do it then?" I asked.
"Passion," he replied.
(To be continued…)