Monday, October 19, 2009
9:11 AM | Lav Diaz on Film Censorship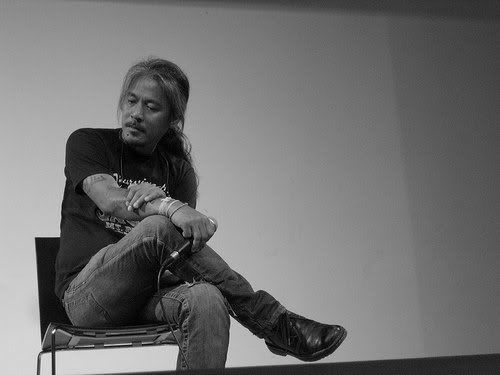 The Board of Censors here in the Philippines banned my films, my two films that won at the Orizzonti of the Venice Film Festival. There's nudity and sex, they said. Without proper critical viewing of my films by the honorable members of the Board of Censors, they deemed the films not appropriate for viewing here in their country of origin. They banned other works, too. And lately, they have been encroaching on the freedom of venues like the Adarna Theatre of the University of the Philippines. Benito Mussolini must be very proud.
I'll say it again. Censorship is poison to cinema. Censorship is poison to the arts. Censorship is poison to culture. Censorship is a very feudal act. It is fascism.
The invitation also says that I should talk about my Venice experience. So, here's a piece from a Filipino independent pornography filmmaker. First, I would like to congratulate the 8th edition of the Italian Film Festival here in our beloved battered Philippines. The Venice Film Festival or the Mostra Internazionale d'Arte Cinematografica di Venezia is the Mother of film festivals. It is the oldest film festival in the world. This tradition of mounting film festivals had its beginning in Venice, Italy in 1932. In 1952, the first Filipino film to compete, Manuel Conde's
Genghis Khan
, exhibited in Venice. In 1985, Mike de Leon's
Sister Stella L.
was shown at the festival. And in 2007, my film
Death in the Land of Encantos
competed and won Special Mention at the Orizzonti section of the festival. The following year, in 2008, my film
Melancholia
, competed in the same section and won the Orizzonti Prize. This year, Briliante Mendoza's
Lola
was a Philippine entry at the Main Competition and Pepe Diokno's
Engkwentro
coveted two prizes, the Orizzonti Prize and the Luigi di Laurentii Lion of the Future Prize. Despite the dearth of our participation in the seventy six years existence of the Mostra, only six films to date, we have had a very triumphant and respectable run. Long live, Philippine cinema, indeed! And I would like to point out that despite the absence of state support in our cultural struggle, in the state's sheer ignorance on the very important role of the arts in educating our people, cultural workers, especially artists and activists, persevere in pursuing greater discourse and praxis in this vast wasteland called the Philippines.
[from a speech read by angeli bayani for the 8th italian film festival in manila, 14 october 2009. photo and note courtesy of adolfo alix jr.]
Labels: censorship, directors, film, issues
[0] This is Where You Bite the Sandwich
---