Saturday, November 21, 2009
Part Five of a Series on Night Life in Dumaguete
Read Part 1
|
Read Part 2
|
Read Part 3
|
Read Part 4
"It's not easy being an event organizer. It's all just flash, and more flash."
—POL CADELIÑA,
local event organizer
Let it be said that, as with any profession worth its salt, an excess of passion and the capacity for thinking out of the box very much define this strange new career called Eventology. It helps its dubious respectability, especially if the poster boy for that line of work bears the mug of Tim Yap, society magician, alleged ringleader of the notorious Gucci Gang—and favorite whipping boy for the commonplace complaint for First World excess in Third World reality.
Because it is a career entirely weaved out of the celebration of the "superficial," it largely bears little respect the way a career in law or medicine would be—which is ironic since there is nothing like the promise of spotlight and glitter that can seduce even the high and the mighty. Like Oscar Wilde's dictum that confers shallowness on those who do not get the importance of judging by appearance, it recognizes that the glitter of things is more often a barometer for the real.
In Dumaguete, event management—be it for club parties, concerts, or fashion shows that are slowly becoming ubiquitous in this city—is not entirely something new. People, after all, have been managing and putting up parties in Dumaguete forever. But as a full-time profession in a small city not exactly known for its partying ways, it is still largely something that falls below the radar. And yet it is increasingly lucrative.
A series on the Dumaguete night life can never be complete without the voices of those who conjure the magic of the events we go to. And so I gathered together three of Dumaguete's current eventologists—Tomas Alvin Timbancaya (more popularly known as Dok), Kathleen Hynson Patacsil (more popularly known as Kleng), and Tyrone Oliver Tejam—all hardworking local organizers (and rivals) who work behind the scene of every dance party, corporate event, fashion show, and concert you have probably gone to in the last five or six years. All, they said, in an effort—too often quixotic—to try to enliven up the place and make it truly worth its "city" moniker.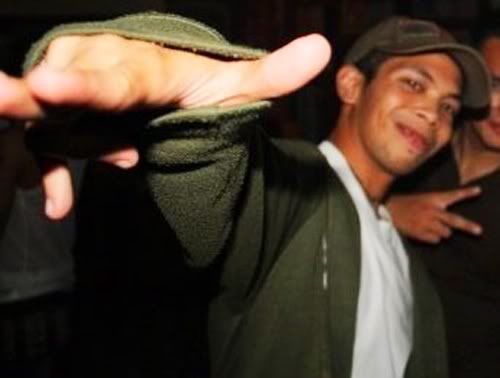 Dok is basically known as the guy in-charge of promoting the any-given-month's KillerBee party, usually held at El Camino Blanco. "I make the best poster and tarpaulin designs around town—and some people actually collect them, and there is always anticipation for the next KillerBee poster model," Dok says. He was president of the KamiZeta fraternity and sorority for three years, and was the chair of the Silliman University Council of Student Organizations twice.
"I am into advertising and promos," he continues. "I suck with anything that has to do with academics, unless I find the subject remotely interesting. I also enjoy movies and videogames a lot." 

What people don't know about Dok is that he has
actuall
y already graduated from college (although you won't immediately deduce that just by looking at him) and is now taking up MBA at Silliman. ("Yes," he says. "Finally. I know.
Hush
.") He does penciling and cartooning, too, and plays the piano. "I like liquiding and raving with glowsticks. I like thought-provoking readings, too," he continues. "I listen to all kinds of music—except for J-Pop, diva RnBs, gangta rap, farty jeepney technos, noontime Pinoy music, and other sorts of
ka-jologan
." He used to rappel down Doltz Hall using bed sheets—"never-been-caught!"—to escape into the Brickhouse and party out at El Camino, but lately, he prefers Escaño with friends over any bar or club.
Kleng is a Mass Communication student in Silliman, and, like Dok, is also into the arts—especially cosmetic artistry, theater, and fashion.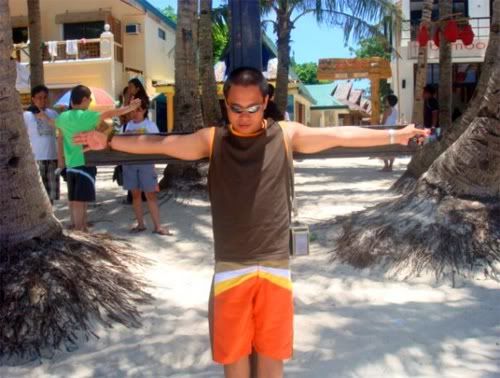 Tyrone, on the other hand, has already established an image of being the "life of the party." He is the lead vocalist of the Koo Fellas, and he is the constant host of various events and parties around town. "I manage talents, and I produce and organize events," he says. "What they probably do not know is that while doing all these, I mean business. I am strict at making sure everything I do is to the utmost satisfaction of my clients. My obsessive-compulsive traits always play a vital role in the success of all my events."
What got them into events organizing in the first place?
For Kleng, her foray into a events organizing first started out as just a hobby. "I liked the idea of getting my hands into event organizing," she recalled. "This immersion made me realize that this was something I loved doing. It gives me a sense of fulfillment every time I know I've been part of making a certain event successful."
For Dok, it was a necessary, but completely unexpected, byproduct of his college partying years. "My buddies—Dindo Gatmaitan, Gigs Atega, Joel Canon, Mark Argote—and I partied hard on our first year in Dumaguete, between 2002 and 2003," he remembered. "From El Camino to Escaño to Detour and finally to the Brickhouse, two to three times a week. In the process, we partied and got acquainted with the Zetans, the Amicitas, and the other party socialites of that time. I joined Zeta—or KamiZeta as it is now known in Silliman, a school organization infamously known for having socialites who drink and party every chance they get, till dawn. I became its president in 2003."
As he recounts those days, one suddenly gets the feeling that with Dok comes a very specific chronicle of Dumaguete and its party scene in the late 1990s until the 2000s. "As 2003 went to a close, the trance era started going down," Dok recounted. "Chicane's
Love on the Run
was the last hit trance track, and the RnB and hip hop generation was on the rise. But it wasn't so fun anymore, at least for those who party out with ATB, Chicane, Happy, Safri Duo... Everyone was getting busy looking cute, sexy, and flashy in the club. People were a little less conscious before. El Camino went from free entrance, to getting in students with validated IDs, to P50 with two beer consumables, to P100 with no consumables. I think 2004 was a sad year for El Camino. In came 2005, with the advent of the more recent house tracks. I was comfortable at El Camino again."
In his second term as president of Zeta in 2005, he thought of organizing a one-of-a-kind fashion show—a "clique" fashion show with Penshoppe and Leila's Couture—during Founder Day, to feature the Miss Silliman candidates of that year and "all the other model-ly people in school." A friend, Mike Figdor, suggested that an event as big as that needed more marketing time to maximize the mileage offers for Penshoppe—and that was when KillerBee came into the picture. "This was how I got acquainted with Roy Bustillo, the KillerBee manager," said Dok.
Three days after the event, with Roy and Mike as backers (and with help from Zeta, Rodecans, Hermanas, and Amicitas), he gunned for another show featuring the SMBee Girls/KillerBee Girls composed Tanya Beatingo, Francine Arrieta, Sheena Santiago, Raissa Jalandoni, Ruth Libarnes, Sunshine Sarne, Aleen Diago, and others. "It was our first El Camino Event," Dok remembered. "We called it
POW—Party on Weekends
. San Miguel saw this and contracted me to organize the
Sarap Mag-Buglasan Bar Tour
with the SMBee Girls."
What they had, Dok said, was a vision to enhance the Dumaguete lifestyle and social leisure scene and to promote it as "a hotspot for culture, tourism, and investment by featuring a spending market that has a penchant for fashion, dining, spa-ing, networking, and partying." They wanted to revive the party scene in Dumaguete, particularly in El Camino.
That was when they conscripted Banda Mangga to be their featured band for the first
Sandurot Rhythm
that November. After that, there was
Sinulog at El Camino
in January the next year,
Love Sucks
in February,
Bar Exams
in March, and
Freshmen Nights
in June. These were their "mainstay" parties, but there were also "filler" parties for the months of July, August, September, and October. The party name and the "gimmick" that colored each one varied from year to year—but the rule was to jump on what was "hot" for the moment. Fitting that bill would be the white parties, the black parties, the fashion parties that came and went, featuring assorted motifs of bikes, bartenders, fire dancers, just to name a few. "We have a party every month—sometimes even twice a month," Dok said. 

Of course, it did not take long for Dumagute to start partying again. "The only time there would be people in El Camino in huge numbers would be when KillerBee holds a party," Dok observed. "After that, going to El Camino became part of the people's lifestyle again—at least on the weekends when we normally hold our parties." The other pieces of the partying puzzle started falling into place as well, and other organizing groups—such as those by Toto Marquez, Jaysun Penales, and Tyrone Tejam—soon came into their own and became more visible in 2008.
In many ways, Tyrone shares the same story as Dok. At 16, fresh from high school and gunning for a degree in Physical Therapy, he already acknowledged that partying was going to be his one major "vice"—and is now mightily surprised to find himself now making a business out of "this seemingly age-inappropriate habit of constant partying."
He recalls, "My craving for new, unique, and unusual events, I think, prompted me to try organizing some minor activities." Minor that is until, through and because of time, experience, and the large network that he has established through constant events organizing, things soon inevitably led him to building a local events agency that, accordingly, does not just aim to provide fun and excitement to his audience, but also strategies and solutions to clients. His agency—E-SOLUTIONS Events & Entertainment—would soon take Dumaguete by storm, and remains, to date, the most sophisticated in a city that is just beginning to realize that all shimmer may not be gold, but it sure does grab attention.
And shimmering attention, most of all, is the prize that all parties strive to get.
(To be continued…)

Labels: dumaguete, negros, night life, party
[0] This is Where You Bite the Sandwich
---