Sunday, May 23, 2010
12:28 PM | Eve of Gold at the Writers Village
By Krip Yuson
A swallow had built a nest up in a corner of the wall behind the row of panelists facing the young writing fellows during every session held in the half-covered terrace of the main cottage at Camp Lookout. It took a week of assembling fresh grass strips for the nest to be completed, just about the duration of the third and final week of the 49th edition of the longest-running creative writing workshop in Asia — the Silliman University National Writers Workshop usually held in Dumaguete every Maytime.
As we pored over every line in a poem, story or creative non-fiction piece that had merited entry into the 15-strong fellowship this summer, swallows darted in and out above our heads, seeming to circle the company seated four-square before long tables.
On another wall, a large moth had attached itself and stayed still for a couple of days. Cicadas would raise a racket every now and then, even well before noontime, so that some of us would raise our voices, too — while pointing out this metaphor or that run-on line, the full application of objective correlatives to enrich a narrative, the fresh phrase that entices as appealingly as a well-turned ankle.
Jimmy Abad and I flew in on a Sunday, ready to begin our annual service for the third week. We were delighted to find ourselves on the same flight as balikbayans and former workshop fellows Fidelito Cortes and Nerissa Balce, vacationing from the eastern seaboard of the USA where they have taken up academic life after several years in the Bay Area.
We agreed to meet for dinner at Residencia Al Mar where they would lodge, right on Rizal Boulevard facing the sea. I texted a couple of writing fellows — Gel Galang and Tina del Rosario, who had been my Ateneo students — to join us, and to make sure to bring along Ida del Mundo of DLSU, Starweek writer, and her fellow Greenie and boyfriend Carlo Flordeliza.
Fittingly rounding up the company on our first evening's socials was the workshop's director-in-residence, Dr. Rowena Tiempo Torrevillas, visiting for a month from her second home in Iowa City.
We learned of how this summer's batch was fortunate to break in the five brand-new cottages added to the former mainstay at Camp Lookout, with its commanding view of Tañon Strait. Now these six cottages constituted the Silliman University Rose Lamb-Sobrepeña Writers Village — a dream project conceived three decades ago by former SU President Dr. Quintin "King" Doromal, who had tragically left us recently.
Patron Enrique "Ike" Sobrepeña and current SU president Ben Malayang, under whose abiding interest and care the workshop had reverted to the university, reactivated the plan and before anyone knew it, the groundbreaking took place last November, and on Ike's wife Rose's birthday on April 10, the dedication and blessing ceremony for the site was held — in time for its first use for the 2010 writers' workshop.
The following day, a van picked us up early at 8 a.m. from Coco Grande Hotel near the SU campus, to ferry us through the town of Valencia and up the foothills of Mt. Talinis or Cuernos de Negros.
We had our first appreciation of the Writers' Village, a storied site for all those wondrous memories of decades past when we ourselves of a hoary generation had used it on weekend retreats, as far back as 1970 when the view was yet unbridled by now overgrown trees, and also notably during the 1984 workshop when Fidelito was a fellow, and most of us had spent overnight supine on the grass knoll under a majestic pine.
Now the main cottage has been rehabbed and refurbished, from its former all-wood confines to incorporate two concrete terrace levels. The 15 fellows soon joined us for the week's first session, after which we tried out one of the smaller cottages for a post-prandial power nap. Four decades of reveries empowered us on that double-decker.
The first-week panelists were Susan Lara, Danny Reyes and true-blue Dumagueteño Bobby Villasis. On the second week, Rowena and Dr. Myrna Peña-Reyes, another poet-resident, and guest foreign writer Xu Xi of Hong Kong took over.
A much-published author, Xu Xi recently gained another distinction as the Bedell Distinguished Visiting Writer at the University of Iowa's nonfiction program. She is presently the writer-in-residence at the English Dept. of The City University of Hong Kong, overseeing an international, low-residency MFA program that specializes in Asian Writing in English.
For the third week, Cesar Ruiz Aquino, now billed as Dumaguete's Borges cum Sinatra, joined Rowena, Jimmy and me in the panel. We weren't regaled by a similar highlight the fellows experienced on the second week — rolling fog quickly called "the mists of Avalon," but there were still the swallows, butterflies and moths that cavorted with the dynamic fresh literature we had morning and afternoon. And, of course, on the surrounding "glens" and woods and roadsides were spontaneous gardens that featured torch ginger, heliconia, medinilla, large lilac pansy, baby's breath, everlasting, cosmos, marigold, and wild red roses.
Joining the company too on the final week were balik-fellows Joel Toledo and Leslie dela Cruz, the latter a returnee from only two years ago, and now intent on completing a literary biography of Rowena and/in the workshop context.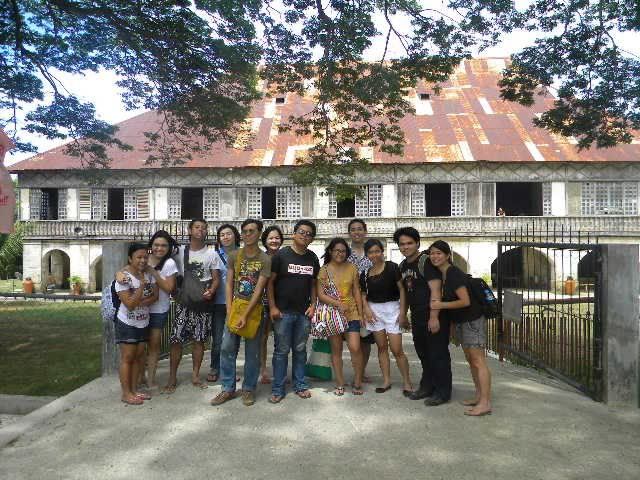 Besides Ida, Carlo, Gel and Tina, this summer's lucky fellers were Jacob Dominguez and Dominique Santos of UST; Anne Carly Abad, Gino Dizon and Gian Lao of Ateneo; Jenette Vizcocho of UP Manila; Kelly Conlon and Aaron Jalalon of UP Mindanao; and Sam Echavez, Miro Frances Capili (daughter of artist Ross Capili) and Oscar Serquina Jr. of UP Diliman.
The first week's Wednesday outing was hosted by Bravo Golf Course in Sibulan, formerly the Dumaguete Golf and Country Club, one of the country's earliest golf courses. The second week's picnic sessions were held at Lake Balanan off Siaton.
On our week, we were generously hosted by Annabelle Lee-Adriano and her family at Antulang Resort in Siaton. There I couldn't join the fellows much at the saltwater and infinity pools or the cliff-shore, because I was busy being clobbered in the word game Probe by Annabelle's and Edo's precocious daughter, the prospective poet Anne or "Suyen," together with her young aunt Magenta Villegas who helps manage the splendid resort.
Lord Jim and I were also invited to Gabby's Bistro at Florentina Homes for a special screening of a 28-minute video-docu titled Dumaguete: Artists' Haven — by Carmen del Prado, a senior at College of St. Benilde, and a daughter of Wing and Nonoy del Prado, the hoteliers who run such an elegant venue, with all of the art on the complex's walls done by Wing. The fast-paced, well-edited video-docu starts with a voice prologue by Dumaguete writer Ian Casocot, followed by an interview with Mom Edith, before it focuses on 19 other local artists: painters, sculptors, musicians, photographers, and designers.
A poetry reading was held at Mariyah Gallery, hosted by the outstanding painter-sculptor Kitty Taniguchi and her brother Danny Sollesta, himself a sculptor of the first water, whose recent monument of Leon Kilat in Bacong I just had to see and photograph.
The Director's Dinner at Montemar privileged us with the company of Mom Edith, or Dr. Edith L. Tiempo, National Artist, the workshop's director emeritus, now all of 90 years, but still singing along to the operatic renditions of Manolito Saldivar and writing fellow Aaron's Jejemon number.
We must say thanks to workshop coordinator Dr. Evelyn Mascuñana, English and Literature Dept. Chair, ably assisted by Alana Narciso and Parts Partosa of the secretariat as well as transport officer Prof. Philip Van Peel.
This year's fellows were truly an excellent batch, with very strong voices in poetry, fiction and CNF, as well as critiquing skills, so that we wouldn't be surprised if a few of these guys wind up as first-rate literary critics, the way they augmented the panelists' commentaries with their own,
Next year the workshop turns golden. The 50th anniversary will see an anthology and a video-docu that are being planned this early. We call on all alumni of the workshop to join in, in more ways than one.
Labels: dumaguete, dumaguete writers workshop, negros, philippine literature, writers, writing
[0] This is Where You Bite the Sandwich
---