This is the blog of Ian Rosales Casocot. Filipino writer. Sometime academic. Former backpacker. Twink bait. Hamster lover.
Interested in What I Create?
Bibliography


The Great Little Hunter
Pinspired Philippines, 2022




The Boy The Girl
The Rat The Rabbit
and the Last Magic Days
Chapbook, 2018




Republic of Carnage:
Three Horror Stories
For the Way We Live Now
Chapbook, 2018




Bamboo Girls:
Stories and Poems
From a Forgotten Life
Ateneo de Naga University Press, 2018




Don't Tell Anyone:
Literary Smut
With Shakira Andrea Sison
Pride Press / Anvil Publishing, 2017




Cupful of Anger,
Bottle Full of Smoke:
The Stories of
Jose V. Montebon Jr.
Silliman Writers Series, 2017




First Sight of Snow
and Other Stories
Encounters Chapbook Series
Et Al Books, 2014




Celebration: An Anthology to Commemorate the 50th Anniversary of the Silliman University National Writers Workshop
Sands and Coral, 2011-2013
Silliman University, 2013




Handulantaw: Celebrating 50 Years of Culture and the Arts in Silliman
Tao Foundation and Silliman University Cultural Affairs Committee, 2013




Inday Goes About Her Day
Locsin Books, 2012




Beautiful Accidents: Stories
University of the Philippines Press, 2011




Heartbreak & Magic: Stories of Fantasy and Horror
Anvil, 2011




Old Movies and Other Stories
National Commission for Culture
and the Arts, 2006




FutureShock Prose: An Anthology of Young Writers and New Literatures
Sands and Coral, 2003
Nominated for Best Anthology
2004 National Book Awards


Follow the Spy




Recent Crumbs




Blogs I Read


© 2002-2021
IAN ROSALES CASOCOT
Tuesday, December 28, 2010
1:24 AM | A Fool for Love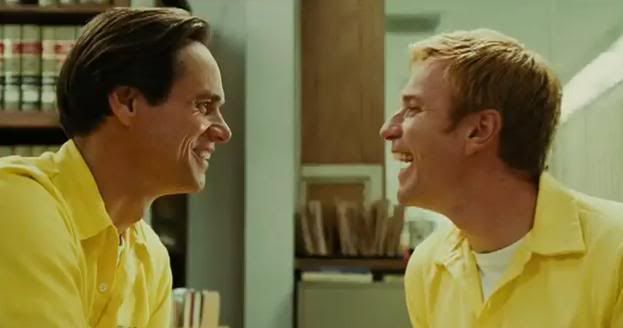 Here is an uproarious and original comedy that stars one of Hollywood's genuine funnymen (Jim Carrey) and one of cinema's genuine chameleons (Ewan McGregor). Here is a movie that expands the notion of fact being so much weirder and more fantastic than fiction. Here is a movie that a lot of critics loved. But whatever happened to Glenn Ficarra and John Requa's
I Love You Philip Morris
[2010]? It's Oscar-bait material, but in this season of awards and top-ten lists, it's not being mentioned as a contender. Mr. Carrey is glorious here, and Mr. McGregor is something else. Already though, the film has had a checkered history: it meandered its way to theaters for months and months, but finally did not find an audience, given the haphazard way it has been handled by its distributors. (Nobody wanted to pick it up.) You have to ask: what went wrong? The marketing? The belated distribution? Or perhaps even homophobia? Perhaps. This is after all the story of the real-life Steve Russell, a gay man and a relentlessly inventive con man whose run-ins with the law have become quite legendary -- all of them a result of pursuing the love of his life, Philip Morris, a sweet-natured and blonde Southern boy he meets in prison, while serving a jail sentence for fraud. In a life rife with lies and shape-shifting (manifested as metaphor through moving clouds, a recurring motif in the film), Russell -- an ex-cop and former Bible-swearing family man -- has impersonated lawyers and CFOs and doctors and what-have-you's, and has even faked his own death by AIDS. Underneath all that is a fool for love, the only truth he has come to admit, near the end of the film. This is an extraordinary film of an extraordinary life. It is also relentlessly funny and both Carrey and McGregor deserve accolades for their chemistry and for making us believe that all these lies are the makings of magic. Too bad it is not receiving the kind of attention it deserves.
Labels: comedians, film, queer
[0] This is Where You Bite the Sandwich
---