This is the blog of Ian Rosales Casocot. Filipino writer. Sometime academic. Former backpacker. Twink bait. Hamster lover.
Interested in What I Create?
Bibliography


The Great Little Hunter
Pinspired Philippines, 2022




The Boy The Girl
The Rat The Rabbit
and the Last Magic Days
Chapbook, 2018




Republic of Carnage:
Three Horror Stories
For the Way We Live Now
Chapbook, 2018




Bamboo Girls:
Stories and Poems
From a Forgotten Life
Ateneo de Naga University Press, 2018




Don't Tell Anyone:
Literary Smut
With Shakira Andrea Sison
Pride Press / Anvil Publishing, 2017




Cupful of Anger,
Bottle Full of Smoke:
The Stories of
Jose V. Montebon Jr.
Silliman Writers Series, 2017




First Sight of Snow
and Other Stories
Encounters Chapbook Series
Et Al Books, 2014




Celebration: An Anthology to Commemorate the 50th Anniversary of the Silliman University National Writers Workshop
Sands and Coral, 2011-2013
Silliman University, 2013




Handulantaw: Celebrating 50 Years of Culture and the Arts in Silliman
Tao Foundation and Silliman University Cultural Affairs Committee, 2013




Inday Goes About Her Day
Locsin Books, 2012




Beautiful Accidents: Stories
University of the Philippines Press, 2011




Heartbreak & Magic: Stories of Fantasy and Horror
Anvil, 2011




Old Movies and Other Stories
National Commission for Culture
and the Arts, 2006




FutureShock Prose: An Anthology of Young Writers and New Literatures
Sands and Coral, 2003
Nominated for Best Anthology
2004 National Book Awards


Follow the Spy




Recent Crumbs




Blogs I Read


© 2002-2021
IAN ROSALES CASOCOT
Monday, December 27, 2010
10:37 PM | Music That Does Not Go On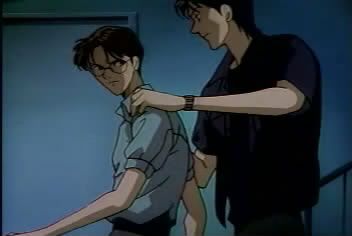 The anime adaptation of Koh Akizuki's
Fujimi Block No. 2 Symphony Orchestra: Cold Front -- The Storm After the Rain
[1998] is a curious thing. While it has most of the
yaoi
elements we have come to expect of this genre of Japanese animation -- the older, talented, dominant, but distant
seme
; the younger, protesting, but ultimately willing
uke
; the rape fantasy that titillates and verges on the strangely romantic -- it somehow fails to involve, the way Momo Sakura's
Boku no Sekusharu Harasumento
[1994-1995] or Shungiku Nakamura's
Junjō Romanchika
[2008] did. Which is just too bad because it makes great use of classical music, the way Fumi Yoshinaga's manga
Antique Bakery
did with pastries. You may already know the story, if we follow the formula for yaoi: Tonoin Kei, a talented conductor, has come to lead a small orchestra, and meets the group's first violinist and concert master Morimura Yuuki. Misunderstanding, spiced with
yaoi
love confessions, ensues. The OVA tells the story through a fragmented time-frame, which makes it a bit difficult to follow. In the end, however, it just falls flat and does not engage. Which may be why it only ran for one episode more than a decade ago in Japanese TV.
[0] This is Where You Bite the Sandwich
---