Friday, January 28, 2011
1:06 AM | Pensive Pondering Does Not Equal Poetry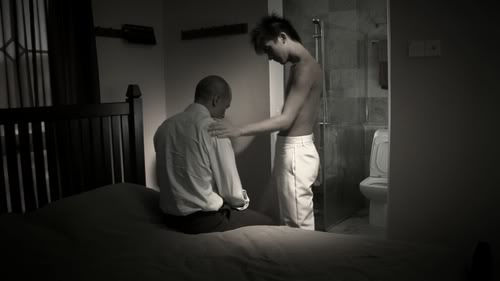 What a pretentious film Loo Zihan and Kan Lume's
Solos
单 [2007] is. The Singaporean film has its poetic aspirations as evident in its aesthetic choices -- the long takes, the lack of dialogue, the pensive atmosphere, the black and white cinematography that bursts into sudden scenes of bright colors, the hallucinatory images of forests and fish and dancers -- but it falls flat on its face for the sluggish mere exercise in form that it is. It has no soul or gravity, it has no wit, and its actors -- including veterans Lim Yu Beng and Goh Guat Kian -- mistake pensive posturing for performance. It is a completely uninteresting piece of cinema that masturbates with its own perceived sense of poetry. Try as they might, the directors are not Kenji Mizoguchi and Tsai Ming-liang.
Many critics have given it praise for some strange reason, but perhaps, coming from strait-laced Singapore, it is the controversial nature of its subject matter that has made them take pause. This is after all about a Mother who rages in depression as her Boy (played by the director Loo) seems to become increasingly cut off from her. More so, this is also about a Man and the same Boy -- a teacher and his student -- who struggle both with a taboo sexual desire and with reaching out to each other in a language they can commonly understand. (I wanted to say, "Try speaking. Stop with the ridiculous body language.")
No one is against the dreamlike narrative some films choose to have. The 2009 Mexican film
Rabioso Sol, Rabioso Cielo
, written and directed by Julián Hernández, belongs to the same style -- this is a moody gay love story with minimal dialogue, long takes, surrealistic scenes, and black and white cinematography that bursts with color in-between -- but that film worked because there was a certain energy to it, a gravity that consumed. In
Solos
, we are reduced to the equivalent of watching wall paint dry and we are told that
tha
t is art. So leaden is this movie that when the sex scenes finally come in, the raunchiness of their depiction is almost comic, an unnecessary bit tacked on to further the film's transgressive intentions, but the effort only comes off as sad.
Still, I will say this cliche: Loo as director has potential. He has a mind for image, which is the vocabulary of cinema -- although in this film, he squanders that to meaninglessness it sinks his obvious talent. In 2009, he directed another film,
Threshold
, unseen by me. I hope that with this sophomore effort, something like a watchable film will rise.
[0] This is Where You Bite the Sandwich
---