Friday, May 04, 2012
12:36 AM | The Vintage Stylist
Part 6 of the Dumaguete Design Upstarts Series
No one argues with Coco Chanel. The legendary fashion designer once said: "Dress shabbily, and they remember the dress. Dress impeccably, and they remember the woman."
This declaration defined, with the same stylish precision of a Chanel suit, the importance of dressing well. And perhaps, rallying to this call, the truly stylish among us—and not merely the unfortunate fashion victim—aim for that impeccability of dress.
Why?
To make a mark, to forge an identity, to express who we are. Fashion becomes emblematic in this regard—and perhaps this is why a particular species of enterprising people have evolved to answer that need. You know who they are. The stylists.
Stylists, especially the best ones, are avid readers of fashion. They are the able conjurers of sartorial language, which marries personality with cut fabric. On television, we get Rachel Zoe—although one might make the argument she does not exactly typify the best of such strange occupation. So forget Rachel Zoe. There's somebody in Dumaguete who does exactly the same thing as the reality TV fixture does, but with decidedly less mugging for the camera. And decidedly with more creativity. Her name is Veronica Valente-Vicuña, and one can say she has made a life and career over her uncanny sense of what works for you, fashion-wise.
"I have always enjoyed going to flea markets and
ukay-ukay
, ever since college," Rona told me. "Being a bargain hunter, I get a rush when I find pretty items which would cost triple or more if sold in department stores. Even if the clothing item would be too big for me, I would still get it because my thinking is, I could just have it altered down to my size."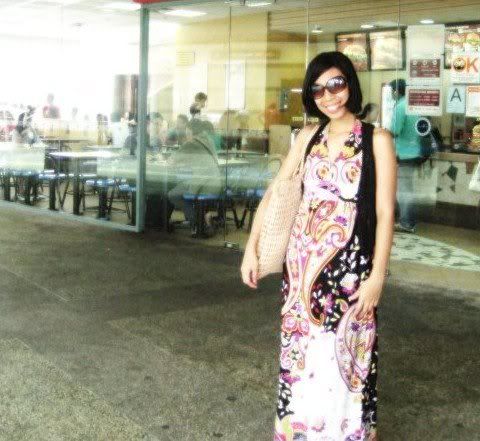 Stylist and designer Rona Valente-Vicuna
Eventually that nose for bargain and style led to a kind of fashionable hording. "Soon I had bags and bags full of dresses," Rona remembered, "So I thought, why not sell some?"
She started toying with that idea of commercializing her sense of fashion in 2006, but it took her until February of 2007 to get things really going. She opened her online store
Veronica's Closet
, initially listing only just six choice items.
To her delighted surprise, the dresses sold out within hours. "That encouraged me more," Rona said, "And soon, with a good client list growing, I had to make a weekly upload schedule to keep up with the customer demand."
A few of summers ago, she found herself participating in a program for fashion designing in Cebu. "I learned quite a lot from some of Cebu's top fashion designers," she said. That summer program ended with a fashion show at the Waterfront, which featured the participants' new designs, things they created for class.
This soon paved the way for better things. "Subsequently, I was invited by Anya Lim of Anthill Fabric Gallery in Cebu to display some items from my website," Rona said. "She had been buying regularly from my site, and she wanted me to sell my re-made dresses in her fabric gallery. She encouraged me to come up with a line, where altered and reconstructed vintage dresses are showcased." Rona chose the name
Re/Dress
for the line, which meant, simply, "to re-do the dress."
She explained the concept behind the project: "Some dresses may have beautiful fabrics, but the dress may not be worn again due to tiny rips, runs, and others. This is where I come in. I totally revamp the dress. Using what fabric can be salvaged from it, I then add new fabrics and restyle the old design." Clearly, what had began as a hobby—transforming old dresses and making them different and more fashionably current—soon became one of her sources of income. "And relaxation, too," Rona admitted.
What is the underlying philosophy of her work? "To provide unique dresses, which are extra-special because of the history behind it, them being vintage," Rona said. "As a member of Anthill Fabric Gallery and Stylissimo Sessions of Cebu, I believe in thinking green. By using old materials, I can do my part in saving the environment." This philosophy led her to become part of a fashion show in Cebu called
Greenology
, where designers made dresses using
retaso
and recyclable materials. "I used old neckties for the headpiece, as well as men's blazers and pieces from an old computer keyboard," she recalled with a smile.
But her sense of style is not without study. For Rona, her influences consist of the style icons of past, which include Audrey Hepburn. "It is because of her femininity and how she carried men's inspired clothing," Rona said. "Her style was never fussy. She kept it neat and clean. You can't go wrong with that." There is also 1960s model Twiggy, whose slender figure—being both boyish and also ultra-girlie—was an inspiration for great designers of the time. "She rocked the mod look!" Rona said. "I love mod. Floral and geometrical patterns make me happy as well as solid-colored dresses decorated with bows and ribbons, buttons and zippers!"
From such confessions, one readily sees that for Rona, the love of vintage and everything related to it is what defines her sense of style.
Take her first collection
Lavender Fields
with Anthill Fabric Gallery, for example. The whole look of the series foregrounds her aesthetics, which is essentially a worship of a laid-back vibe, hippie luxe and classic vintage all at the same time. There are the flowy dresses in paisley or floral prints, dresses with gauzy or silk fabrics, dresses with billowy white peasant shirts complete with embroidery—a style that defines what for Rona is soft, fun and young. There is the dress with the printed bib and belt from a vintage 70's blouse, to which she added a gaze faconne fabric, which is like chiffon but is a bit stretchable. "I also re-used the original buttons from the blouse," Rona said. "This dress is BoHo-inspired." There are more of the kind in her inventory.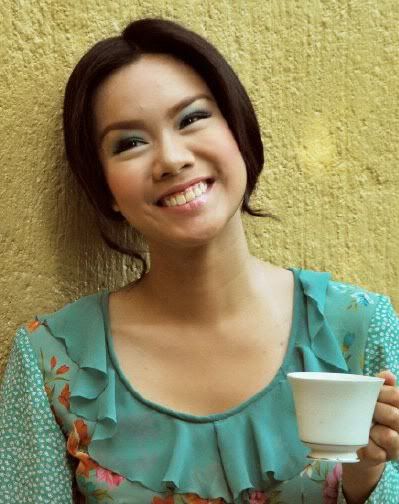 Gesta Gamo models one of Rona's creations
And what does she hope the future can bring for her? "I'm taking things in stride," she said. "For
Veronica's Closet
, I hope to have a name for myself in the local Internet market as the shop to go for vintage and vintage-inspired dresses. For
Re/Dress
, I am currently laying out the beginnings of what will be my spring/summer collection. And maybe one fine day, I can get featured in Preview, my favorite magazine. I can dream right?"
Yes, Rona, you can. And fabulously, too.
Labels: design, dumaguete, fashion
[0] This is Where You Bite the Sandwich
---