This is the blog of Ian Rosales Casocot. Filipino writer. Sometime academic. Former backpacker. Twink bait. Hamster lover.
Interested in What I Create?
Bibliography


The Boy The Girl
The Rat The Rabbit
and the Last Magic Days
Chapbook, 2018




Republic of Carnage
Three Horror Stories
For the Way We Live Now
Chapbook, 2018




Bamboo Girls:
Stories and Poems
From a Forgotten Life
Ateneo de Naga University Press, 2018




Don't Tell Anyone:
Literary Smut
With Shakira Andrea Sison
Pride Press / Anvil Publishing, 2017




Cupful of Anger,
Bottle Full of Smoke:
The Stories of
Jose V. Montebon Jr.
Silliman Writers Series, 2017




First Sight of Snow
and Other Stories
Encounters Chapbook Series
Et Al Books, 2014




Celebration: An Anthology to Commemorate the 50th Anniversary of the Silliman University National Writers Workshop
Sands and Coral, 2011-2013
Silliman University, 2013




Handulantaw: Celebrating 50 Years of Culture and the Arts in Silliman
Tao Foundation and Silliman University Cultural Affairs Committee, 2013




Inday Goes About Her Day
Locsin Books, 2012




Beautiful Accidents: Stories
University of the Philippines Press, 2011




Heartbreak & Magic: Stories of Fantasy and Horror
Anvil, 2011




Old Movies and Other Stories
National Commission for Culture
and the Arts, 2006




FutureShock Prose: An Anthology of Young Writers and New Literatures
Sands and Coral, 2003
Nominated for Best Anthology
2004 National Book Awards


Follow the Spy




Recent Crumbs




Blogs I Read


© 2002-2018
IAN ROSALES CASOCOT
Friday, December 01, 2006
7:53 PM | A New Look for the Philippines Free Press
There's something about the new
Philippines Free Press
that's making me buy an issue every single week.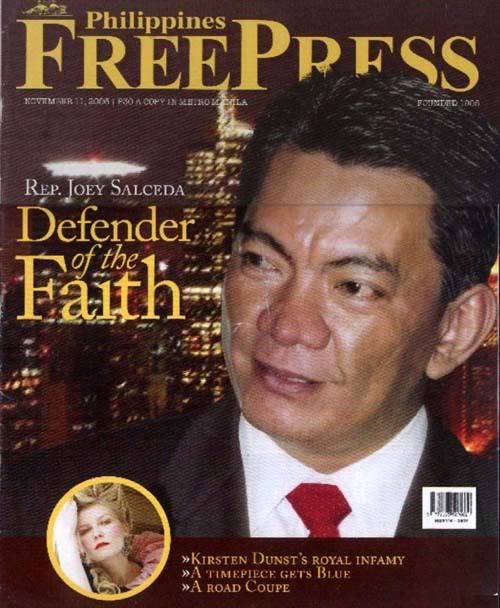 Perhaps it is new literary editor Sarge Lacuesta's sumptuous choice of fiction, poetry, and essay. (The latest historical fiction by Mads Bajarias was brilliant!) Perhaps it is also the new design, courtesy of the old
Today
team, that has incorporated into the new layout a crisp look that is both aesthetically pleasing and also easy on the eyes. Here is a snapshot of the Literary Page: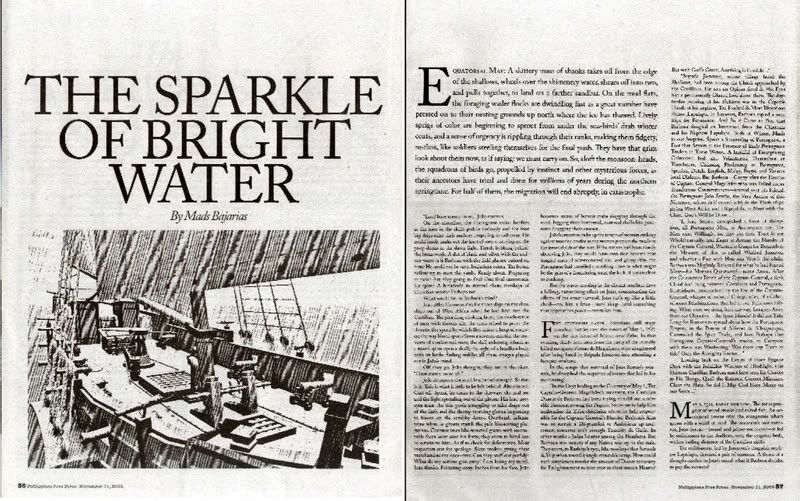 But whatever it is, congratulations on the new look,
Philippines Free Press
.
In any case, here is
Dean Alfar
's original forward of Sarge's call for submissions:
The

Philippines Free Press

has a new literary editor, Sarge Lacuesta, and he's asked me to tell you that he's looking for kick-ass short stories. If you have well-written fiction, send it to him for consideration. I can't speak for him in terms of what he's looking for (you could check out back issues under previous editor Paolo Manalo, but Sarge's taste might differ), but I can tell you what is obvious: literary fiction. Now before you roll your eyes and sigh, this isn't necessarily social-realist fiction - in fact, Sarge is open to spec fic, for as long as it is well-written (having contributed "New Wave Days", a great piece, to Philippine Speculative Fiction Vol.1 himself). So this is a great opportunity for you, me and everyone else who is pushing for more genre stories (for instance, I'll be delighted if a strong sci fi or interstitial piece is published there). Go and submit: sargelacuesta(at)gmail(dot)com.
Go submit something, and be part of a long literary tradition...
Labels: design, journalism, philippine literature
[0] This is Where You Bite the Sandwich
---