Wednesday, December 06, 2006
7:34 PM | The Wages of Fashion
Last October, we were shooting scenes from around Oriental Negros with
Patricia Evangelista
and television scriptwriter
Flexy Sarte
for
Living Asia Channel
. During a brief stopover in sleepy Bacong town (the setting for Alfred Yuson's Palanca-winning novel
The Great Philippine Jungle Energy Cafe
), we went inside the oldest church in the province, whose old bamboo organ --the source of its pride -- now lies in unfortunate disrepair. Something caught my eye on our way out. It was this poster tacked on the heavy entrance doors: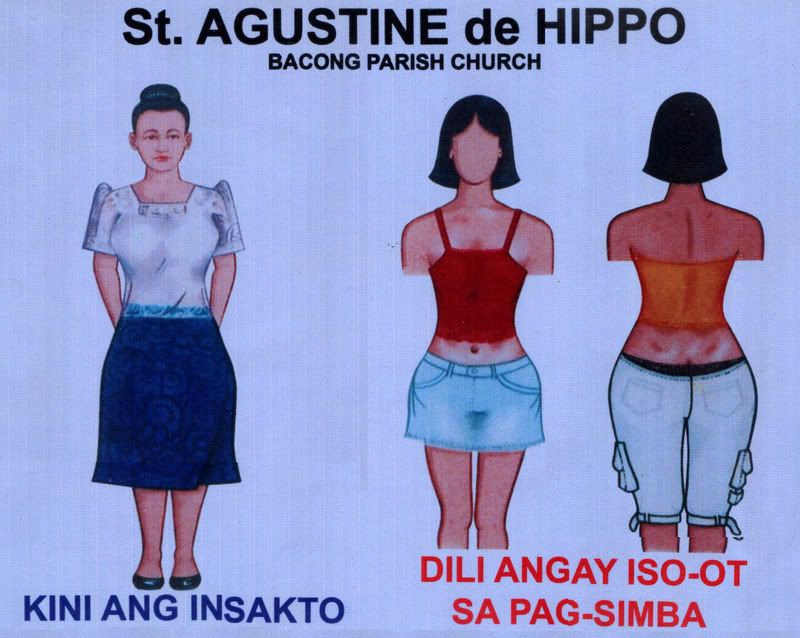 [Click
here
for a bigger image.]
It was a fashion advisory for church.
Kini ang insakto
is Cebuano which means "This is the correct dress."
Dili angay iso-ot sa pagsimba
means "This is expressedly forbidden for church."
Cute
, I said.
How Urbana and Felisa!
Not that I advocate trashy fashion for church wear. But to wear that kind of
parish-prescribed
dress? Must devout Catholic ladies look like
lolas
to gain entry to heaven?
I stole the poster. (Yes, I
did
. From a
church
.) Why not? It made me laugh.
Labels: fashion, issues, negros, religion
[0] This is Where You Bite the Sandwich
---