This is the blog of Ian Rosales Casocot. Filipino writer. Sometime academic. Former backpacker. Twink bait. Hamster lover.
Interested in What I Create?
Bibliography


The Boy The Girl
The Rat The Rabbit
and the Last Magic Days
Chapbook, 2018




Republic of Carnage
Three Horror Stories
For the Way We Live Now
Chapbook, 2018




Bamboo Girls:
Stories and Poems
From a Forgotten Life
Ateneo de Naga University Press, 2018




Don't Tell Anyone:
Literary Smut
With Shakira Andrea Sison
Pride Press / Anvil Publishing, 2017




Cupful of Anger,
Bottle Full of Smoke:
The Stories of
Jose V. Montebon Jr.
Silliman Writers Series, 2017




First Sight of Snow
and Other Stories
Encounters Chapbook Series
Et Al Books, 2014




Celebration: An Anthology to Commemorate the 50th Anniversary of the Silliman University National Writers Workshop
Sands and Coral, 2011-2013
Silliman University, 2013




Handulantaw: Celebrating 50 Years of Culture and the Arts in Silliman
Tao Foundation and Silliman University Cultural Affairs Committee, 2013




Inday Goes About Her Day
Locsin Books, 2012




Beautiful Accidents: Stories
University of the Philippines Press, 2011




Heartbreak & Magic: Stories of Fantasy and Horror
Anvil, 2011




Old Movies and Other Stories
National Commission for Culture
and the Arts, 2006




FutureShock Prose: An Anthology of Young Writers and New Literatures
Sands and Coral, 2003
Nominated for Best Anthology
2004 National Book Awards


Follow the Spy




Recent Crumbs




Blogs I Read


© 2002-2018
IAN ROSALES CASOCOT
Wednesday, February 06, 2008
6:08 AM | LitCritters Dumaguete No. 26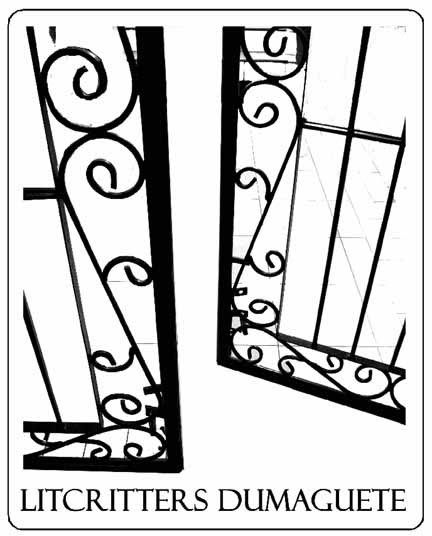 Next Saturday
Paul's Case
by Willa Cather
The Problem of Cell 13
by Jacques Futrelle
A Retrieved Reformation
by O. Henry
Haircut
by Ring Lardner
Last Saturday
A Sound of Thunder
by Ray Bradbury
To Build a Fire
by Jack London
The Spectacles
by Edgar Allan Poe
Tangled Notes in Watermelon
by Diane Curtis Regan
Last, last Saturday
Frozen Delight
by Marguerite Alcarazen de Leon
Logovore
by Joseph Nacino
A Jury of Her Peers
by Susan Glaspell
A Place I've Never Been
by David Leavitt
The
LitCritters
is a reading and writing group based in Manila (moderated by
Dean Francis Alfar
) and Dumaguete. Every week, we read and discuss several pieces of short fiction from various genres from different writers with the goal of expanding our reading horizons, improving our ability to critique, and learning how to write from the good texts. In addition to speculative fiction, we read Philippine literature in English, as well as world literature. The Dumaguete Group meets every Saturday at 9:30 a.m. at the Silliman University President's Home.
Labels: LitCritters, writing
[0] This is Where You Bite the Sandwich
---