This is the blog of Ian Rosales Casocot. Filipino writer. Sometime academic. Former backpacker. Twink bait. Hamster lover.
Interested in What I Create?
Bibliography


The Boy The Girl
The Rat The Rabbit
and the Last Magic Days
Chapbook, 2018




Republic of Carnage
Three Horror Stories
For the Way We Live Now
Chapbook, 2018




Bamboo Girls:
Stories and Poems
From a Forgotten Life
Ateneo de Naga University Press, 2018




Don't Tell Anyone:
Literary Smut
With Shakira Andrea Sison
Pride Press / Anvil Publishing, 2017




Cupful of Anger,
Bottle Full of Smoke:
The Stories of
Jose V. Montebon Jr.
Silliman Writers Series, 2017




First Sight of Snow
and Other Stories
Encounters Chapbook Series
Et Al Books, 2014




Celebration: An Anthology to Commemorate the 50th Anniversary of the Silliman University National Writers Workshop
Sands and Coral, 2011-2013
Silliman University, 2013




Handulantaw: Celebrating 50 Years of Culture and the Arts in Silliman
Tao Foundation and Silliman University Cultural Affairs Committee, 2013




Inday Goes About Her Day
Locsin Books, 2012




Beautiful Accidents: Stories
University of the Philippines Press, 2011




Heartbreak & Magic: Stories of Fantasy and Horror
Anvil, 2011




Old Movies and Other Stories
National Commission for Culture
and the Arts, 2006




FutureShock Prose: An Anthology of Young Writers and New Literatures
Sands and Coral, 2003
Nominated for Best Anthology
2004 National Book Awards


Follow the Spy




Recent Crumbs




Blogs I Read


© 2002-2018
IAN ROSALES CASOCOT
Wednesday, May 14, 2008
Two new books from two fast-emerging Filipino writers to hit American publishing...
Poet and fictionist
Marisa de los Santos
'
Belong to Me
, a follow-up to her bestselling first novel
Love Walked In
(which Sarah Jessica Parker optioned), is currently #20 in the New York Times Bestseller List, probably a first for a Filipino writer. About the book from the
HarperCollins website
:
Everyone has secrets. Some we keep to protect ourselves, others we keep to protect those we love.

A devoted city dweller, Cornelia Brown surprised no one more than herself when she was gripped by the sudden, inescapable desire to leave urban life behind and head for an idyllic suburb. Though she knows she and her beloved husband, Teo, have made the right move, she approaches her new life with trepidation and struggles to forge friendships in her new home. Cornelia's mettle is quickly tested by judgmental neighbor Piper Truitt. Perfectly manicured, impeccably dressed, and possessing impossible standards, Piper is the embodiment of everything Cornelia feared she would find in suburbia. A saving grace soon appears in the form of Lake. Over a shared love of literature and old movies, Cornelia develops an instant bond with this warm yet elusive woman who has also recently arrived in town, ostensibly to send her perceptive and brilliant son, Dev, to a school for the gifted.

Marisa de los Santos's literary talents shine in the complex interactions she creates between these three women. She deftly explores the life-altering roller coaster of emotions Piper faces as she cares for two households, her own and that of her cancer-stricken best friend, Elizabeth. Skillfully, de los Santos creates an enigmatic and beguiling character in Lake, who draws Cornelia closer even as she harbors a shocking secret. And from the first page until the exhilarating conclusion, de los Santos engages readers with Cornelia, who, while trying to adapt to her new surroundings, must remain true to herself. As their individual stories unfold, the women become entangled in a web of trust, betrayal, love, and loss that challenges them in ways they never imagined, and that ultimately teaches them what it means for one human being to belong to another.
Buy the book from Amazon
here
. Marisa is currently
profiled
in
The Philadelphia Inquirer
(link via
Pine for Pine
). Read
an early work
by her in Nerve.com.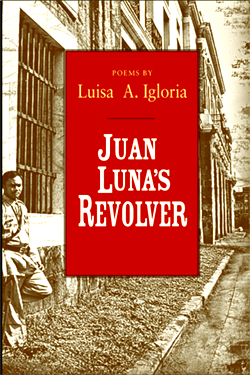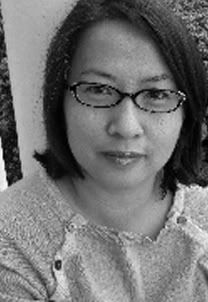 Palanca Hall-of-Famer
Luisa Igloria
's
Juan Luna' s Revolver
is winner of the 2009 Ernest Sandeen Prize in Poetry. About the book from the
University of Notre Dame Press website
:
The poems in

Juan Luna' s Revolver

both address history and attempt to transcend it through their exploration of the complexity of diaspora. Attending to the legacy of colonial and postcolonial encounters, Luisa A. Igloria has crafted poems that create links of sympathetic human understanding, even as they revisit difficult histories and pose necessary questions about place, power, displacement, nostalgia, beauty, and human resilience in conditions of alienation and duress.

Igloria traces journeys made by Filipinos in the global diaspora that began since the encounter with European and American colonial power. Her poems allude to historical figures such as the Filipino painter Juan Luna and the novelist and national hero José Rizal, as well as the eleven hundred indigenous Filipinos brought to serve as live exhibits in the 1904 Missouri World's Fair. The image of the revolver fired by Juan Luna reverberates throughout the collection, raising to high relief how separation and exile have shaped concepts of identity, nationality, and possibility.

Suffused with gorgeous imagery and nuanced emotion, Igloria's poetry achieves an intimacy fostered by gem-like phrases set within a politically-charged context speaking both to the personal and the collective.
Buy the book from Amazon
here
. Cervena Barva Press profiles Luisa
here
. Read another profile by The Sword Review
here
.
Who says Filipino writers are not world-class?
Labels: books, philippine literature, writers
[0] This is Where You Bite the Sandwich
---