Sunday, March 15, 2009
9:01 AM | Little Boy Productions' Summer Theater Workshops for Kids and Teens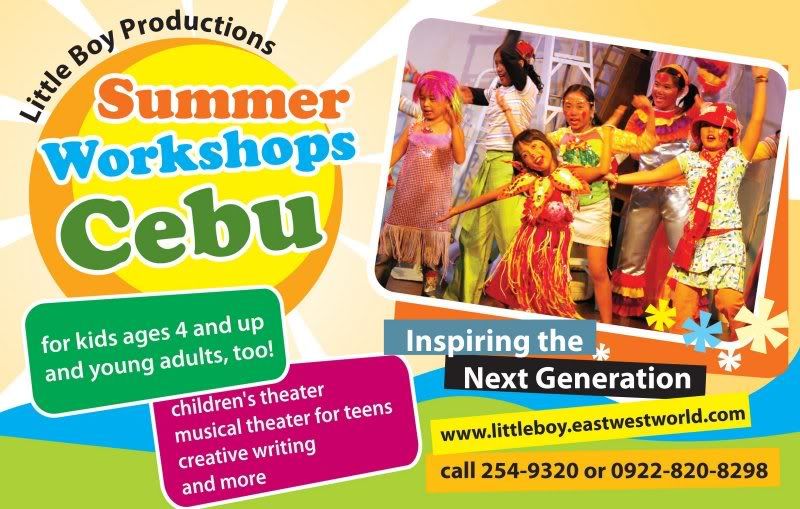 Little Boy Productions brings back its Summer Theater Workshops for Kids and Teens to be held at the Old Campus of Sacred Heart School–Jesuit on Mango Avenue, Cebu City, from April 14 to May 2.
Now on its fourth year, the workshops offer three classes: Theater for Kids (4 to 6 years old), Children's Musical Theater (7 to 10 years old), and Musical Theater for Teens (11 years old and up.) Participants will be exposed to 15 sessions of theater training, culminating in a Broadway musical showcase to be held at the Cenewof Theater.
Among those that will be teaching in Cebu this summer are Jill Pena, BFA Theater Arts graduate of Ateneo de Manila University and recipient of a Loyola Schools Award for the Arts in 2007. She also recently performed the lead role in Disney's "Mulan" for Repertory Philippines.
Joining her will be Reb Atadero, another accomplished actor who played Juan in the hit off-Broadway musical "Altar Boyz" also for Repertory Philippines. His first major role in theater was playing Zeke in the Asian premiere of Disney's "High School Musical" in 2007.
Completing the team is actor-commercial model Acey Aguilar, who has performed for various theater groups at the Cultural Center of the Philippines, De La Salle University's College of Saint Benilde, and Dulaang Sipat Lawin at the Philippine High School for the Arts in Makiling.
"We are proud and excited to bring experienced teachers and actors from Manila to teach the summer workshops here in Cebu," says Hendri Go of Little Boy Productions. "They have years of experience acting, directing, choreographing—and teaching others these skills."
The workshop fee is P4,500, inclusive of miscellaneous and recital fees, souvenir t-shirt, and tickets to the culminating show.
For more information, call 2549320, 2330452 or 0922-820-8298, or visit Little Boy Productions at Exams Advantage, 3rd Floor Manros Plaza, across Fooda, on Mango Avenue.
Sometimes, when I look back at my childhood and note what I could have done differently, I tell myself I could have risen above the sloth of Dumaguete days -- especially during those old Dumaguete days when lazy summers meant
really lazy
summers -- and join workshops like these. I wonder where it could have taken me, because things like this actually build so much self-confidence for the unformed child -- plus give him an avenue to explore what ounce of creativity he has, something he will definitely need when he grows up and becomes whatever he wants to become.
Now, as an adult, I could only look back and regret some things --
I should have learned the piano, I should have taken tap dancing, I should have been in that poetry workshop, I should have taken my swimming classes seriously
-- which are things I never really wanted to do as a kid (heck, I just wanted to sleep all summer days away and play
tayokok
). Boy, I wish now that I knew better then.
The workshop above is Hendri's current advocacy, to help out local kids explore their potential, and to bring the best of local theater to somewhere nearer to us in the Visayas. (Because why go to Manila when you can just go to Cebu?) I do hope this becomes a success in every sense of that word.
Break a leg, Hends!
Labels: cebu, theater, workshops
[0] This is Where You Bite the Sandwich
---