This is the blog of Ian Rosales Casocot. Filipino writer. Sometime academic. Former backpacker. Twink bait. Hamster lover.
Bibliography
Saturday, October 03, 2009
3:26 PM | The 61 Film Festival of Student Shorts
On
10 October 2009
, the
Communication 61 (Film Appreciation) Class of the College of Mass Communication
under yours truly will be presenting their final short film projects in the
Second Communication 61 Short Film Festival
. The event will be held at the Audio-Visual Theater 1 at the Multimedia Center and the program will begin at 6 PM.
The festival will showcase both narrative and documentary short subjects by mass communication students Albert Babaylan, Eliora Eunice Bernedo, Marc Cabreros, Jenifer Ediesca, Hamfredo Golosino, Judy Gay Jandayan, Bobae Lee, Anthony Gerard Odtohan, Shan Marie Sojor, and Karen Grace Yasi.
These are their first films.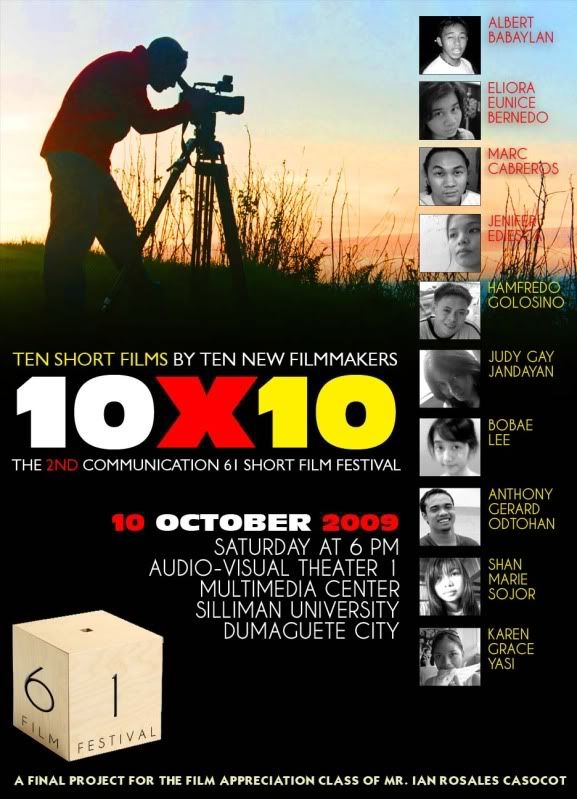 The screening is open to the public. I will be posting the official posters of the ten films by Monday, October 5.
Labels: art and culture, class, communication, film, silliman, teaching
[0] This is Where You Bite the Sandwich
---