Saturday, February 27, 2010
By the time I've upload this piece here,
Kisaw 2010
—Dumaguete's fledgling attempt at a celebration of the National Arts Month, which is now on its second year—would be in the last stretch, with a culminating burst of activity at Quezon Park during a special
Tayada sa Plaza
presentation that would also provide a showcase of all that has been done in the name of art and culture in the past month.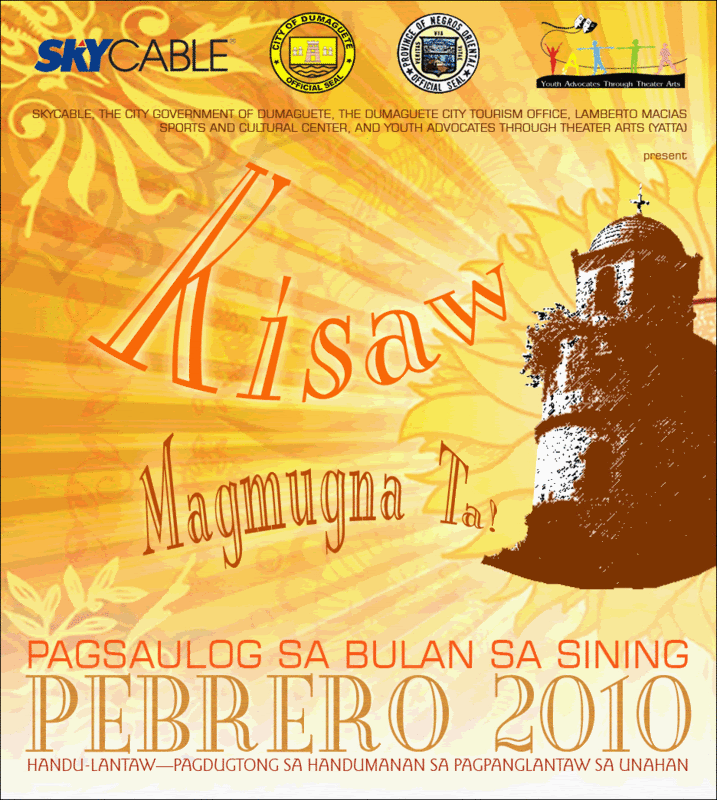 February was festive, indeed, like a palette of colors—if we have to be metaphorically obvious about it. Schools around town—including Holy Cross High School, St. Louis School Don Bosco, Dumaguete Science High School, and ABC Learning Center—took their best talents to the city's main stage in a circular of performances known as
Tayada sa Plaza
. There was a parade of local filmmaking talents in a special screening of short films in
Puting Tabing sa Parke
, of masters in song in
Huni sa Kampanaryo
, of Filipino theater in
Teatro Bente Uno
, and of works by some of our best local visual artists in
Kulay at Hugis sa Robinson's
. There was a celebration of Cebuano and Tagalog verse and naughtiness in lyrical prose in
Balak, Balitaw, ug Uban Pa sa Boulevard
. There were stand-alone shows and events of epic cultural moments that awed audiences—including Ballet Philippines in
Masterworks
, Razceljan Salvarita in his installation exhibit
Damgo Quatros Kantos Artboxes Project
, Joey Ayala in
Raw the Concert
, Youth Advocates Through Theater Arts (YATTA) in
Leon Kilat and Other Short Plays
, and a colorful retelling in drama and dance of the great Visayan epic
Hinilawod
. My dynamic hometown of Bayawan, through the Character First! Bayawanihan Technical Working Group, got into the act this year by playing host to some inventive cultural fare that bodes well the ascendance of a true art movement from that city in the south.
That we are doing this for a second year in a row is testament worthy of both shock and hope. Hope, because—while the organizers are coursing through the events with barely a budget and a marketing plan—the whole celebration seems to be stirring local imagination, and its battlecry of "Magmuga Ta!" has become increasingly infections, so much so that this year, there is finally a ground-swelling of institutional support from the Dumaguete City Hall and the Negros Orienrtal Provincial Capitol. While all are still quite in an inchoate stage of coordination and support, there is much to hope for—and a lot of promise to finally see bear into beautiful fruition.
But also this: shock—because why did it take any of us so long to institutionalize something like this?
Art and culture is the conscience of any nation
, a wise man once said. It is the truest measure of how we fare as a people and as a civilization—certainly not politics or religion, which are tainted with the presence of alligators and snakes and blind men and magician fools. But it did take Dumaguete 18 years—18 years!—to get its cultural act together. It was way back in 1991, after all, when the late President Corazon Aquino declared February as National Arts Month through Proclamation No. 683, "to promote arts and culture in our country, and nurturing the Filipino creativity and imagination."
This isn't always an easy to do in Dumaguete, contrary to what most of us might believe. The art and culture scene in the city is "vibrant" here,
yes
, but this is akin to a miracle of a flower blooming in the desert, given circumstance and context. Years hanging around the cultural beat has given some of us amusing insights about how things really go and yet remained unreported.
Local artists, for example, constantly bicker in hazy quarrels that sometimes exhibits become virtual chess moves in an invisible war where everybody is polite but carry bloodied paintbrushes. It is telling, for example, that no official association of creatives has ever gone beyond the two-year mark without dissolving into nothingness. The reason? An endless clash of ideas and creative direction and personalities who see the petty, not the general picture. (Tell that to the Baguio artists.)
Institutional support and recognition, too, most often come in trickles (with the exception of Silliman University and its unique cultural development program), and official pageants in culture are almost always dipped in the vomitus of politics.
Then there is local patronage to the art scene. It is not on the wane, and there are certainly serious audiences and collectors in our midst—but on the whole, it is a largely absent thing.
And the local high society that is usually taken in our culture as the expected benefactors and pursuers of a local art renaissance—the way the Zobel de Ayalas and their ilk are, for example—is simply content in withering away in nostalgia and dwindling relevance. Most of us are ready to champion Dumaguete as being on the forefront of culture in our region—and I've been one of these for the longest time. But it's not. And what's worse, nobody really seems to care even.
Still, in 2009, a group of Dumaguete artists, media practitioners, and young people passionate about arts and culture—led by the indefatigable Dessa Quesada-Palm of YATTA and Glynda Descuatan of SkyCable—met and resolved to give the Proclamation its rightful recognition by celebrating it and bringing the arts into public spaces where people from all walks of life are given a glimpse into the creative wealth that our local artists and our cultural heritage can offer. We dubbed the entire celebration as
Kisaw—Magmuga Ta!
, and we thought of the whole celebration as an embodiment of "the generous spirit of artists who see their arts as a powerful medium and process of reflecting, shaping, and inspiring our lives as a people."
Last year's edition was a success, despite an organization on the run and a budget that defied even categorization as something remotely shoe-string. That success begat our efforts this year, and our theme,
"Handu-Lantaw—Pagdugtong sa Handumanan sa Pagpanglantaw sa Unahan
(Bridging the Past into the Future)," can also be read as a hope for a continuity, while at the same time attempts to create a conversation between works created from our past and how they continue to be of relevance to our realities today.
I've asked Dessa once why we do what we do—given that we really don't get anything from all this, except the headache of organization and logistics, but also the flush of success and the knowledge of a job done well, as well as the pleasure of giving an ounce of culture and a push for talent in an age that seems stingy on all these. She said, "Because we think we're Superman! Because we will die if we don't!" She laughed, and then turned serious: "And we will die soon anyway, so we might as well use the time that we have to create something essential for our sense of humanity."
Such strong words, but what she said reached within me and has given me good foundation for why I do the things I do in the name of Dumaguete art and culture, even when sometimes I just want to give up because "nobody cares anyway." But in the end everything in my life as a creative—whether as a writer, theater director, and graphic artist—will have to lead me to a full-measured desire to have art and culture as an inborn advocacy. If I won't fight for it, who can fight for me? All artists must, if they know what's good for them—and I have no respect for those who don't. A community that has developed strong roots and traditions in art and culture benefits greatly from that exposure, even including the economic.
And the artist can only gain from this in the long run.
Labels: art and culture, cultural affairs committee, dance, dumaguete, festivals, film, negros, poetry, theater
[0] This is Where You Bite the Sandwich
---