Saturday, March 20, 2010
9:41 AM | The Sandwich Playground
Everybody loves the perfect sandwich.
A sandwich, especially when done right, is a veritable architecture of food perfection, defined by simplicity of structure—two slices of bread hugging yummy goodness—but distinguished by possibilities of invention. This inventiveness comes with whatever suits anybody's sandwich fancy—put in salami, put in roast beef, put in a delectably fried beef patty with a melted slice of cheese. Put into the mix your coleslaw, your slices of the choicest tomato, your onion rings, and
voila
, that's heaven in all of a piece.
I love sandwiches.
Which is why I'm taken in quite well, in measures of muted admiration, by this establishment in the second floor of UTH Building along Avenida Santa Catalina, a stretch that is increasingly distinguished by the number of restaurants and cafés popping up in what one might as well be call Dumaguete's new Food Street. There's Café Antonio at the northern end and Café Noriter farther down south, sprinkled in between by assorted chicken grill houses and high-end gourmet joints like Boston Café. In the middle of it all, like a secret haven, there's Mels.
It is not easy to spot Mels, if one judges location by quick landmark recognition and accessibility straight from the streets. Its signage outside calls attention to a side entrance, but a quick flight up the stairs leads you to a small square of a café. I'm a little ambivalent about the place's décor since my preferences usually run towards the artsy and the dramatic, which for me usually provides any restaurant a kind of quirk or soul that certainly lends charm to the menu; Mels approximates for me a spare dorm room made busy with little pieces of stickers, and blackboards, and shelves of books and magazines stuck to the wall. I don't know what design philosophy has gone into the making of this one, and I could wish for something more that whets both the eyes and the appetite.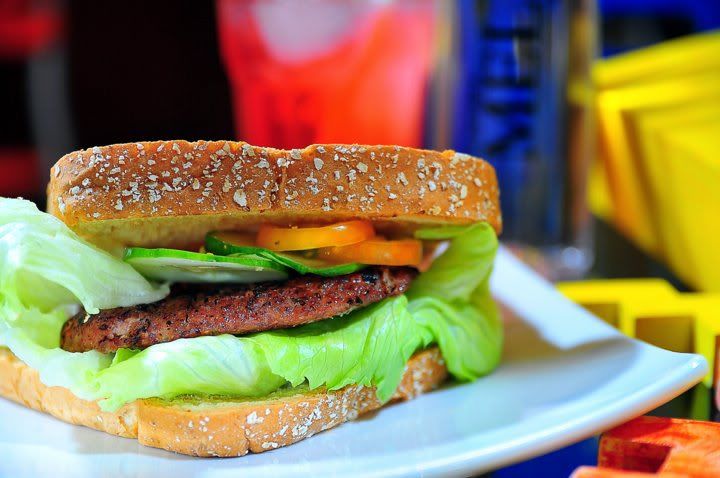 But that doesn't matter. I take in, first of all, the bestselling piece of the menu—something called a Cheezy Burger, which is not a burger but an oversized sandwich. The patty melts in my mouth with just the right kind of texture and softness. Bundled with lettuce in between slices of wheat bread, it has just the right kind of sizzle and bite. The cracklings on the side—not potato chips or French fries as is common in other establishments—is something of an afterthought. But I drink it all in with a glass of Frizz, a carbonated fruit drink (this one's in strawberry flavor).
"You must try the Roast Beef Sandwich," somebody tells me.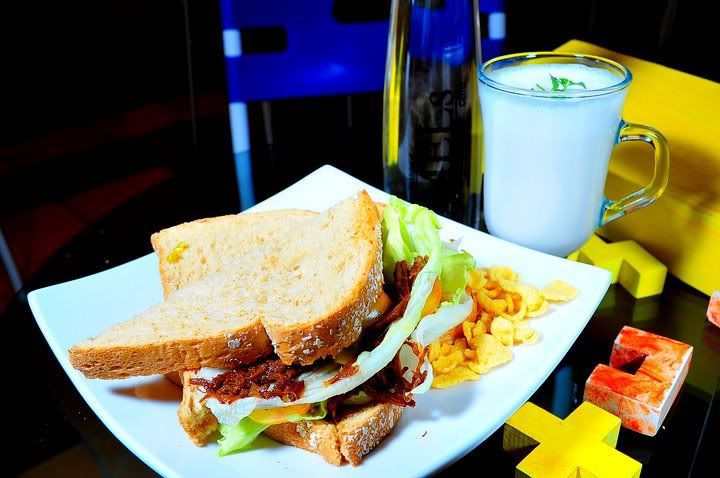 It was
decadently
delicious. The roast beef, downy and coming in flakes, is a sweetish blend that belies the whole sandwich-ness of the thing. It is a full meal. I pronounce it the perfect sandwich.
I take that down with what is now my favorite drink in the café: the Butter Beer—something inspired by the fictional drink in Harry Potter's world—but this one is a non-alcoholic concoction that still gets you drunk with semi-creaming goodness. What I had was a milk-based vanilla inspiration (one can also have the drink in cinnamon or strawberry or banana or mocha) with sprig of mint on top of the froth. It was so relaxing, it's better than mocha. One sip instantly reminds me of Baguio rainy nights—a perfect nightcap especially on a hot summer day.
The place is called Mels because—as is commonly done by many Filipino establishments—it is the perfect shortcut for the names of all the proprietors. Here, Mels stand for Melvin (whose specialty is soup and drinks), Melody (who concocts the desserts), Melanie (who makes the cakes and cookies), and Melissa (who also does dessert), all of them Uymatiaos with a dream of food.
"How did you come up with the menu?" I asked Melvin.
"It was a matter of us coming together with our specialties," he said, "and convincing the other that this has got to be part of the whole experience."
The idea behind the café, which opened in January 2010, began with Melvin who graduated from Silliman University in 2003, with a degree in Information Technology—a far cry from the kitchen from which he invents culinary pleasures. He had done his share of plodding through the corporate warpath in Procter and Gambe, and then in Hewlett Packard, which afforded him to travel extensively—in the United Kingdom, in Egypt, in India, and in China, taking from each place a sense of culinary invention. By 2009, he was back in Dumaguete to begin work for the family company. But he had always felt that Dumaguete was missing something new.
"Can you define that something?" I asked him.
"Innovation," he said. "Because what do we always have around us in Dumaguete? What's the usual? Chicken." He said that even when they were young, they—he and his sisters—knew they've always wanted to have something different. But it was always the same—McNelys, Jo's, City Burger, Jollibee…
In a sense, for Melvin, Mels is the antithesis to all that. "There's no other place in the city that is offering this kind of food—salads, especially—especially for those who are adventurous, and for those who are on a budget," Melvin said.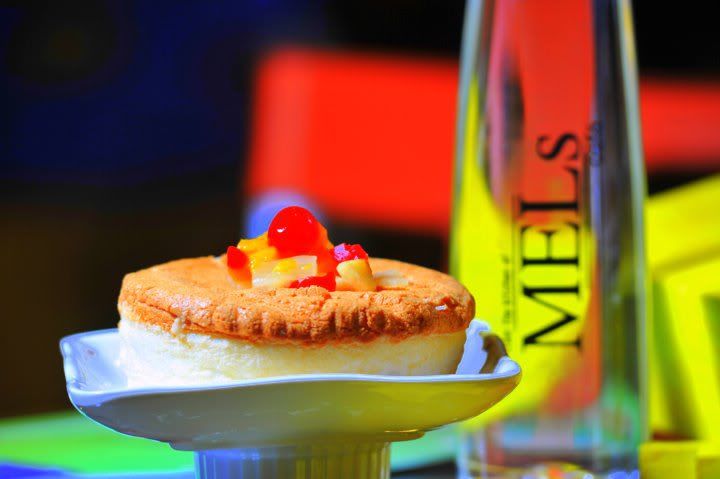 They began constructing a menu they thought would be a little something different. "There's soup. We have mushroom soup here," Melvin said. "And our salads comes in seasonal themes—there's Summer Fruity Salad, there's Spring Mandarin Chicken Salad, there's Winter Crab Salad, there's Autumn Apple Salad. But you must also try our desserts… There's the WBC, otherwise known as a Warm Brownie Cup, a brownie topped with vanilla ice cream, heated. There's our mango ice box cake. And there's what we call muraputo—an angel cake topped with fruits." That's what I had, and it was like tasting a sweet but firm brazo de mercedes, without the mercedes.
But they pull out all the stops with their sandwiches. Aside from the ones that I've had—the Cheezy Burger and the Roast Beef Sandwich—there's the Garden Delight Burger, with its inventive use of coleslaw; there's the California Sandwich, which is all vegan—no meat, just lettuce, tomato, cucumber, crab
kani
, and mango; there's the Pork Barbecue Sandwich. Then, of course, there's the tuna and the classic ham and egg—but with a Mels twist.
One of the things that is quite special about the place is Melvin's own invention of a parlor game—something he calls Dodecamino, which is composed of wooden blocks inspired by Tetris pieces, the objective of which is to form a rectangle from a pre-selected set of pieces. This sounds easy, but takes a lot of time to decipher. On the wall, tacked to a board, there's a bondpaper that contains the design of a robot figure. "Use all pieces to make that design, and you get one free meal," Melvin said.
If you do, make sure you get the roast beef and the butter beer.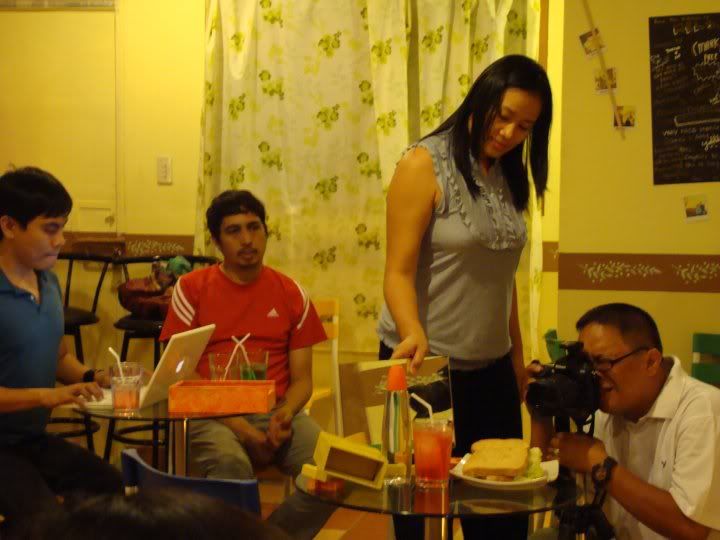 [The Team: Photos by Greg Morales. Food styling by Arlene Delloso-Uypitching. Arrangement by Moses Joshua Atega.]
[0] This is Where You Bite the Sandwich
---