Thursday, August 19, 2010
11:47 AM | Cherie Gil Brings Maria Callas to the Luce Stage in Master Class
The Silliman University Cultural Affairs Committee and the Philippine Opera Company, in cooperation with Globe and Midtown Printing Company, are proud to present the Tony Award-winning play,
Master Class
, about the legendary opera diva Maria Callas. It will have its Visayan premiere and Dumaguete run on 20 and 21 August 2010, Friday and Saturday, at 8 P.M., Claire Isabel McGill Luce Auditorium in Silliman University.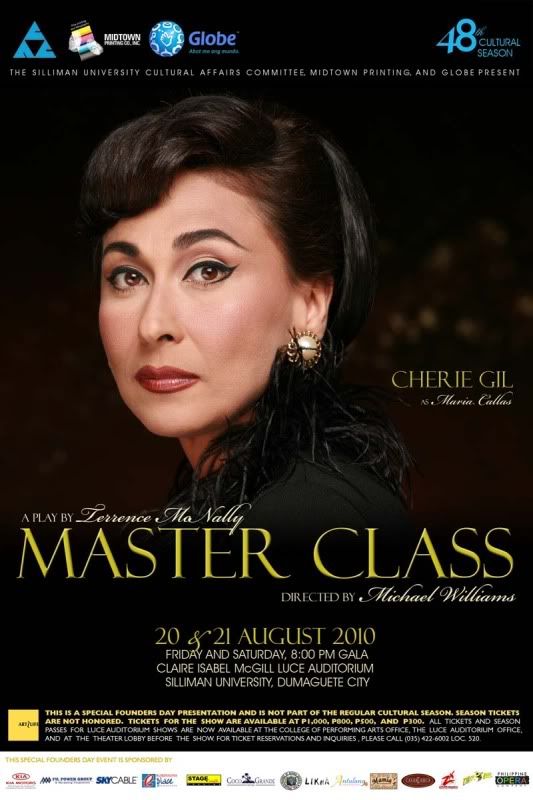 Terrence McNally's play was first produced by the Philadelphia Theatre Company in March 1995; it opened at the Golden Theatre in New York City in November of the same year. The play is based on a series of master classes given by the renowned opera singer Maria Callas at the Juilliard School of Music in New York in 1971 and 1972. Callas (1923–77), was the greatest dramatic soprano of her generation and also a controversial figure. Her restless and tempestuous personality often led her into disputes with opera managements and feuds with rival singers. However, she was adored by her fans and was the subject of constant media attention, including gossip about her jet-set life with the wealthy Greek shipowner Aristotle Onassis.
Although
Master Class
does delve into the triumphs and tragedies of Callas's life, its primary focus is the art of dramatic singing. As McNally's fictional version of Callas teaches her class, she explains to her students, two sopranos and a tenor, just what it takes to invest the music with real feeling, revealing as she does so how demanding the profession of opera singing is. She also reveals her own contradictory personality—proud and egotistical yet also vulnerable and self-pitying. In spite of all the flaws of its main character, however,
Master Class
, written by a man who has been a Callas fan since he was a teenager in high school, is a tribute to the dedication of a great singer and actress to her chosen art.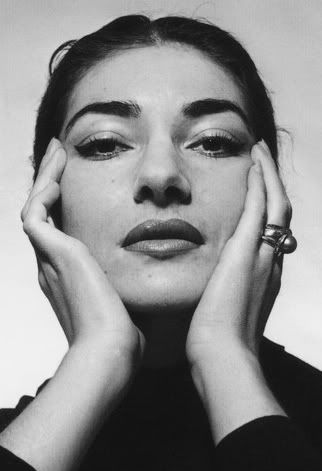 Although the play touches on many of the main events of Maria Callas' life, it is not in essence a biographical portrait. Rather, it is an exploration of the nature of artistic creation, as applied to operatic singing and acting. Maria makes clear that art is serious business that cannot be done by half measures; it demands total commitment on the part of the singer/actress. Being an opera singer can never be an easy career; the singer must give everything to the demands of her craft. This means intense discipline over a lifetime.
Witness one of Philippine cinema's living legends
Cherie Gil
in a very rare performance as the opera icon Maria Callas.
Playing the students in her master class are Juan Alberto Gaerlan as Anthony Candolino, Florence Aguilar as Sophie de Palma, Ana Feleo as Sharon Graham, Francis Amora as the pianist Manny.
Juan Alberto Gaerlan
completed his Professional Diploma Studies in Western Opera at the Hong Kong Academy for Performing Arts where he graduated with distinction. He has made numerous performances here and abroad and was last seen as Rodolfo in POC's and CCP's production of Giacomo Puccini's La Boheme.
Ana Guillen Feleo
is an Aliw Awardee for Best Actress in a Musical for 2007. She received her music education at the College of Music, University of the Philippines under the tutelage of Professor Emeritus Fides Cuyugan- Asensio. She pursued further coaching with W. Stephen Smith in Juilliard last 2008 when she prepared for her biggest break in her operatic career when she played the role of Musetta in La Boheme.
Florence Aguilar
graduated magna cum laude in voice from the University of Santo Tomas Conservatory of Music. She was part of the Singapore Lyric Opera's twin bill production of Cavalleria Rusticana and I Pagliacci and of the Philharmonic Chamber of Choir of Singapore's Bach's Mass in B minor and I Love My Love concerts conducted by Maestro Lim Lau and Johannes Prinz respectively.
Francis Amora
is a BM graduate in Piano Performance from Philippine Women's University Conservatory of Music and is currently taking up his Masters in Piano Performance in UST Conservatory of Muic under Prof. Raul Sunico.
The play is directed by veteran stage actor
Michael Williams
.
Tickets are available at P300, P500, P800, and P1000. For inquiries, please call (035) 422-6002 loc. 520 or loc. 250, or 09173235953.
Labels: art and culture, cultural affairs committee, dumaguete, music, negros, opera, silliman, theater
[0] This is Where You Bite the Sandwich
---