This is the blog of Ian Rosales Casocot. Filipino writer. Sometime academic. Former backpacker. Twink bait. Hamster lover.
Interested in What I Create?
Bibliography


The Boy The Girl
The Rat The Rabbit
and the Last Magic Days
Chapbook, 2018




Republic of Carnage
Three Horror Stories
For the Way We Live Now
Chapbook, 2018




Bamboo Girls:
Stories and Poems
From a Forgotten Life
Ateneo de Naga University Press, 2018




Don't Tell Anyone:
Literary Smut
With Shakira Andrea Sison
Pride Press / Anvil Publishing, 2017




Cupful of Anger,
Bottle Full of Smoke:
The Stories of
Jose V. Montebon Jr.
Silliman Writers Series, 2017




First Sight of Snow
and Other Stories
Encounters Chapbook Series
Et Al Books, 2014




Celebration: An Anthology to Commemorate the 50th Anniversary of the Silliman University National Writers Workshop
Sands and Coral, 2011-2013
Silliman University, 2013




Handulantaw: Celebrating 50 Years of Culture and the Arts in Silliman
Tao Foundation and Silliman University Cultural Affairs Committee, 2013




Inday Goes About Her Day
Locsin Books, 2012




Beautiful Accidents: Stories
University of the Philippines Press, 2011




Heartbreak & Magic: Stories of Fantasy and Horror
Anvil, 2011




Old Movies and Other Stories
National Commission for Culture
and the Arts, 2006




FutureShock Prose: An Anthology of Young Writers and New Literatures
Sands and Coral, 2003
Nominated for Best Anthology
2004 National Book Awards


Follow the Spy




Recent Crumbs




Blogs I Read


© 2002-2018
IAN ROSALES CASOCOT
Thursday, August 12, 2010
10:02 PM | Manila's Best Improv Comedy Troupe to Hit Dumaguete
Silly People's Improv Theater or SPIT, the premiere improvisational theater group in the Philippines, is set to conquer Dumaguete City on 15 August 2010 in an unscripted comedy showcase titled "SPIT Live in Dumaguete!" as part of the cultural season of the Silliman University Cultural Affairs Committee.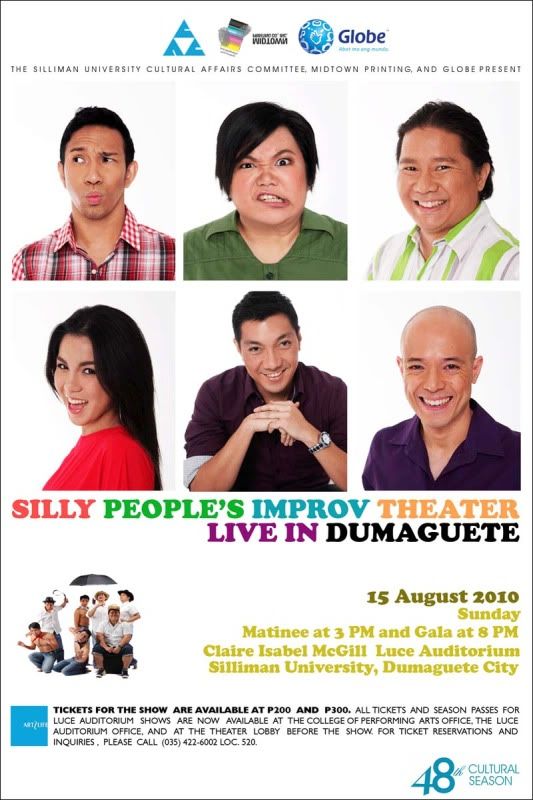 SPIT was founded in 2002 by entertainer Gabe Mercado and a group of friends after Mr. Mercado trained with legendary Second City founder Paul Sills, the acknowledged Father of Modern Improv, at the Wisconsin Theater Games Center. In 2004, SPIT spearheaded
Spontaneous Combustion: The First Philippine Improv Festival
at the Cultural Center of the Philippines, and then participated in the 3rd National Theater Festival where they premiered
Sarskwela: Ang Sarswelang Kwela
, a completely improvised twist on the traditional Filipino sarswela.
In 2009, they premiered two works at the CCP, including
Cambiar!
, an improvised educational environment themed show for the Earth Day Celebration, and
Dingdong! Death is at the Door
, an improvised long-form murder-mystery show for the 5th Virgin Labfest. SPIT also represented the Philippines in the prestigious Los Angeles Comedy Festival in Los Angeles in 2004.
Composed of thespians, teachers, and other professionals from varied fields, the group also does regular shows to packed audiences in some of the best entertainment spots throughout Manila and is a staple of corporate functions with their lap smart yet hilarious brand of comedy.With close to five hundred performances to date, SPIT has delighted local and international audiences with their unscripted unrehearsed and totally spontaneous shows.
The show is a co-production of Little Boy Productions. Tickets are available at P200 and P300 for both the matinee and gala shows. For inquiries, please call (035) 422-6002 loc. 520 or loc. 250, or 09173235953.
Labels: art and culture, comedians, cultural affairs committee, dumaguete, negros, silliman
[1] This is Where You Bite the Sandwich
---