This is the blog of Ian Rosales Casocot. Filipino writer. Sometime academic. Former backpacker. Twink bait. Hamster lover.
Bibliography
Tuesday, January 04, 2011
10:17 PM | In Love With Juli Baker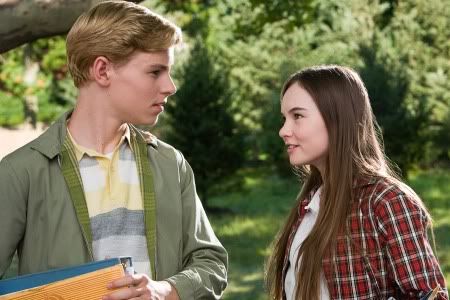 It's strange that just when Rob Reiner has come back to perfect directorial form with
Flipped
[2010] after the assorted and long debacle dealing with the duds of
North
[1994],
The Story of Us
[1999],
Alex and Emma
[2003],
Rumor Has It
[2005], and
The Bucket List
[2007], nobody seems to have noticed. This despite some good reviews
Flipped
got, particularly from film critic Roger Ebert who raved about it. The film, about two teenagers finding love and themselves in 1950s America, is a he-said-she-said story that is long on characters and short on gimmicks, which makes it all the more laudable in this age when sincerity is something to be laughed at. I loved the film. I loved the actors who played Juli Baker and Bryce Loski. "Madeline Carroll and Callan McAuliffe, who both look teeth-achingly vulnerable," Ebert wrote, "are sincere and pure and wholesome, and are characters we believe can be hurt." They have a curious gravity to them, and I felt their story to be my story, too. So I don't know why audiences did come in droves to see this movie last year. It's such a waste, considering that this film, based on the novel by Wendelin Van Draanen, has its heart in the right place -- and it is wise and endearing without being saccharine. It reminds me of Reiner's earlier efforts in
When Harry Met Sally
[1989] and
Stand By Me
[1986], of which
Flipped
seems to be the strange combination of both. Ebert writes: "Maybe what makes Flipped such a warm entertainment is how it re-creates a life we wish we'd had when we were 14. That's true for adults, and also I suspect true for some 14-year-olds. In a way the audience flips, too."
[0] This is Where You Bite the Sandwich
---