This is the blog of Ian Rosales Casocot. Filipino writer. Sometime academic. Former backpacker. Twink bait. Hamster lover.
Interested in What I Create?
Bibliography


The Boy The Girl
The Rat The Rabbit
and the Last Magic Days
Chapbook, 2018




Republic of Carnage
Three Horror Stories
For the Way We Live Now
Chapbook, 2018




Bamboo Girls:
Stories and Poems
From a Forgotten Life
Ateneo de Naga University Press, 2018




Don't Tell Anyone:
Literary Smut
With Shakira Andrea Sison
Pride Press / Anvil Publishing, 2017




Cupful of Anger,
Bottle Full of Smoke:
The Stories of
Jose V. Montebon Jr.
Silliman Writers Series, 2017




First Sight of Snow
and Other Stories
Encounters Chapbook Series
Et Al Books, 2014




Celebration: An Anthology to Commemorate the 50th Anniversary of the Silliman University National Writers Workshop
Sands and Coral, 2011-2013
Silliman University, 2013




Handulantaw: Celebrating 50 Years of Culture and the Arts in Silliman
Tao Foundation and Silliman University Cultural Affairs Committee, 2013




Inday Goes About Her Day
Locsin Books, 2012




Beautiful Accidents: Stories
University of the Philippines Press, 2011




Heartbreak & Magic: Stories of Fantasy and Horror
Anvil, 2011




Old Movies and Other Stories
National Commission for Culture
and the Arts, 2006




FutureShock Prose: An Anthology of Young Writers and New Literatures
Sands and Coral, 2003
Nominated for Best Anthology
2004 National Book Awards


Follow the Spy




Recent Crumbs




Blogs I Read


© 2002-2020
IAN ROSALES CASOCOT
Saturday, July 16, 2011
7:55 PM | All That Longing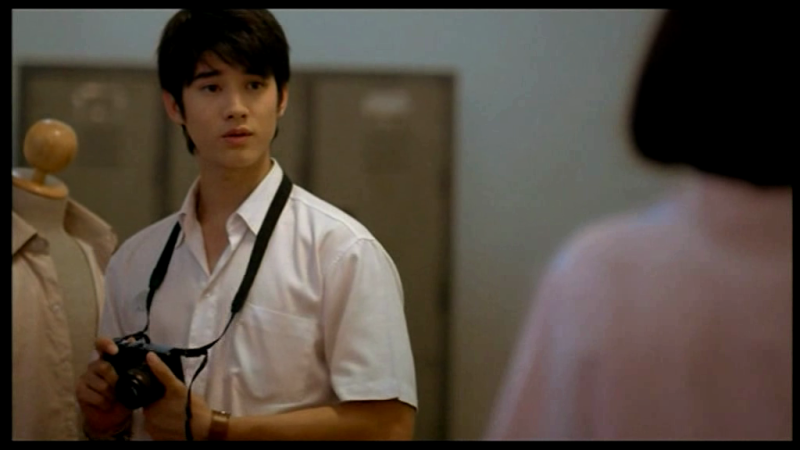 The Thais know something about longing. They capture it well on film. The mad surging, the illusion of nobility in denial, the perfect -- if short-lived -- happiness of catching a glance, a smile, or a touch from the beloved. Which is to say I have finally managed to catch Puttipong Pormsaka Na-Sakonnakorn and Wasin Pokpong's สิ่งเล็กเล็ก ที่เรียกว่า..รัก [
A Little Thing Called Love
, 2010] ... egged on by the sheer popularity of the film among girls (and women) around me who are normally of the even-keeled sort but have been reduced to hysterics by the Tagalog-dubbed version of this film which aired in a network TV station a few months back.
Watching it, I understand the passion of the fans. It is certainly not a perfect film -- everywhere in its narrative, we encounter awkward bumps telling of a inferior acting or directorial or writing choice -- but the film wears its charm lightly and with frank resoluteness, it is hard not to like it. Heck, it is hard not to fall in love with it. Heck, it is hard not to feel the painful longing of Nam (played by Pimchanok Leuwisetpaiboon, who is the spitting image of Kim Chiu, without the malnourished look) as she gazes into the eyes of Shone (played by Mario Maurer), her object of desire, someone she has fallen for since the beginning of high school and has remained somehow removed from her efforts, this despite the frantic tips she gets from a booklet that promises nine sure-fire methods gleaned from cultures all over the world to get the man of her dreams. [And in that regard, we completely agree with her obsession: Mario Maurer has it in spades, and is perhaps this generation's Asian answer to Alain Delon.]
Truth be told, this is the StarCinema romcom I have always wanted to watch, if only Cathy Garcia-Molina or Olivia Lamasan had enough imagination to get away from the gutter thinking of assembly-line cinema and actually strive enough to create something whimsical like this, or at least to put an original spin on the same old formula. (There is a reason why Jessica Zafra insists that all StarCinema romantic comedies are all virtual remakes of
Notting Hill
, that 1999 Roger Michell film starring Hugh Grant and Julia Roberts.) Consider that the film is essentially told from one point-of-view, that of Nam's, and her teenage desires are what drives the film and its heart -- and yet what proves wrenching is the twist in the end that subverts our own idea of who actually does all that work in longing, something reminiscent of the kissing film clips near the end of the original version of Giuseppe Tornatore's
Cinema Paradiso
[1988]. The revelation had naked emotional power that had me reeling. But also like that beloved Italian film, this Thai romance also ends with a coda that goes on too long, made of course to give our protagonists their happily ever after -- but feels too calculated to be truthful. (Consider the sudden swell of music at the end of Shone's final sentence.)
But nonetheless. This is a film that knows very well the music of every lovelorn person's heart. It speaks gently of that unbearable, sweet longing -- and if only for that, it is very much welcome to enter the hidden pantheon of our guilty film favorites.
[0] This is Where You Bite the Sandwich
---