Friday, July 15, 2011
7:45 PM | A Primer for Table-Hopping in Dumaguete
Part 1 of a series on Dumaguete food
Every time a traveler comes to Negros Oriental, I am always asked the same two things, the first being an inquiry about the local delicacy, some edible
pasalubong
to take home. That has become a kind of touristic expectation—Cebu with its
lechon
and
chicharon
, for example, or Bohol with its
kalamay
and peanut kisses.
Such query used to vex me. What do we exactly eat in Negros Oriental that is worthy of culinary tourism?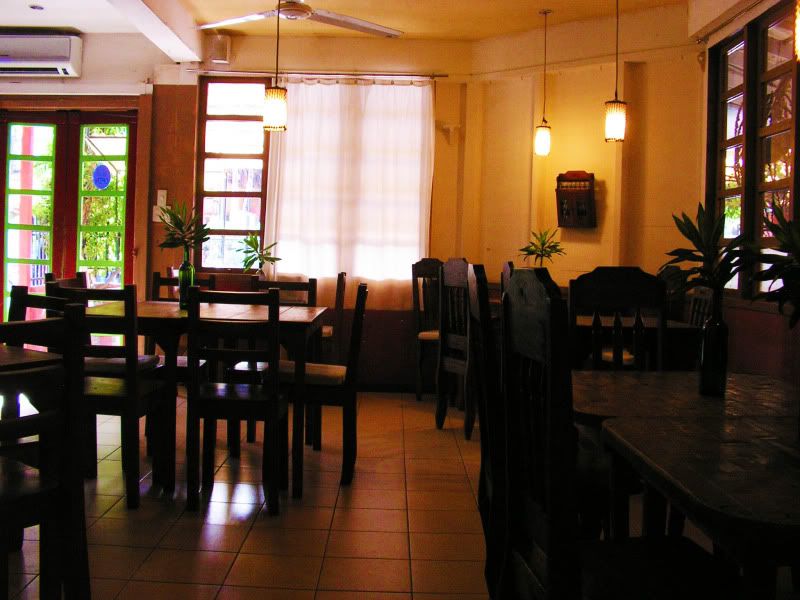 Jutsz Cafe doubles as a space for the city's artists
Over time, it has become easy to answer. My roots being Bayawan, a small city in the southern part of the island looking out towards Sulu Sea, I am ready to pronounce the gustatory delights of
baye-baye
, a kind of sweet cake made of sticky rice and coconut—and thinking of it now brings on a surfeit of childhood memories. I'm imagining the burst of sticky sweetness that explodes on the tongue, and the way the paste lolls around the mouth.
Then there's Tanjay's
budbud
named after itself or Dumaguete's
budbud kabog
—the two towns' version of
puto bungbung
, really. (Alas, why it's named after the local species of bat is beyond me.)
In Dumaguete, the easy answer has come to be the silvanas from Sans Rival, that quaint cake house near the Rizal Boulevard that has found a solid way to make this frozen delicacy of a pastry last a plane ride by coming in
pasalubong
variety: its powdery shell is made extra hard, which preserves the quick-melting creamy heaven inside.
The second query, still about food, has nothing to do with
pasalubongs
, but everything to do with the matter of solving any current pangs of hunger. If one is a stranger to Dumaguete, where do you exactly go that would also define a sense of place? To eat where the locals gather is, in a sense, getting to know well the stirrings of every day life as it exists in this peculiar spot of geography. This one goes beyond considerations of fast food. You do not go to another place to have Jollibee.
But if "definition of a place" must be a criterion, you could always start with this one kind of fast food popular in the city: the "tempura," a flour-coated something (definitely not shrimp—but it sure does taste a little like it), which is an unhealthy mix of MSG and deep-frying oil. But locals do gravitate towards the
tempurahan
, how we call this spot at the head of the stretch of paseo, at the corner fronting old Sillliman Hall, which is the city's picturesque Rizal Boulevard. At night, the place turns into a haven for moon-seekers, its acacia-lined stretch overlooking the dark currents of Tañon Strait lit orange by lights emanating from Corinthian lampposts that dot it. Many years ago, a city mayor once thought of doing away with the "tempura" vendors, their makeshift chairs and colorful beach umbrellas considered an "eyesore" in the midst of the Boulevard's Spanish/American feel. And then the New York
Times
, in its travel article about Dumaguete, splashed images of the
tempurahan
in its pages. It became an instant curiosity of a place, a tourist spot. The order was withdrawn, and so the
tempurahan
stands where it is until now, gentrified a little bit, the vendors now in uniform. (The tempura is also available with hot sauce, and coupled with a bottle of Coke, it becomes a kind of feast. One has been known to devour fifteen pieces of it in one sitting.)
Dumaguete, for some reason, is in a culinary renaissance of some sort. It is a small revolution, but it sizzles still.
Why a revolution? Consider this. There used to be a time when dining out was a perennial problem in Dumaguete. Essentially a big town with small city airs, it was a place where nobody went out for dinner—and if they did, it was mostly a family affair that was quick, usually undistinguished, lacking the pizzazz of experience the way a place with a culture of dining out has. Which is why, for the longest time, what can be said to sum up a typical Dumaguete dining experience is the outdoor grill. Jo's Chicken Inato is iconic in that tradition—its grilled chicken, marinated with a secret recipe of herbs and a milky what-not, is almost synonymous with the city. Today, that tradition, always done al fresco, has expanded a little bit with City Burger (which is
not
known for burgers, but for barbecued chicken dipped in a tantalizingly sweet sauce—a real experience, if you have the patience to spare with its gruffy and belligerent waiters and waitresses, who seem to begrudge your very presence for some reason), and with Atong Kamalig, also near the Boulevard, with its smorgasbord of grilled meat and funky-sounding bands. More recently, there's Sundown, near the intersection that leads to Robinson's Place—a beautifully landscaped beer garden, complete with the
alfresco
feel, that transcends whatever image it wants to project to offer some of the most surprising cooking in town. Surprising because you don't expect so much from such a small place. Still, it has the imprimatur of Santa Monica's kitchen, which says a lot about the seriousness of its food.
In consequence, we only had a few restaurants with slim culinary imaginations, coming and going in fashion. The local cheese burger that defined Dumaguete the most had always been the one from Taster's Delight, an institution now gone, much to the lamentations of several generations of students in this University Town for whom its delectable blend of sauce created magic with its patty. North Pole Emilia and its glorious coco flan are also gone, and so has Dockside with its late-night feasts of
tocilog
and its other
-log
cousins. And who remembers Blue Oyster in Sibulan? Jumong, a Korean restaurant in the bowels of Portal West, has also disappeared into kimchi hell. Then most recently, the closing of Gimmik, which prompted an overwhelming response for a sense of loss for its "perfect"
sisig
, its sun-roasted pork belly, its Peruvian steak, its calamares, its
sinugbang isol
...
Gone, too, is Sampan Food Haus near Don Bosco, which was the closest Dumagueteños could get to good Hong Kong-type dining—Chinese food with a street flair. Italia, that glorious Italian restaurant near Avenida Sta. Catalina, is also now gone—and all I have left of it are memories of its delicious carpaccio di Resce con verdure marinale—a thin slice of tuna with marinated vegetables that simply melted in my mouth—which I had for antipasti, and the bistecca Italia (succulent beef tenderloin sautéed in extra virgin oil, with carrots, potatoes, and herbs) and bistecca di Pepe (grilled tenderloin steak with black pepper). What proved to be its demise? Its pricey fare, in a city that is quite notorious for wanting its fine dining within the budget of a take-out from McDonald's.
A growing city—and its increasingly ravenous appetites—changes with time. It is an inevitability. Our favorite food places come and go in fashion. Our shifting standards dictate it.
The menu is now a mess
, we say.
The place has lost its charm. The toilet looks dirty and forbidding, so you can imagine how the kitchen must be. The prices are just a little too steep for what looks like a carinderia. The menu, alas, is now a mess.
But we eat out more and more still, the city changing and becoming more cosmpolitan under our feet, and the restaurants continue to mushroom with much hope—and most of the time, they just vanish like stale French fries.
Some food places and their famous dishes, of course, stay for good: the
pinsik
from Rago's; the addicting cheese bread and fruit mix from Silliman Cafeteria; the spaghetti carbonara from Chantilly; the
lechon manok
from Golden Roy's and Manok ni San Pedro; the cheese de sal from Mrs. Breadworth in Lee Super Plaza; the steak from Le Chalet in Why Not; the kebab in Persian Palate (now Tandoori); the grilled squid from Mamia's; the crispy
pata
from Santa Monica; the tocino from Manang Siony's; the pastries and cakes from Ana Maria; the cafeteria spread and dimsum from Howyang; the
batchoy
and
arroz ballao
from Qyosko (and sometimes its delicious
dulce de leche
cheesecake, or Oreo white chocomousse, or milk chocomousse); and the homemade ice cream and organic chicken steamed rice from Panda Haus.
There is still the Rosante, along Perdices Street, which after it burned down a few years ago, became the more posh Don Roberto's, and still serves its famous roasted chicken. La Caviteña may now be a shadow of its former self—but it's still there, hanging on. Chin Loong, with its pseudo-Chinese menu, has had its ups and downs (and now it looks like it's in the ups again), and CocoAmigos, with its once delightful Mexican whimsy, has been in steady decline for the past few years, its go-go musical acts on weekends becoming an Angeles City kind of attraction.
Baduy.
So we stay away.
For dressy fares, you go to Fuh Garden (what used to be Mei Yan); or to Casablanca—or if you had a car, all the way to Atmosphere in Dauin, or to any of the resorts that dot that beach town. (We used to frequent this delightful little Thai restaurant called Sawasdee in Tanjay—which was quaint enough to patronize largely due to the distance and effort, and the food was truly brilliant, never mind the hangers of dreadful RTW crowding out the make-do tables and chairs. Once it made the move to Dumaguete, however, it carried its barriotic eccentricities with it, and was promptly shunned by the AB-aspirational crowd that's the Dumaguete bourgeoisie. Everything in food, you see, rests on reputation, in a region that takes its sugarlandia air with utter seriousness.)
Most often, we go to La Residencia Hotel's two restaurants—Don Atilano for its steak or Wakagi for its Japanese fare. I go to Don Atilano sometimes for breakfast, when I am bored and have a hankering for
tapa
or
daing na bangus
or
danggit
or
tocino
or Spanish
chorizo
or double-fried adobo, peculiarly prepared the Don Atilano way. (Which is, well, snobbish.) But my most memorable dinner here was not its famous steak—which is as ordinary as they come—but with its
sake
-marinated Norwegian salmon (complete with roasted shallots, mandarin orange and greens, served with soba glazed in teriyake sauce), coupled with its
lengua
bordelaise (which is ox tongue braised in bordelaise sauce and cooking wine), its
bacalao
(cod fish fillet sautéed and simmered in rich tomato and olive oil), its roast chicken with pesto butter, and its seared fillet of dory over shrimp ravioli sautéed on butter and shitake mushroom and topped over shrimp ravioli on heavy cream. That was one truly memorable dinner, something I shared with friends with similar tastes for culinary adventures—but since La Residencia's latest remodeling, its old charm has been lost to its shiny new chrome and wood finish. Even its brewed coffee, which was once praised by The New York
Times
as probably one of the best in this part of the world, has lost something of its magic.
Things have changed. That much can be said. The city has changed. Today, with a new Robinson's mall south of downtown, the choices have become a little more crowded. Not in the same way that Cebu or Manila or Bacolod do it, but nevertheless it's a stirring of sorts, perhaps a sign of better things to come. There're already Gabby's Bistro and Jutz's Café (formerly Boston Café) and Neva's and Likha and KRI and Mamia's and Royal Suite in the mix. Sans Rival has expanded from the small pastry shop of our collective memories, to become a full-fledged restaurant, open even on Sundays. There's even a new Thai restaurant, an affair called Ti Ban Thai along San Juan Street, a stone's throw away from Sans Rival, where the waitresses remind me of the girls in Patpong—scantily dressed, luring in a specific kind of customer. (Here, I ordered
kai sate
for appetizer and
pad thai
for dinner. The
kai sate
tasted like an afterthought, its meat brittle-tasting verging on the merely okay. Dipped in generous peanut paste, its
pad thai
was a little more passable, its noodles had a respectable consistency, and it had the surprising earthy airiness of sprouted mung beans; the whole thing, caked in a mushy layer of fried scrambled eggs, seemed like something concocted with an eagerness to please.)
Over the past year or two, I have gone on random food adventures with three other friends, each of us equipped with a role—
Moses Joshua Atega
acted as our liaison man for restaurants around town,
Greg Morales
was food photographer, and
Arlene Delloso-Uypitching
was newly-discovered food stylist.
The following articles in this series are an account of our tasting trips, which became, in essence, a culinary discovery of some of the best that Dumaguete had to offer.
There are two kinds of articles about food: one talks with such specificity about the dish in consideration and the reach is for the technical, an examination of ingredients and process; the other talks about the experience of the partaking, which is how I approach food appreciation. It is for me a kind of theater of gustatory delight that is part communal act (we call that a "feast") and part individual meditation, done in bites, for the pleasures that life can offer.
This will be an attempt to do the latter...
[To be continued...]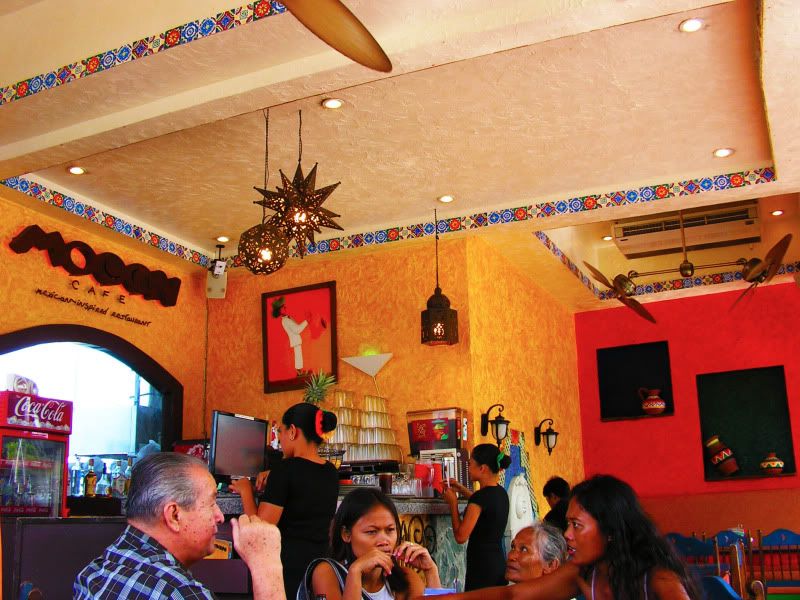 Mooon Cafe, an import from Cebu, has quickly come to capture Dumaguete with its affordable steak and what-not...
[Crossposted in a different form in
TravelBook.ph
]
Labels: dumaguete, food, negros, travel
[0] This is Where You Bite the Sandwich
---