Nobody remembers—except perhaps those who have a penchant for nostalgia and have seen Dumaguete evolve over the years—that Lab-as used to be a "floating" restaurant. And not in the spot where it is now. A few meters away, in fact, where Barefoot Bistro is presently. The old
al fresco
ensemble of coco lumber and wood and
nipa
, with a running veranda belted around it to set the rustic tone, sat on a man-made pond, a moat really, which was seeded with fish, oyster, and crab. The effect was both visual delight, and source of fresh catch that can directly to the nearby grill and on to the plate of hungry gourmet.
It has been more than twenty years since Lab-as (the Cebuano word for "fresh catch," or more tellingly, a "freshness of flavor") was founded on that old spot in 1988. "Back then," writes Vicente Fuentes of his family's lasting contribution to Dumaguete's culinary culture, "the vogue in the dining fare in and around [the city] was either … Chinese or Spanish … with a sprinkling of European and native dishes in some resorts and restaurants… It was thus a bold step for Lab-as to venture into seafood, in a location that was even regarded as a 'no-no' in business practice. [We are] situated quite a distance away from the heart of [town], where the convenience of walk-in customers—like shoppers and businessmen of the downtown commercial district—was a built-in come-on."
The spot, near the crossroads of Escaño Boulevard and Flores Avenue, overlooking Tañon Strait, was—at least in the late 1980s—a kind of no man's land in Dumaguete: it bordered the shanties of nearby Lo-oc, and at night, it turned into a desert of quiet darkness. It existed in a metaphorical version of the doldrums, the way places in a small city can be, unmeasured by actual standards of distance. Things have changed since then, with Escaño becoming the city's current throbbing heart of all things you could call the night life. Lab-as might as well be the germ of that transformation. Without the Fuenteses, would life stir in Flores Avenue the way it does now? Probably not.
It was a gamble—and it paid off handsomely. And yet it was a risk that was also founded on one sure thing: there was, and still is, a visionary sumptuousness in Lab-as' fare. They had food—fresh, delectable—you had to keep coming back to. It was worthy of repeated word-of-mouth appraisals—and it is exactly that kind of enthusiastic response from diners over all these years that has sustained the restaurant. And yet, in the beginning, all that Mr. Fuentes wanted was to create something new for Dumaguete, to offer something new for its collective palate. He writes: "We tried to ride the growing tide in health consciousness sweeping the country, to veer away from food rich in cholesterol and animal fats. We conceived of an idea of freshness in seafood, [not only as a healthy alternative but also as something truly appetizing and satisfying.] When seafood, like grilled fish or steamed crabs or oysters and prawns, are eaten
al mano
—or
kamayan
style—the satisfaction is doubled."
Consider the bestsellers in this restaurant.
There's the
talaba
, always a succulent experience, which comes in cheese, basil, garlic, or
sibuyas dahon
. Taken with wasabi, each bite becomes a whole buffet in one swallow. "We prepare them raw with
kalamansi
or
sinamak na suka
," says Vicente's son Sande, who is Lab-as' current conjurer, or at least an ambassador, of culinary witchcraft. "They live off from our aqua tanks to purge them before we serve them to customers. They are grilled and then steamed with
sinamak
, which is native coconut vinegar with garlic ginger,
sili
, and peppercorns. And then we have them baked with garlic basil and cheese." The secret to the delectability is that they try to keep the oysters alive—"and it is a challenge now to get big plump ones," admits Sande, "because Bais is also now supplying restaurants in Cebu and San Carlos."
You go next with the
crispy shrimp
, seasoned in
kalamansi
, salt, pepper, and garlic and then dusted with corn starch; the whole ensemble is then deep-fried quickly, so that the shrimps' shell becomes crispy but the juiciness of the meat remains, locked in. It comes served—all in delectable crunchiness—with
bagoong
, tomato, and
sibuyas
, and the whole thing is best eaten from head to tail, each bite dipped in
sinamak
with crushed
sili
.
The
halaan
or
punao
clear soup
is a favorite starter among diners. The dish primarily consists of fresh clams sautéed in garlic and ginger. Added to the mix are onions, tomatoes, and atsal or red pepper in a clear soup, which is topped with
sili espada
and
sibuyas dahon
before it is served. It becomes for many an instant taste of home, something comforting and "makakalma." Paired with grilled seafood, it becomes almost a complete meal, and also becomes a great match for Filipino guilt-inducing cholesterol-laden favorites like crispy
pata
or grilled pork belly; the
halaan
clear soup perfectly counters the oil of these dishes.
The
fat chili crabs
—sautéed with onions, garlic, and a generous helping of milled pepper, and then served with a dash of tomato sauce (plus Lab-as' secret hot sauce formula) and a serving of garlic rice—is an invitation to finger licking. It is another one of Lab-as' favorites. "We keep the crabs alive, ready for the cooking," says Sande, "and then we have them steamed, then deep fried with a lot of garlic and
guinataan
...."
There are three grilled dishes in the Lab-as menu that I keep coming back to. The first is the
panga
of the blue marlin or malasugi
, always grilled to perfection, the tenderness of the meat mingling with a smoky flavor that is arresting. The flavors are subtle, bursting only in the back of your tongue.
The second is the
sinuglaw
, which is my ready favorite in the menu. It is essentially a Dumagueteño version of
binakhaw
: fresh
tangigue
cut into cubes, mixed with slices of onions, ginger, and
atsal
, and then with
biasing
(a relative of kaffir lime, fresh from Camiguin) thrown in with a measure of fresh coconut milk ("No mayonnaise, please," Sande says), native coco
suka
and salt, finally topped with
sibuyas dahon
and some crushed
sili
. The final ingredient is
sugbang baboy
or pork chop hot off the grill, the meat succulently chopped and layered on top of the
binakhaw
. The contrast in taste and color is a feast for the senses.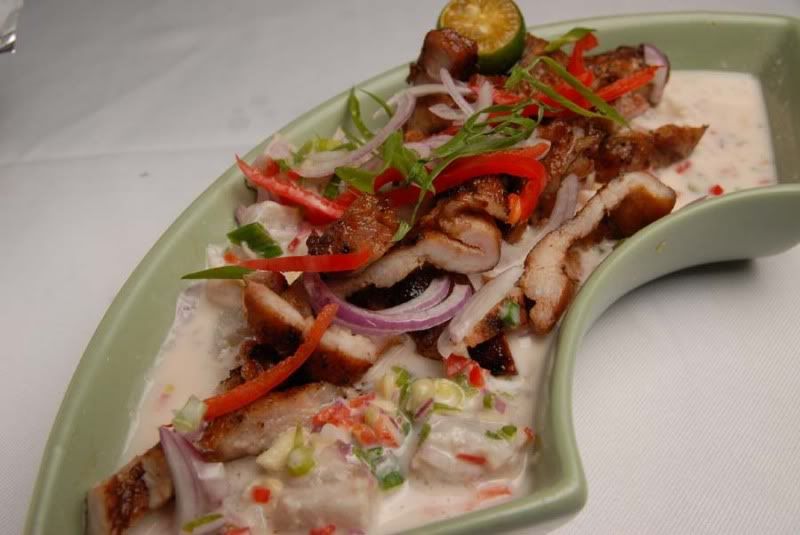 Finally, there is the popular
Dumaguete Express
—Lab-as' take on the Bicol Express, but something that is inspired by the cuisine of Camiguin—complete with slivered flesh of
botong
, fish, squid, and shrimp, cooked in coconut milk with
malunggay
, ginger, and onion, and then topped with
lechon kawali
. "It is a complete meal," says Sande, "and it has somehow become a favorite of backpackers…"
That mention of backpackers is testament to Lab-as' growing popularity, not just among locals, but among traveling gourmets from all over the country, and even the world. Many food critics have proclaimed Lab-as' menu as something that has perfected a taste for the native—which is enviable because it is a menu arrived at only with the strength of one man's culinary philosophy. Vicente Fuentes was not a chef, just a food enthusiast who knew what "freshness" was all about. "What we have," Sande says, "are our trusted
kusineras
—our
manangs
who have been with us through the years. We have two chief cooks, Manang Carmen and Manang Tasing, who have been loyal to us since 1988. It is quite a team we have, with five other cooks and what we call as the '
talaba
boys' and the 'grill boys.'"
What Lab-as has is a menu that may stick to classic favorites, their quality consistent and unchanging, but is also something that evolves over time with inspiration taken from travels, including surfing and diving, that the Fuentes family does, as well as with their unceasing food trips in
karinderias
in Bohol, Siargao, and Camiguin. What inspires them in these jaunts across the islands trickles down to variations in the menu, with perhaps a new dish or two to keep the culinary adventure going. And so we keep coming back to Lab-as—and one soon realizes that the beauty of Lab-as food is that it is basically the most basic of home-cooking, but taken to a level that approaches sumptuousness, the detail rich, the taste made more distinct and tantalizing.
It is hard work. "Most important in our menus is a consideration of consistent quality and the availability of seafood, like our tuna
panga
and belly," Sande says. "I'm very happy, as of the moment, with their quality. Our supplier exports to Europe. They're local, too, straight from the seas off Bayawan and Sta. Catalina. There is less travel time when I get my stock of
lapu-lapu, maya-maya
, and others.
Presko gyud
."
Presko.
That singular word. Twenty years later, it is a culinary philosophy that has proven to be of the lasting kind.
[To be continued...]
[Photography by Greg Morales. Food styling by Arlene Delloso-Uypitching. Coordinated by Moses Joshua Atega. Thanks to Sande Fuentes for the food adventure...]