Sunday, August 05, 2012
10:07 PM | The Architect of Dreams
Part 10 of the Dumaguete Design Upstarts Series
The first time I met Ray Villanueva, he was part of a singing group of brothers performing at the Luce Auditorium. This was many years ago, most details have been forgotten, and I didn't really know him. The second time I met him, it was at Gabby's Bistro and he was with his lovely American wife Amy. They were a vision on bicycles, and upon inquiry, I was told that they were in Dumaguete City "to try to give something back to the country." One learns to instantly adore people with such dreams. It is such a rarity, especially for a country with rabid immigration dreams.
I wouldn't remember anything about the singing past until last Christmas when, around the sumptuous holiday banquet prepared by our host Arlene Delloso-Uypitching, Ray played the piano "for his supper"—a superb rendition of "Claire de Lune"—and we were quickly told by Moses Atega of his musical past. "Now I remember you," I told him. The answer I got was a sheepish smile.
But this article is not about his singing, nor his piano-playing, nor his sheepish smile. This will be about Mr. Villanueva as an architect, and his vision for building, with a thrust for community and sustainability. Let's call it "developmental architecture."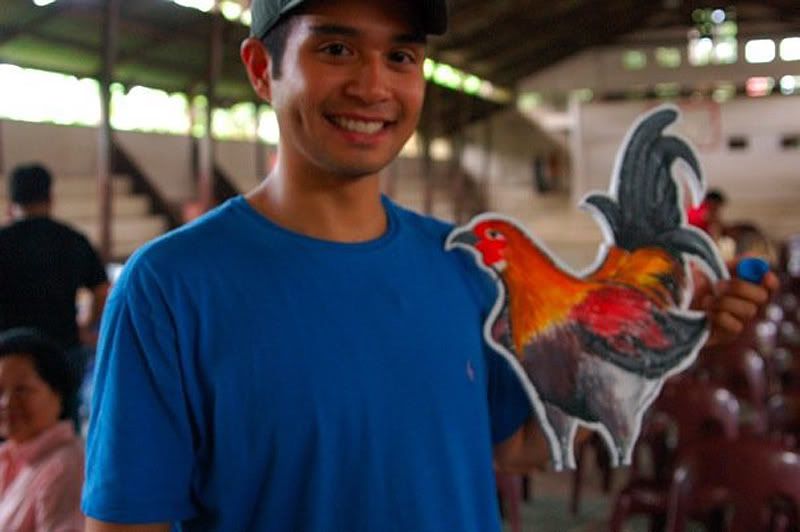 "My calling to architecture started while I was in George Washington University," he told me. "I was taking up pre-med studies then. And one of the general education requirements was an art class. I have always loved drawing, but did not have the opportunity to take a drawing class before. I fell in love with it. From then on, I decided that being creative would be a part of my life."
That decision led him to the University of Maryland to pursue architecture. While in the program, he was exposed to a Beaux Arts-rooted program and learned from distinguished professors—and soon he graduated with the second highest GPA in class. Ray would soon continue on to the University of Washington in Seattle, to focus on sustainable architecture. For his degree, he presented a thesis he titled "Architecture for People Who Need It"—which provided the blueprint for how he wanted his architecture to be about: as a model for sustainable development in developing nations.
Among his works that best define that aesthetics are Yakama Design-Build at the University of Washington and the Neighborcare Health Rainier Beach Medical and Dental Clinic.
And now, he's here in Dumaguete as part of Foundation University's architecture program. What does he hope to achieve with his work in the coming years?
"In the short term, starting with the current school year at Foundation, I am trying to help establish the first Design+Build Program in the Philippines called Estudio Damgo," he said. "This is similar to the program I participated in at the University of Washington where the students will be responsible for the design and construction of a structure in the local community. The project will involve community-based design in the form of a series of open forum community meetings and students will be in charge of everything—from design, construction drawings, and materials research, to the actual swinging of hammers, pouring of concrete, and installing fixtures."

Estudio Damgo, according to Rey, will be a "learn-by-doing" program that will provide lessons that will last well beyond the classroom and will increase the students' marketability post-graduation. "In the process," Ray continued, "the local community gains a structure that showcases cultural relevance and innovation, while serving as an example that design and Architecture can make a positive impact by creating places everybody can enjoy."
Somehow, all this is part of a dynamic life plan. "I am excited at the chance to work with the students and faculty to cultivate new ideas in architecture," Ray muses. "And also to discover more about my heritage, and to pass on my experiences in design-build, construction, and community service. I feel that I have the potential to make a positive impact in local Filipino communities."
Truly, Ray may have been born in Wheeling, West Virginia, to parents Dr. Romulo and Kathy Villanueva. His heart, however, has always been connected to his place of roots—Dumaguete. (His father is an Outstanding Sillimanian Awardee recognized for his medical mission work in the Philippines and abroad.) "My parents are my biggest influence," Ray said, "Despite my upbringing in the U.S., they were clear about exposing my brothers and I to Filipino culture. Being in Dumaguete and the Philippines for the past months, I've discovered so much about my parents and myself. I am much more Filipino than I thought I was."
For Ray, one of the greatest lessons his parents have imparted to him and his brothers was the "responsibility to give back." Which is why he has come back to the Philippines, with Amy. "The importance of service—to the environment, to one another, to country—has always been a part of my life," he said. "Service has led me to unique experiences like volunteering in National Parks, helping in medical missions in the Philippines and Peru, and reaching out to victims of natural disasters like Hurricane Katrina. The lessons I've learned from these volunteer opportunities formed central ideas of my graduate school thesis project based in Mindanao, and led me to work for Miller Hayashi Architects in Seattle to experience community involvement in design. This was ultimately the reason why my wife and I decided to quit our jobs in the U.S. and come to the Philippines."
That's one man going against the flow. Here's to Ray, and may there be more people like him, especially from among us.
Labels: activism, architecture, art and culture, dumaguete, people
[1] This is Where You Bite the Sandwich
---