This is the blog of Ian Rosales Casocot. Filipino writer. Sometime academic. Former backpacker. Twink bait. Hamster lover.
Bibliography
Thursday, August 23, 2007
10:29 AM | LitCritters Dumaguete No. 17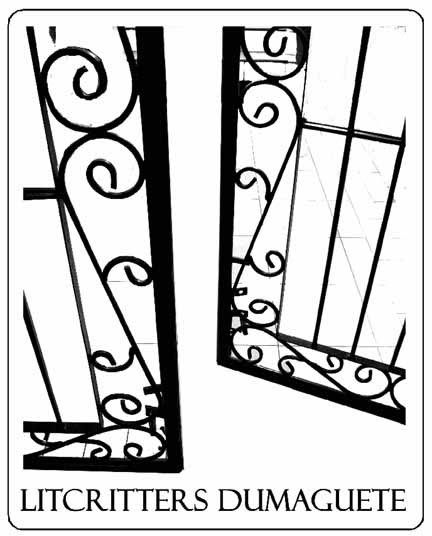 Next, next Tuesday
The Garden of Forking Paths
by Jorge Luis Borges
Stories
by Cesar Ruiz Aquino
The Elephant Vanishes
by Haruki Murakami
The Two Hundred Fifty-Seventh Page
by Nicolas Lacson
The Second Bakery Attack
by Haruki Murakami
Next Tuesday
Silliman University Founders Day Break
Last Tuesday
Character Encoding
by Baryon Tensor Posadas
Cathedral
by Raymond Carver
Door 59
by F.H. Batacan
Last, last Tuesday
The Whore of Mensa
by Woody Allen
My Brother's Peculiar Chicken
by Alejandro Roces
The Royals of Hegn
by Ursula K. Le Guin
Rude Kate
by July Lewis
Last, last, last Tuesday
The Book of Things Which Must Not Be Remembered
by C. Scavella Burnell
The Hours Before Sunrise
by William Congreve
The First Dream
by Robert Jed Malayang
The Dead Girl's Wedding March
by Cat Rambo
The
LitCritters
is a reading and writing group based in Manila (moderated by
Dean Francis Alfar
) and Dumaguete. Every week, we read and discuss several pieces of short fiction from various genres from different writers with the goal of expanding our reading horizons, improving our ability to critique, and learning how to write from the good texts. In addition to speculative fiction, we read Philippine literature in English, as well as world literature.
The Dumaguete Group meets every Tuesday at 8 p.m. in Cafe Antonio in The Spanish Heritage along Avenida Sta. Catalina.
Labels: LitCritters
[0] This is Where You Bite the Sandwich
---