This is the blog of Ian Rosales Casocot. Filipino writer. Sometime academic. Former backpacker. Twink bait. Hamster lover.
Interested in What I Create?
Bibliography


The Boy The Girl
The Rat The Rabbit
and the Last Magic Days
Chapbook, 2018




Republic of Carnage
Three Horror Stories
For the Way We Live Now
Chapbook, 2018




Bamboo Girls:
Stories and Poems
From a Forgotten Life
Ateneo de Naga University Press, 2018




Don't Tell Anyone:
Literary Smut
With Shakira Andrea Sison
Pride Press / Anvil Publishing, 2017




Cupful of Anger,
Bottle Full of Smoke:
The Stories of
Jose V. Montebon Jr.
Silliman Writers Series, 2017




First Sight of Snow
and Other Stories
Encounters Chapbook Series
Et Al Books, 2014




Celebration: An Anthology to Commemorate the 50th Anniversary of the Silliman University National Writers Workshop
Sands and Coral, 2011-2013
Silliman University, 2013




Handulantaw: Celebrating 50 Years of Culture and the Arts in Silliman
Tao Foundation and Silliman University Cultural Affairs Committee, 2013




Inday Goes About Her Day
Locsin Books, 2012




Beautiful Accidents: Stories
University of the Philippines Press, 2011




Heartbreak & Magic: Stories of Fantasy and Horror
Anvil, 2011




Old Movies and Other Stories
National Commission for Culture
and the Arts, 2006




FutureShock Prose: An Anthology of Young Writers and New Literatures
Sands and Coral, 2003
Nominated for Best Anthology
2004 National Book Awards


Follow the Spy




Recent Crumbs




Blogs I Read


© 2002-2018
IAN ROSALES CASOCOT
Tuesday, August 05, 2008
11:42 PM | Artist Bong Callao and Violinist Jay Cayuca Open Dumaguete Cultural Season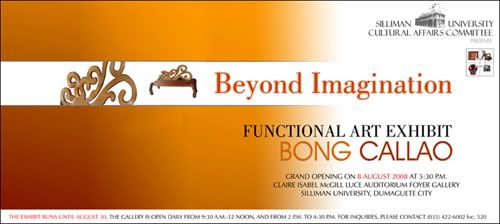 Opens on

August 8

at 5:30 p.m. and runs until August 30. Claire Isabel McGill Luce Auditorium Foyer Gallery.
Coming straight from successful run during last year's cultural season in an exhibit titled "The Warmth of Wood, The Coolness of Iron," the sought-after and critically-acclaimed local artist Bong Callao of Arte de Negros once again offers another showcase of functional art, this time in an exhibit titled "Beyond Imagination," featuring fresh functional art designs made from wood and iron. OPEN TO THE PUBLIC.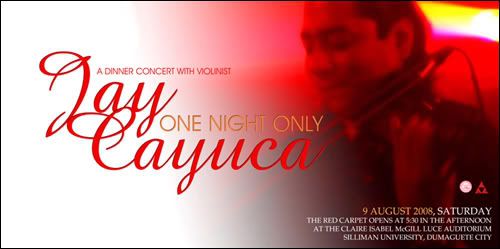 August 9.

The red carpet opens at 5:30 p.m. Claire Isabel McGill Luce Auditorium.
It will be a repeat performance for Jay Cayuca as he serenades Dumaguete City once more with a different kind of violin show. During last year's highly successful cultural season, he topbilled one of the concerts sponsored by the Silliman University Cultural Affairs Committee (CAC), and wowed audiences with his kinetic musical show, taking the violin to the edge of things, and cementing once more a reputation for remolding classical music to something more contemporary. And now he's back one more, this time to grace the re-opening of the Claire Isabel McGill Luce Auditorium, as well as to launch the new cultural season, for a One Night Only concert on August 9.
The launching, which is expected to gather many of the social and cultural prime-movers of Dumaguete City and Negros Oriental, will also feature a benefit dinner exclusively for cultural patrons of the Luce Auditorium from all over the region. Since its retooling in 2007 under the leadership of Silliman University Cultural Officer Dr. Elizabeth Susan Vista-Suarez, the CAC cultural launch has become a red-letter date for Negrense high society and culturati, and this year's edition promises to be even more than its predecessors—and will feature a red carpet welcome hosted by Ms. Glynda Descuatan, and a post-concert dinner hosted by ANC voice talent Ms. Lily Ann Nichols.
But the highlight of the evening would be the music of Mr. Cayuca. An accomplished instrumentalist who has been well-received here in the Philippines and abroad, Mr. Cayuca has trained with maestros Basilio Manalo, Leonidas Domingo, and Luis Valencia. His achievements include bagging the first prize for violin in the National Music Competition for Young Artists (NAMCYA) in 1985; the Best Instrumental Performance Award in KATHA's music awards in 1995 for "Sino ang Baliw" (which is a cut from his self-titled album); Best Instrumental Performance in the 17th Awit Awards in 2004 for the song "Take me out of the Dark" by Gary Valenciano.
According to Suarez, "the launch promises to be a one-of-a-kind event since we will also be celebrating the grand re-opening of the Luce Auditorium." The venue, which was first opened in 1976, underwent extensive renovation and technical modernization, which started last March 2008. The refurbishment came with a grant from the Henry Luce Foundation through the United Board for Christian Higher Education, which was also the original benefactor for the building of the Luce. The Luce today is the largest auditorium of its kind outside of Manila, and has helped make Dumaguete the cultural center of the South.
Tickets are now available at the College of Performing Arts office and the Luce Auditorium office. For inquiries and ticket reservations, please call (035) 422-6002 loc. 520.
For more information, please go to the
Cultural Affairs Committee
website.
Labels: art and culture, cultural affairs committee, dumaguete, music, negros, silliman
[0] This is Where You Bite the Sandwich
---