Thursday, August 26, 2010
1:03 AM | Lucy Patrimonio Jumawan-Sauer: A Lifetime in Dance
For more than five decades, Mrs. Lucy Patromonio Jumawan Sauer has been an innovator and catalyst for dance development in both the Philippines and Australia. "I hope that someday, people will understand where I am coming from," she has said. "That dance is very important because it comes from the soul, and that there is a division between performance and entertainment. It's nice to do the traditional. If you are learned, trained, and you have the ability to incorporate, then do it. There is no limitation. Through time, you find your skill and you become wiser and always aspire for a higher standard."
Mrs. Sauer was a student of Silliman University, a graduate of its grade school and high school. She discovered an affinity for dance at an early age. By the time she was 17, she had already established her own dance studio—the Lucy Patrimonio Dance School. She studied classical ballet with the Anita Kane School in Manila from 1954-1957, and soon she was making her graceful way to the heart of the country's dance scene. She grabbed the sought-after role as a soloist dancer in
Swan Lake
and
The Nutcracker
, dancing with Alexandra Danilova, then one of only four of the world's most renowned prima ballerinas, at the Araneta Coliseum in 1957.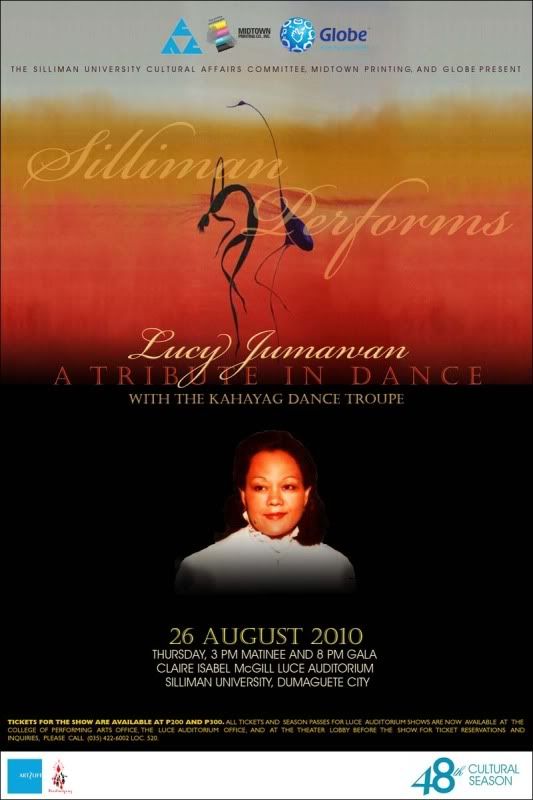 Later, she honed her classical ballet with Margaret Craske at Jacobs Pillow Dance University in Lee, Massachussetts from 1968-1969, where she also studied mime and movement, stage craft, and dance composition. She later studied modern dance with Norman Walker in New York, and between 1972 and 1974, she took up contemporary dance and jazz at the Bodenweiser Dance Center in New South Wales in Australia.
Back in 1959, she was director and choreographer of the Foundation University Dance Company. She also soon became the founder and directress of the Dance Department of the School of Music at Silliman University, where she worked from 1962 to 1972, and founded the group that is now known as the Kahayag Dance Troupe. A Ford Foundation scholarship in 1962 gave her an opportunity to do research on the tribal dances of Datu Tangkilan, the Royal Sultan of Zamboanga del Norte. She focused on the unseen dance traditions of the Suban-on Muslims in Mindanao, with special permission from the Datu. She collaborated on the project with other Sillimanian dance and music luminaries such as Bobbie Vista, Albert Faurot, Miriam Palmore, and Zoe Lopez. This enabled Mrs. Sauer to discover other forms of dances, which she later incorporated in her teachings. One distinguishing mark of her career as a dance teacher is that most of her outstanding ballet students soon became members and soloists of the Philippine Bayanihan Dance Company.
In 1972, she was guest performer of the Philippine House Consulate at Canberra in honor of Australian Prime Minister Gough Whitlam. That year, she was choreographer and director of the Philippine Dance Performance in the First Folkloric Festival at the Sydney Opera House. In 1976, then First Lady Imelda Romualdez Marcos presented the Department, under her directorship, a plaque of appreciation for its involvement in pioneering classical ballet in the Visayas and all over the Philippines.
When she soon moved to Australia, she involved herself in various socio-cultural projects, appearing as guest for a variety of TV shows in Sydney and in New Zealand. She became a teacher for Black Theater in Red Fern, New South Wales, and for the Sydney Dance Concert Group and the Bodenweiser Dance Center. She became actively involved with Australia's Aboriginal people because of her love for Aboriginal arts and ethnic dances. She considered herself an "Aboriginal woman," and worked closely with aboriginal elders to record their dance traditions. For thirty years, the aboriginal people gave her permission to come to their sacred places prohibited to the rest of the world. As part of her study of Aboriginal dances, she was allowed to go to Mornington Island, a very remote part of Australia where there is no talking, only strong eye contact.
In 1977, she was choreographer for Australia's participation in the World Indigenous Dance Festival in Nigeria. In 1979, she was artistic director of the Aboriginal participation by the National Aboriginal and Islander Dance Theater in the International Dance Festival in Africa. She was featured in 1979 as the Migrant of the Year in a documentary presented on SBS Televison. She is also the founding director of Bodenweiser Dance Center's Dances of Asia, the Philippine Arts and Cultural Society of Australia, and the Cultural Arts International and Association of Asian Artists of Australia. She is the managing director of the Contemporary Dance Association in Umina Beach, New South Wales. Throughout her years of influencing people with her art, one of the various recognitions she received was being selected as one of the Great Women of the 21st Century by the American Biographical Institute.
Mrs. Sauer believes that her education at Silliman has instilled in her a form of discipline, which she considers as "the rock that knocked off the stumbling blocks in my professional life." From the words of Manny Diel in his "Who's Who?" column, Mrs. Sauer, indeed, is an "icon of the Philippine performing arts—very intelligent, highly spiritual, and an inspiring woman that Filipinos should be proud of."
(Jeahan Virda De Barras with Ian Rosales Casocot)
Labels: art and culture, cultural affairs committee, dance, dumaguete, negros, silliman, theater
[0] This is Where You Bite the Sandwich
---