Sunday, September 11, 2011
9:38 PM | A Quick Appraisal of a City on the Verge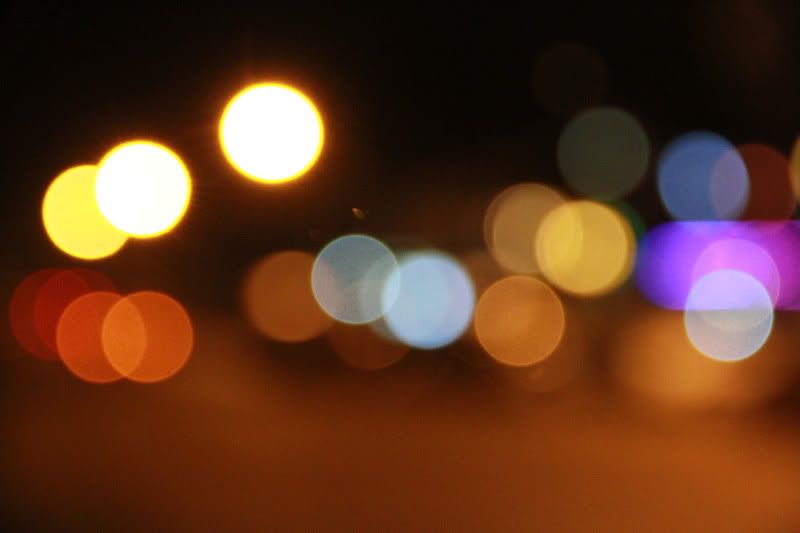 The thing about Dumaguete is this: it is so small that all kinds of drama here collide. The personal and the grand spectacles of the world play out before your eyes, each touching the other in the way of a caress. Last Monday, for example, was it only by chance that I decided to have dinner at the new digs of El Amigo—
the pesto steak is to die for, by the way
—and while the great Filipino poetesses Merlie Alunan and Myrna Peña-Reyes were in the next table spending a quiet evening together with some friends (oh, to be a fly on the wall for that conversation), I had to spend time with two beautiful young friends—former students, actually—dealing with the matters of their romance, about which they have come to me for some advice? (I have no idea why young people come to me for love advice. Is it because I am a veteran from that endless battle?)
And it came to me, slowly at first, that this was how Dumaguete plays out its dramas. The small and the grand converge—the simmering quiet of our city streets is a sweet deception. All the world's a stage, and its name is Dumaguete. The Palanca-winning poet Mikael Co, visiting Dumaguete over the weekend, said as much. Which was why he felt the need to come back after having been a summer writing fellow here years ago. "I tried to book a flight for Mom Edith's funeral," he said, "but it was impossible to get a single plane seat." All the world's coming to Dumaguete a lot these days, it seems. That Monday, for lunch, we both had joined Philippine
Star
columnist and poet Krip Yuson who came to visit the grave of the National Artist for Literature, and with him were the Singaporean writer Kirpal Singh and Dumaguete's first daughter of literature, Rowena Tiempo-Torrevillas. Over the spare ribs and the maya-maya, our conversations mingled and stirred right onto the walls of KRI, kissing the newly-mounted paintings of Hersley Ven Casero.
Later, I would get a message to join Presidential Spokesperson Edwin Lacierda for a media get-together on Tuesday night at Casablanca. There I would meet, for the first time, Manuel L. Quezon III—a longtime online friend. "Let's have dinner tomorrow," Manolo tells me. I said yes: "I know just a perfect place." Of course, his Wednesday would be busy—the President of the Philippines was coming after all, and they were part of the advance party. I would shake President Noynoy Aquino's hand the very next day during his onsite inspection of the Sy Family's IT Park near St. Paul's, on that lot which used to have the haunted Circular House, now gone. (Ah, the horror stories that have been subsequently razed by that very act of disappearance.) While waiting for his helicopter to land in the nearby airport, we went crazy over Ritchie Armogenia's brownies, and we pondered the coming change in the landscape of this part of town.
And it came to me that Dumaguete is slowly changing before our very eyes. The landscape, the cityscape is changing—and we have been merrily blind to its subtle evolutions, surprised only once in a while by the sight of a shiny new building where once a dilapidated sari-sari store stood. "It's changing, you just don't know that it is," Manolo told me the next night after dinner, while we strolled the Boulevard and I was giving him a quick historical tour of Dumaguete essentials—Silliman Hall, the sugar houses, why there were concrete nuns on the Boulevard, the significance of the palm trees and the acacia trees growing on the Boulevard's grassy island. I pointed out the spots where the houses that Rizal stayed in once stood. I invoked the old tale of where we got the nickname of "city of gentle people," although I was quick to point out it's all hearsay. "There are no historical records of Rizal ever uttering this impression of the place," I say.
And it came to me that I love this city after all—even with its smallness, with all its pettiness and pain, its generous memory of heartbreaks, the knowledge that the place can be a comfortable prison. But it is one-of-a-kind, and very much so. The other day, I wrote on my Facebook wall: "Welcome to Dumaguete. Where the country's best writers gather every May for the National Writers Workshop, and the country's best singers and songwriters gather every November for the Elements Singing and Songwriting Camp. I'm very proud of this city. (And once we get the planned annual film festival going...) Imagine the cultural possibilities. I do hope City Hall recognizes what untapped potential this cultural gold mine has in the long term..." More than fifty people immediately responded with a "like"—an avalanche of agreement over this blessing of a place.
The sociologist Lorna Peña-Reyes Makil tells me: "When we first came to Dumaguete in 1950, we felt we had found home. Twenty years later, in Honolulu for graduate studies, my heart longed for home. And from 1980 to 2002 during my sojourn in Manila, I dreamed of always coming back. Friends could not understand this—until they visited me these past years and were captivated. [But] yes, the rapid change we have now is overwhelming."
Here's my former student Julienne Fortuna and her own take about the place on her own Facebook wall, with a very recent post: "I need to visit Dumaguete. I need to get away from the chaotic jungle that is Metro Manila and immerse myself in the simple and laidback Dumaguete life. I can already imagine myself walking around Silliman, eating in Neva's or Habhaban, riding on former crushes' motorcycles, snorkeling in Apo Island, and hanging out with friends at the Boulevard. After all, I'm one proud transplanted Dumagueteno."
And then former
Weekly Sillimanian
editor-in-chief Camille Celeste Go replied: "We've come a long way from hating Dumaguete because of how boring it is (compared to Davao), to loving it beyond words. I miss Duma-life too." Then Julienne
posts this rejoinder: "It's funny how we non-Dumaguetenos initially hated Dumaguete for, well, being the small city that it is. I'm sure most—if not all—of us complained to our parents about sending us there to study instead of Manila or Cebu. But after living there for four years or more, we've just grown to appreciate it for what it is and we all found it difficult to leave. I cried so hard about leaving twice: after graduation and when I decided not to enroll in SU Law. The irony gyud. Haaay, Dumaguete and its charm.
Guidagit jud 'tang tanan.
"
Manolo, too, told me: "I'm coming back." And later, over text before his flight back to Manila: "I'm sad to be going!"
And there you go.
Gui-dagit.
[Photos by Hersley Ven Casero]
Labels: dumaguete, friends, life, memories, negros, writers
[0] This is Where You Bite the Sandwich
---