Sunday, May 08, 2016
8:00 AM | Change Better Be Coming
As I write this, it is the twilight of March 6, Friday, and the heat is on—and everyone's scrambling for last minute surprises and mudslinging and appeals for rationality and what-not. Welcome to the tail-end of Halalan 2016. Facebook, in particular, has become a bloody battlefield. In many movie theaters elsewhere, the screens are showing Marvel's Captain America: Civil War—but the cinematic skirmish the movie offers in the name of the titular battle is child's play compared to the virtual bloodletting in the Philippines this electoral season.
The viciousness of the elections has moved even Teddyboy Locsin to remark in his column for ABS-CBN Online: "There's never been a democratic contest like this one—for sheer viciousness; for brutality; for mano a mano fighting of one against one, all against one, and one against all. Everyday opened a new field of fire." And this is a man who has seen almost everything. I don't always agree with Mr. Locsin, especially when he takes on that mask of Troll of the First Order, but his assessment here is spot on.
So what else is there to write about?
Haven't we exhausted every possible venue for debate, every possible chance to hurl a cherished ad hominem attack?
For me, the final recourse is to just wait out the hours until Monday comes, then do my bit for this right of suffrage entrusted to me, and later bring out the popcorn as the final battle begins in the post-election fever. There's not much to do anymore. And I am hoarse from shouting, and tired from convincing people about the rightness or wrongness of their political convictions. As I've written before, the heart wants what it wants. You will vote for whomever you want to vote for.
Given the resounding lead he enjoys in surveys, and the almost messianic regard of him by many, many people I know, I am almost sure—barring massive electoral fraud—that Rodrigo Duterte, son of Davao and foul-mouthed political Dirty Harry, will almost certainly be the 16th President of the Republic of the Philippines.
I am not voting for him as I disagree vehemently with everything he stands for, but it won't be a shock for me if he becomes Commander-in-Chief. I am actually quite prepared to accept that inevitability. To quote my friend the writer Gerry Los Banos: "I am less worried about the prospect of a Duterte presidency than I am about the possiblility that Ferdinand Marcos, Jr. might very well be a literal heartbeat away from reoccupying Malacanang." I totally agree. And my vote for the Vice Presidency—needless to say—goes to Leni Robredo.
Duterte promises change. That change is coming. And this has become a mantra for many people who have been the most vocal in their support of him. So be it.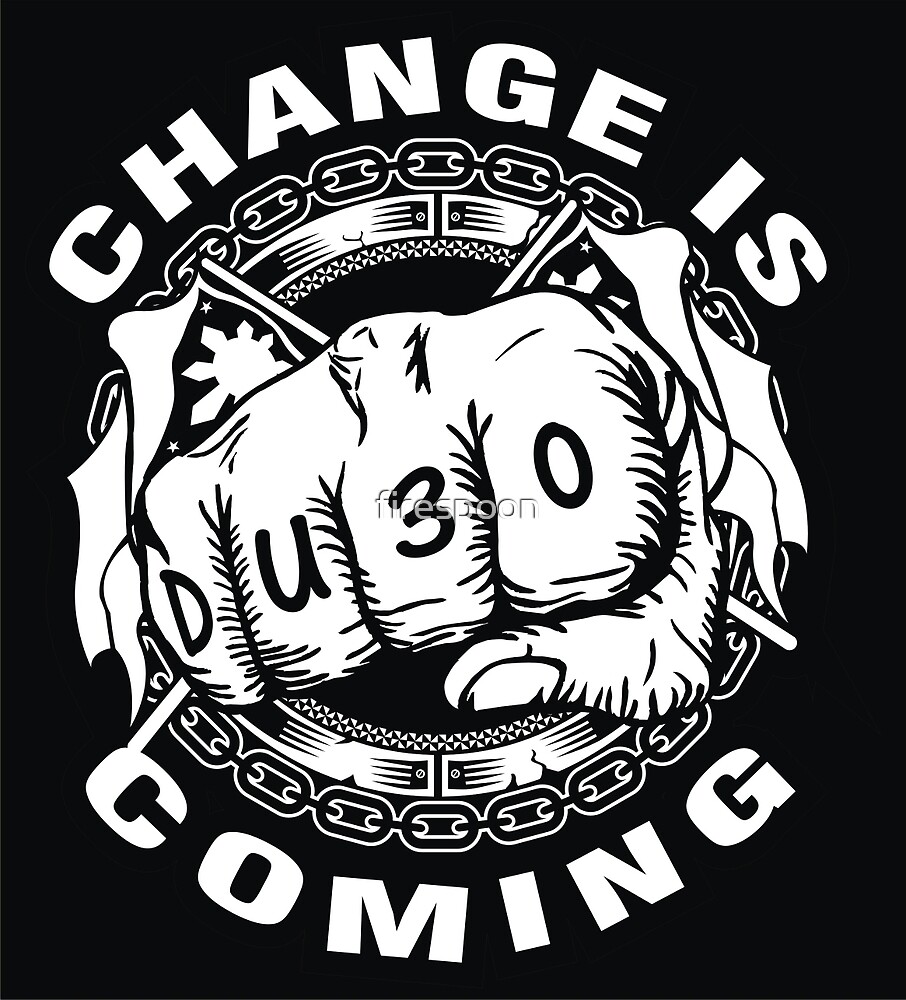 But I recall this anecdote posted by the writer Evan Tan in his Facebook: "I was in an Uber ride earlier. The driver was a Duterte supporter—a fact which he didn't exactly hide, what with pro-Duterte stickers plastered brazenly on his windows and hood. I didn't want to get into a political conversation at 8 in the morning, and more importantly I believed in freedom of speech, so I let it be. Midway during the ride, he eventually asked: 'Sino'ng iboboto n'yo?' I felt he wanted an opportunity to talk about the merits of his candidate, so I threw the question back at him. He said that he was tired of criminality and that Duterte was the answer to our woes. He cited that oft-repeated statement that Davao was one of the safest cities in the world (taken from a Numbeo survey, with around 400 respondents, if you must know), and insisted that the ranking was enough proof of Duterte's record. He was adamant about his belief. I smiled, because I thought it wasn't wise to get into a fight with a stranger on the wheel.
"Finally, the trip came to an end. Since my mode of payment was set to cash by default, I handed him a thousand.
"Sheepishly, he said that he didn't have smaller bills.
"By then, it was already apparent that change isn't coming."
I like that punch line for the wit of its implications, literally and metaphorically speaking. And it reminds me that this should be our call in the aftermath of a Duterte presidency—to make sure that change, indeed, is coming. Because so many people can be such hypocrites about it.
And to remind Duterte supporters, most of all, that this is what they have been clamoring, so they better make sure the change has started with them.
Bantay baya na.
I'll enumerate a brief list of things that are currently embodiments of approved ordinances in Dumaguete, or just things that are measures of civic order, and let's see what can be done.
So by June 1, if you smoke anywhere near me in Dumaguete, and this is a non-smoking city, we will Duterte you.
If you are a tricycle driver and you do not give me the exact change, we will Duterte you. And if you refuse my fare, we will Duterte you.
If you throw your trash around without regard for public spaces, we will Duterte you.
If you jaywalk, we will Duterte you. If you do not fall in line, we will Duterte you.
If you use plastic bags, we will Duterte you.
If you burn your leaves and other wastes in your regular afternoon bonfire in your yard, we will Duterte you.
If you do fireworks during Christmas and New Year, we will Duterte you.
If you discriminate against women, children, and the LGBT, we will Duterte you.
If you drive more than 30 km/hour, we will Duterte you. If you do not park properly, we will Duterte you.
Because people almost always break the rules they expect other people to obey. Be the very change you've been saying you want in your Duterte delirium. Or somebody will Duterte you.
Labels: crime, issues, law, philippine history, politics, society
[0] This is Where You Bite the Sandwich
---