Thursday, May 31, 2007
10:52 PM | Old Photographs, and Dr. Albert Faurot
I love old photographs, especially the ones with white borders. There's something about their look -- the wear and tear, the creases in the corners, the faded prints, and sometimes even the dirt and the thumbprints marring the texture -- that gives them something extra special, a sense of history perhaps, a sense of an unarticulated story. On the last day of the
National Writers Workshop
, which was being held in the End House (the legendary Albert Faurot's Silliman residence, which was the site of the workshop the last time it was held in the university --
Dean
's and Sarge's year, I am told), I chanced upon some old colored photos by a certain Don Luis.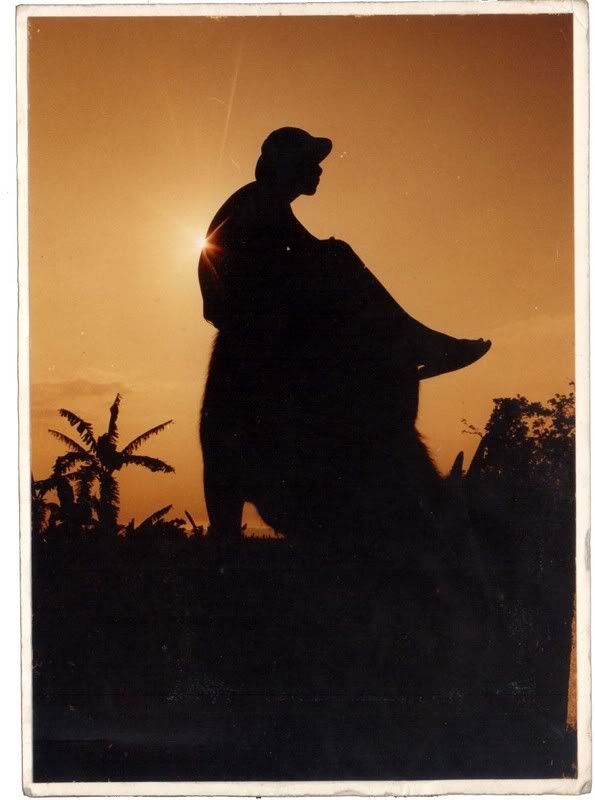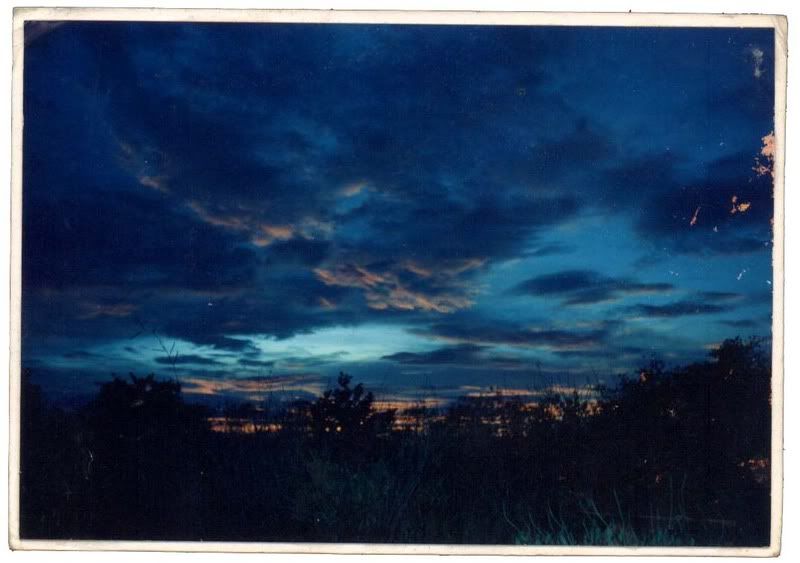 Who was Don Luis? What is his complete name? Where is he now? Does he still do photography?
There were many copies of the two prints above which were left to rot in some hidden bin near a dilapidated bookcase, so I just swiped one copy of each.
(No guilt, no guilt.)
Hey, I like found things. I knew the house used to be a gallery for Silliman artists after Dr. Faurot's death, but the house basically was left to go to seed, most of its valuable paintings and prints and books ransacked and placed in odd spots around campus. I remember seeing, when I was still in college, Dr. Faurot's hardbound copies of Yukio Mishima books in an old shelf in the former School of Music. They were left there at the mercy of termites and silverfish. Of course I stole them,
just because I pitied the way they were left discarded like that
. I was also told that his collection of male erotica was gathered and burned by some moralistic troglodyte. His grand piano had never been tuned since the early 1980s. The house, after the artists were told to vacate the place, had become a boarding house for single teachers from the College of Performing Arts, and the grounds which used to be the gathering place for artists and writers from all over the world, was left to the crawl of weeds and what-not. Its name, the End House (because it can be found
at the end
of Silliman's Langheim Road), suddenly took on a different meaning. I am happy though that with the new University President, the Faurot house is being reclaimed from the doldrums of forgetfullness.
But it's sad to consider how people can be very forgetful. Dr. Albert Faurot is an unsung legend. He was a missionary from China who transfered to Dumaguete to teach in Silliman University, and made it a cultural mecca. He was a writer, a pianist, a nurturer of the arts, an exemplary professor. He wrote two influential textbooks on the arts --
Culture Currents of World Art
and
Culture Currents of World Music
, the very first books on fine arts that I read as a kid. His influence was so that he was cited by 1996 Ramon Magsaysay Awardee Toshihiro Takami as one who pointed him to the right path.
From the Ramon Magsaysay Awards website
:
Sometimes, when Takami could not find a job, he would cross two mountains on foot to the seashore to dive for clams. "No one taught me how to swim; necessity taught me. I sometimes carried two big sacks of clams on my shoulders over the two mountains back to my town and exchanged them for salt or rice. I did this kind of thing to support my family."

To find work or to earn extra money, Takami says he willfully cheated and lied. An instance of this occurred in 1951 when he was in Kobe: "One day I found from the classified ads of the Mainichi English newspaper that a missionary at Kobe College was looking for a cook. I thought that this would be the right kind of job and that I would try it. Opportunities come to us unexpectedly, and we have the freedom to seize them by stepping forward." So Takami had an interview with Professor Albert Faurot, an American missionary from Kansas who taught music and art at the Christian-run Kobe College. Faurot had just arrived from China, where missionaries were being evacuated in the wake of the communist takeover in 1949. He was unmarried and lived by himself.

"I learned some English in high school before the war," Takami says, "so I could handle some conversation. And I said [to Faurot] that I could cook. He was desperate. He was a single man and even today I think he doesn't know how to make coffee."

"Okay," Faurot said, "come back tomorrow and you will start."

"That is the time I told a lie," Takami says, "that I was a cook. He believed me." But Takami adds that he did have some experience cooking in the Zen temple. "The monks took turns cooking but mostly they just watched the rice cook," he said. Then, after the war, Takami worked for six months for an American military family. He learned to bake biscuits and fry eggs and bacon. "But I never actually saw a cookbook," he says, and he certainly did not know how to plan a menu.

On his way home from the interview with Faurot, Takami went to a big bookstore in Osaka and bought himself a copy of

The Fannie Farmer Cookbook

. Every night, with the help of a dictionary, he translated new recipes into Japanese. "For some time I never served (Faurot) the same kind of breakfast or dinner," Takami says. "I think that, to this day, he believes that I'm a professional cook."

Working for Faurot, Takami's life began to change: "I saw that he trusted me. When I said I was a cook, he said, 'Okay.' He fixed a salary and hired me. When I went with all my dirty clothes and one pair of torn rubber boots to wear, he said, 'Okay, you will start living with me in the same house.'" Faurot fixed up a room for Takami next to his own and bought him a new desk, chairs, curtains, and bedding. "This was the first time in my life that I had a private room." Next, Takami says, "he gave me a large amount of money and a small notebook to keep accounts. He said my responsibility was to keep the house, plan meals, write menus, do the shopping, keep all records in the book, pay the bills, and report only once a month to him. I never met this kind of person before. I was ready to cheat and I knew how. But when I experienced such trust, this really began to change my own life. I couldn't cheat this person. I began to trust this person, and I also began to trust myself."

Faurot never asked Takami to come to church with him. But Takami did see Faurot reading the Bible in English and going to church every Sunday. One day Takami asked Faurot to take him to church -- to the Japanese church. Takami was so impressed by the sermons preached by Dr. Hiroshi Hatanaka, the president of Kobe College, that he began to attend regularly. "I was so used to leading a very poor life that I thought the [Japanese] Bible was something I really shouldn't spend money on." So he got himself a free copy of the Bible from a missionary, a small, pocket-sized New Testament that he read with the help of a dictionary. He began to attend Bible study. "When I came to the Gospel of John," he says, "this particular book spoke to me directly. Many times I had a very strong spiritual experience." And when he came to the story of Paul, he says "all the life that I had thus far experienced became meaningful." After that, Takami asked the pastor to let him join the church and to be baptized.

Eight months later, Faurot moved from Japan to Silliman University in Dumaguete City in the Philippines. Before leaving Japan, he arranged work for Takami with another missionary and also asked friends in Nebraska to help raise funds to further Takami's education in the United States.
Dr. Faurot shouldn't be forgotten the way he is being forgotten now.
Labels: art and culture, people, photography
[0] This is Where You Bite the Sandwich
---