Friday, May 13, 2016
2:00 AM | An Excerpt From "You Got It All"
Excerpt
...
Mother made a living making homemade peanut butter, which she sold door to door, while father became a bus conductor, and took to his daily feed of newspapers to become a fiercely opinioned pundit of the politics brewing by then. He had blamed the collapse of sugar prices on the negligence of a dictatorial government made worse by so many political cronies, and so, even then, we were fervently anti-Marcos. When Ninoy Aquino, the charismatic opposition leader, was gunned down on that tarmac in August of 1983, only a few days after I turned eight, Mother broke down when she heard the news, willowing from despair, believing there was no more any measure of hope. Father was stunned. He devoured the newspapers in the coming days, but found hardly any morsel of news about the assassination, save for the lamest of reportage by newspapers that tiptoed around possible dictatorial culpability.
Upstairs, the Mongcopas—fervently Marcos loyalists—waved their blue flags and played their recording of "Bagong Lipunan" in earnestness. Mr. Mongcopa, who had served as Tubod's barangay captain for many years, had a glorious baritone, and most mornings, in the earliest hours, we would wake up to his voice piercing through the fog like a clear call to arms.
May bagong silang,
May bago nang buhay,
Bagong bansa, bagong galaw,
Sa Bagong Lipunan.
Magbabago ang lahat,
Tungo sa pag-unlad,
At ating itanghal,
Bagong lipunan!
No rooster cackling at dawn, just an old man and his song for the New Republic.
"Should I tell him off, Ma?" Manong Rocky would seethe. The interruption of sleep grew on him like eye bags.
"Don't," Mother quickly admonished him.
And perhaps she was thinking beyond the vagaries of politics, beyond the uncertain destinies of sugar dreams and nightmares. She was thinking, where else could you rent an apartment these days for P300 a month?
* * *
The Mongcopas had a daughter named Stephanie, a feisty girl who was Manong Rocky's age, and who had a son born out of wedlock, a rabid bunch of energy named Pol. The boy was three, and was a regular hurricane—and each day, to escape the dull demands of motherhood, which she left to the care of old Mrs. Mongcopa, Stephanie developed a habit of coming down to our apartment and staying for longer than a spell, first for hazy gossip, then for merienda, and then to commiserate with Mother over the withering issues of the day. She was, she declared to everyone who would listen, a huge believer in Cory Aquino—and trumpeted her yellow affiliation hard, throwing it against her father's face, much to his chagrin. But the old man took it in stride. "People are getting crazy these days," he told Mother one day when they passed each other outside the house. "It's the snap election. It's making everyone crazy."
"I'm sure it is," Mother replied diplomatically, while carefully putting up a Laban poster on her front door.
"You really think an ordinary housewife could win?"
"I don't know, Mr. Mongcopa, but I could hope."
Mr. Mongcopa had the stern face of a much-too-principled gentleman. He had gunmetal grey hair, and was a man of slight built. He wore plain-buttoned white shirts and high-waisted khaki slacks every single day, a 1950s relic. He looked at Mother's
Vote for Cory Aquino
poster—her in a yellow dress flashing an L-sign, with a dashing Doy Laurel smiling beside her—and that very afternoon, Mr. Mongcopa brought out the outsized red and blue posters with Ferdinand Marcos's and Arturo Tolentino's faces on them, tacking a whole bunch of them on his porch, which were intricately designed bamboo slats in diamond patterns. The house became a fierce battleground of assorted posters—yellow, red, and blue—by the heated stretch of January of 1986.
Around this time, Stephanie developed a sudden, unexplained penchant for Madonna, belting out "Crazy For You" or "Material Girl," or "Into the Groove" with the abandon of a fanatic, sans microphone, sans shame. Karaoke had yet to become a thing in those years, but she preceded it like a force of amateur musical brashness, armed only with cassette tapes. I remembered loving her for these musical outbursts, belting out with her when the chance arose, and we would end our impromptu performances with much high-fiving and giggling. And when the old man was within earshot, she'd sing a few bars of "Papa Don't Preach," and then blurt out the chorus with the force of someone aiming to break a few hearts.
Papa don't preach, I'm in trouble deep
Papa don't preach, I've been losing sleep
But I made up my mind, I'm keeping my baby, oh…
I'm gonna keep my baby, mmm...
It was not always Madonna. Sometimes, there was Barbra Streisand, and sometimes there was Whitney Houston, and in the comfortable bowels of our lower apartment, Stephanie and I would brandish Mother's hairbrushes, and we would croon like madness itself found a microphone—
A few stolen moments is all that we share
You've got your family, and they need you there.
Though I've tried to resist, being last on your list,
But no other man's gonna do…
So I'm saving all my love for yoooooooou...
In my mind's eye, while I crooned my heart out, "you" was almost always a floating idea of Ian Veneracion—him with those dusky eyes, him with that aquiline nose, him with those perturbing lips. My eleven-year-old body shivered. How is it that with songs we say more than we could in plain speech?
One afternoon, in the early days of February, I decided to skip classes at West City Elementary School, and walked all the way to seaside Rizal Boulevard, to an old wooden building—painted a bright yellow—in what is now the Sol y Mar Building. The building used to be known by other names, Rainbow Lodge and The Office, among then—and was rumored to be a hang-out for the city's colorful underbelly. The boulevard in the old days was not the gentrified version we have now: it was an unpleasant strip of asphalt and concrete that everybody nicknamed "the boulevard of broken dreams," after the silly song, and perhaps for very good reasons. It was a strip dotted by fluorescent lampposts, their eerie whiteness scabs of light that sucked at the soul—and lined far apart each other, they made for a curious dimness in the swallowing darkness of sea and night sky. At nighttime, the strip was littered with tocino stands and beer peddlers, making the whole stretch of the boulevard a haven for drunks and prostitutes.
Cory Aquino's Laban Party headquarters was holed up here, in a small dark office that jutted out from one side of the old Rainbow Lodge. I was eleven, and I wanted very much for Cory the Housewife to win the country's embattled presidency: Mother's excited face and my brothers' brash delight were contagious, devoted to the knowledge that they were living through a special moment in history. I had no clear idea what they were excited about—but it was a matter of faith, and faith was easy for a boy my age to take. It was easy to believe in the ferocity of what people around me believed. I knew Marcos only as a distant monstrous figure that did not affect my daily adventures in playmaking—he was not a shadow in my
tayokok
—and the specter of Martial Law, lifted after ten years of brutal control, was completely lost on me. Still, there was concrete conviction in the family's passion. Mother said she was passionate for change, and I saw how she was, her once delicate hands busy toiling over peanut shells. It was an embracing conviction, and I succumbed to it.
That afternoon when I skipped school to go to the Boulevard, I asked the volunteers at the Laban headquarters if I could have some campaign materials—perhaps a poster I could tack somewhere, but most of all, I asked if I could have copies of the
komiks
they were giving out for free. My classmate Ricky had brought one to school, and I wanted one to give Mother. The volunteer I spoke to gave me a quiet look, and handed over a crisp new poster, and two
komiks
, Cory by herself flashing an L-sign on one cover, and Cory with Doy on the other. In crisp illustrations and talk balloons spread over many pages, they spelled out how to vote in the coming elections, and how to be certain that their efforts to battle Marcos would not be in vain. "Wear yellow on election day," one panel read. "Practice spelling C-O-R-Y A-Q-U-I-N-O," read another. Mother was grateful for the comics, swore to get more copies, and quickly shared them with Stephanie, who squealed in delight and promptly left them, "accidentally," on the Mongcopa's dining table for her old man to discover.
Manong Rocky kept disappearing for hours at a time to God-knows-where, and Father would tell a worried Mother to leave him be. "He's a man now," he'd say. "He's 25. Let him have his own life."
"I just wanted to know if he'd like to volunteer for NAMFREL," she'd reply.
"Just leave him be."
Manong Alvin and Manong Dennis eventually volunteered themselves for NAMFREL, to my mother's delight, and they spent many nights at the special election-monitoring group's headquarters being oriented regarding the troubles that could be brewing ahead, while the rest of us monitored our radio set to find out what was going on elsewhere. Upstairs, old Mr. Mongcopa monitored his own radio, cheering on a feeble-sounding Marcos, convinced in the rightness of his own campaign, never mind the crazy tenants downstairs.
Days later, in the heat of things changing faster than anyone thought could, when people began massing around EDSA in throngs of thousands, Stephanie came over for her regular
merienda
with Mother, and over
puto maya
and
tsokolate
, gave her a quivering admission: "I'm pregnant." "Have you told your father?" Mother asked.
"I can't tell my father. He'd kill me. Either that, or he'd drop dead."
"Surely your mother?"
"I can't tell my mother, either. I can't tell her it's happening again."
"Do you know who the father is?"
Stephanie broke down into rocking sobs.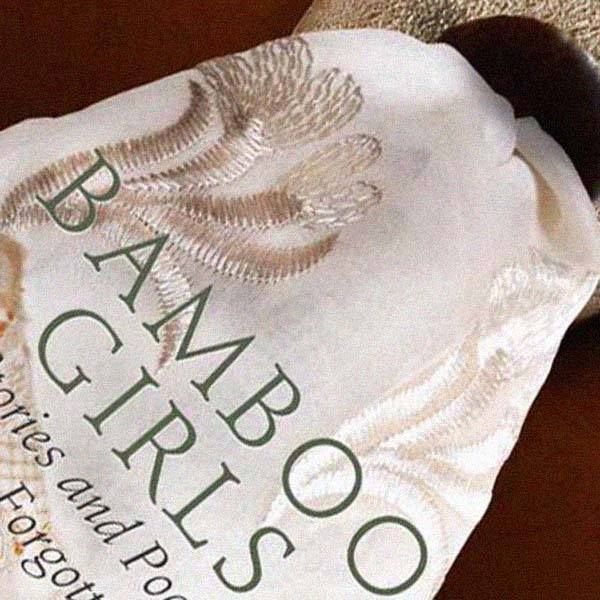 "
You Got It All
"
is collected in
Bamboo Girls: Stories and Poems From a Forgotten Life
, forthcoming from Ateneo de Naga University Press
Labels: books, fiction, Marcos, Martial Law, philippine history, philippine literature
[0] This is Where You Bite the Sandwich
---