Friday, May 13, 2016
11:59 AM | The Happiest Kind of Distances, The Dearest Sort of Endings
A version of this essay can be read at the Life section of CNN Philippines, here.
There are things you come across often in the stories of Luis Joaquin Katigbak:
1. Afternoon rains.
2. Parallel worlds hidden in shadows, or even postcards.
3. The assorted boarding houses of State University students with rodent-infested rooms that have definitely seen better days.
4. Sikatuna.
5. The quiet desperation of lives in the advertising world.
6. Glimpses of strange but alluring girls in the middle of traffic, in the middle of a bus, in the middle of a grocery store.
7. Girls whose names start with the letter K—Kara, Kaye, Karen, Kami. (There are also a host of other girl names: a Jay, an Anya, a Nema, an Anna, a Cristy, an Astrid, an Ada, a Tam, several Doreens, a Rachel, a Tanya, two Christinas, a Jenn5—but the girls whose names start with the letter K are somehow instantly remembered.)
8. Aliens who are decidedly human in their very understanding of what makes us tick.
9. Literature. Lots and lots of literature. From J.D. Salinger's
The Catcher in the Rye
to Haruki Murakami's
A Wild Sheep Chase
to Paulo Dizon's
Twilight of a Poet
to Douglas Adams'
The Hitchhiker's Guide to the Galaxy
to Carol Ann Duffy's poem "Words, Wide Night."
10. Science. Lots and lots of science. From the destructive nature of chloroflourocarbons to Turing's universal machine to robotics to chemical engineering.
11. Music. Lots and lots of music. From Tchaikovsky to The Dawn to R.E.M. to Right Said Fred to the Eraserheads to The Cure to A-ha.
12. And most of all, the evocations of distance—be it geographical or emotional—and endings.
It's an understandable thing to have stories threaded with similar motifs and tropes. James Baldwin, after all, once famously said, "Every writer has only one story to tell, and he has to find a way of telling it until the meaning becomes clearer and clearer, until the story becomes at once more narrow and larger, more and more precise, more and more reverberating." He didn't exactly have only one story to tell—in the short story "Tell the Sky," the protagonist gets blessed with exactly eight stories to tell—but Luis Katigbak may be a perfect demonstration of the refinement of themes Baldwin spoke of.
In Luis's first collection,
Happy Endings
, we were introduced, story by story, to what would prove to be the enduring themes in his fiction, what makes up his literary DNA so to speak, although we didn't know that quite yet.
Happy Endings
was an introductory volume that gave us a chance to sample a very distinct voice, distilled from ten stories that were in essence juvenilia of the highest order. When it was first published by the University of the Philippines Press in 2000, it announced the arrival of a major talent—and with that came expectations of other stories to come, more books.
The follow-up,
Dear Distance
(Anvil Publishing), came sixteen years later, and was—by Luis' own admission—something he had been working on for eight long years. (In the interim, he came out with a book of essays titled
The King of Nothing to Do: Essays About Everything and Nothing
, published by Milflores in 2006.) By then, those themes first explored in
Happy Endings
have deepened, have taken on a deeply philosophical reach, have combed the farthest possibilities of their narratives to give us wry and wistful judgment of what it is like to be young in the chaos and promises of the twenty-first century—and the subsequent alienation that can happen in a world that deepens the distances us from others and from ourselves.
Luis was, truth to tell, not just the voice of my generation. He was a prophet.
* * *
If I must make a confession, the hardest thing in the world right now is choosing to write about a friend in the inevitable past tense.
A certain irresistible kind of denial sets in when someone you respect for his talent and for his limitless capacity for kindness—a comrade in many ways beyond just the literary—passes away at the prime of his life, and you are left to ponder the inevitable questions about the vagaries of life.
How could one so young be taken away so soon? What becomes of his promise? And shouldn't we be able to read more books written by him?
When we last actively corresponded before his diabetes took a turn for the worse, we were discussing the possibilities of me writing another piece for the Notes and Essays section of
Esquire Philippines
, and I was adamant about writing about the Pinoy Generation X, and what has become of it. In truth, it was an invitation to examine what had indeed become of us, now that our generation has ceased to be "young," and are now approaching the rough and perhaps painful tumble of middle age. This was between September and October in 2014, and Ben Stiller had just released his film
The Secret Life of Walter Mitty
—and it felt like a cold examination of the dashed hopes of people who identify as members of Generation X, but also the possibility of resuscitation. The film had more gravity than it should in that regard: it was coming from the director of
Reality Bites
, which in 1993 spelled out to the soundtrack of MTV hits the angst and uncertainties of those coming of age in that decade—meaning Luis, meaning me, meaning everyone who were our contemporaries. The angst then was filtered through a romantic lens only those in their twentysomethings could conjure. Twenty years later, the reality has more than bit; it has devoured, and our forties are now all about taking stock of what exactly has happened.
Luis knew this all too well. In his short story, "Sabado, 1995," he let his characters—remnants of a barkada who were together in college during the mid-1990s—take stock of the changes in their lives after years of trying to become responsible adults, all done of course to the nostalgic prodding of the music from their youth. (In this case, the music of the Eraserheads.) There have been career misfires. There have been babies and marriage. There has been a death. But the music is still there, pure and unadulterated in their evocations of a certain time, a perfect concoction "… to remind themselves of the days before they weren't bogged down by bills and health issues and regrets."
But nostalgia is a double-edged sword: it is sweet, but it is also a mirage. It is not real. What is real is the now in all its beautiful regrets and ugly becomings. Luis, in one of his essays for the Philippine Star, wrote about this once, and concluded with an exhortation for those who are still young and have no inkling of the hard choices that come with adulting: "Whatever you do," he wrote, "enjoy being young, free, and relatively unburdened in the early 21st century, and draw both solace and regret from the fact that these days will never, ever, come around again.
Luis said he was eager to read that essay from me—but which I never got around to writing, simply because the assignment ultimately terrified me. It was a mirror, and I lost heart about confronting something that perhaps I actually didn't want to see. So Luis said to write a story instead, slated for Esquire's annual fiction issue.
"I was reading Stephen King's story from the Cameron Diaz issue of
Esquire
two months ago," I told him over Facebook chat. "I was blown away by it. And then I read your story, 'Sabado, 1995,' and I was blown away by it as well. So medyo I feel challenged and revved up."
"Fantastic!" he replied, complete with a grin emoticon. "Can't wait to read it," he finished, this time with a wink emoticon.
I sent in a story—and waited for a response.
It took a long time for him to reply. And when he did, it was already May, in 2015: "Hi Ian!," Luis wrote. "Yes I got it, thanks! ☺ Apologies for the delayed reply. Been very unwell lately and hard to reply properly. Will get back to you about it soon. ☺ Thanks again!"
When he finally did reply properly, it would be several months later—and in retrospect, it was already him saying goodbye.
* * *
Our friendship had started in that vein back in 2002—in a solicitation for stories, in a chance to connect with a writer of one's age.
The thing was, Luis Joaquin Katigbak was probably the first in my generation of writers to come out of the door swinging, his promise fulfilled in the form of a first book—and whose voice was unmistakably ours and which was something completely different from what came before.
Happy Endings
gave us permission to pen down our stories flavored by the beautiful dread and dastardly delights of having come of age in the 1990s—and it was empowering.
In 2002, I had cobbled together a website dedicated to Philippine Literature, which for a time became the motherlode of everything Filipino and literary, until I abandoned the project in 2006 because I had fallen in love.
Happy Endings
was a big thing even then, its influence only now being understood as my contemporaries piece together the heritage Luis left with his body of work. It came out at a time when there was much ado about collecting the fiction of this shiny new generation of writers. Ricardo de Ungria had earlier edited a collection of short stories for Anvil titled
Catfish Arriving in Little Schools
(1996), which introduced Gina Apostol and Clinton Palanca. (Gina would soon come out with her novel,
Bibliolepsy
, and Clinton with his novella
Landscapes
.)
And then in 1999, Miriam Grace Go edited
Dream Noises: A Generation Writes
, a collection that included Jimmy I. Alcantara, Emil Flores, Ma. Romina Gonzalez, Caroline S. Hau, Luis Joaquin Katigbak, Timothy R. Montes, Clinton Palanca, Andrea Pasion, Lakambini A. Sitoy, Katrina P. Tuvera, Margaret Uy, and Jessica Zafra. By 2000, the University of the Philippines' old Likhaan Online came out with a special issue featuring "twentysomething writers writing in the new century," which "acknowledge[d] the role by which technology and information has come to shape the imaginations of our young literary writers." Introduced in that issue were Arvin Mangohig, Libay Linsangan Cantor, Miguel Syjuco, Randolf Bustamante, Allan Popa, Robert JA Basilio Jr., Indira Endaya, Shakira Sison, Baryon Tensor Posadas, Isolde Amante, Roderick Cabotaje, Clifford Rivera, Victor Tagos, Kathleen Meneses, Elmo Gonzaga, Bernice Roldan, River Yao, Orlando Sayman, Joel Toledo, and Conchitina Cruz.
By then, Timothy Montes, in an essay titled "Young Writers and the Tradition in Philippine Short Fiction in English: Does the Does the Force Exist or is the Jedi Council Pulling Our Legs?," began trying to contextualize the place of this generation of writers in the whole of Philippine literature—and one of his respondents was Luis himself, who wrote: "My own list of essential Filipino short story writers would include Francisco Arcellana, Gregorio Brillantes, Jose Y. Dalisay, and Kerima Polotan. These are the writers I continue to reread, and recommend to others. I do not know if they have had a discernable influence on my writing—I do not consciously try to emulate their work—but they have certainly been inspirations… In a broader sense, of course, our writing is influenced by the very age we live in, by everything we take in—by our knowledge of current events, by the TV shows we watch, the conversations we have. 'Input equals influences.' We are influenced by CNN, MTV, NU 107, the Internet. And, of course, by the works of foreign authors. Another personal 'Best-Of' list follows: Jorge Luis Borges, Truman Capote, Haruki Murakami, Renata Adler, and James Thurber. I do not know if you can compare levels of influence—certainly I read more works by foreign authors simply because of the sheer amount of worthwhile books that are out there—but while foreign authors show me what can be done with the English language, local writers show me what can be done with that selfsame language here, in this country, fused with our histories and sensibilities."
Luis was very much in the thick of ferment that this generation of writers was stirring, and so, when I decided to edit an anthology of works by these writers—I titled the book
Future Shock: An Anthology of Young Writers and New Literatures
—it was Luis I first emailed, asking him for advice although he didn't know me from Adam, and also to ask him if he could provide me with a list of young writers I could invite to write for the anthology. He sent in his story "Passengers," and that was how I got to meet Sarge Lacuesta, Adam David, Tara FT Sering, Daryll Delgado, Indira Endaya, Andrea Pasion, Katrina Tuvera, Baryon Tensor Posadas, Yvette Tan, Peter Mayshle, Romina Gonzales, Caroline S. Hau, and others. There was a time, indeed, when we were very young, and tempests had yet to stir and drive us all apart. The future was here, and it promised to be an electric shock, and it was bright—and its mayor was Luis Joaquin Katigbak.
* * *
At the very end of "Document," nestled deep in the middle of
Happy Endings
, the unnamed narrator ponders on the missives of a girl, a casual acquaintance who lives in the same complex where he makes his residence. She has taken to using his ancient word processor—apparently with his consent—to churn out essays and term papers for school and the occasional surprising pieces of fiction, saving all of them in one of the directories in his XT, complete with 8-character file names that used to be a source of our endless confoundments in those early digital days in the 1990s. Reading through them, he has begun, he thinks anyway, to get under her skin, to wonder whether all these words he is reading are enough to understand everything about her.
But are the stories we write really a testament to our lives?
The story our narrator stumbles upon in his computer is about a woman who finds herself slowly disappearing, fading away to nothingness—and it ends abruptly, and he thinks of the girl who authored it: "While reading it, I find myself wondering something that I suppose all friends of writers wonder: is this piece somehow autobiographical?" Then this: "If she were to disappear tomorrow, how long would it be before I forget about her? We have no official ties, not even memories of physical contact. No sweat, no saliva, no remembered tingle of skin. All we have are words, words that once flickered across a computer monitor, words spoken during midnight phone conversations, words shared while walking through streets and parks and shopping malls, words that formed comments, quotations, anecdotes, confessions and endless stories."
It ends right there, the story hanging like that, floating in the air before it came rushing back to me in a hiss of remembrance and perhaps recrimination.
There has been a death, which is just a type of disappearance.
How long would it be before forgetfulness sets in?
I closed the book quickly. I had been reading Luis' first book again in anticipation of reading Dear Distance—and the familiarity of the stories was washing over me, but this time around there was an extra bite to it. I began to feel the dilemma of over-reading. Every elegant turn of phrase that had some emotional import suddenly taking on a kind of testament of the man we had just lost.
The questions the narrator of "Document" asks—especially the inescapable element of autobiography of the things that we write—are a kind of invitation to this kind of reading. How much of
Happy Endings
is Luis? And
Dear Distance
? Because traces of him do come out: the science geekdom, the love of indie music, the love of indie films, a penchant for Haruki Murakami…
Dear Distance
begins with "Subterrania," one of my favorite stories by Luis, which won the Palanca for the (now defunct) Future Fiction category in 2001. In that story, we follow an unnamed narrator as he devotes time to visit a friend named Kaye who has become increasingly reclusive—reminiscent of the Japanese "hikikomori," people who have come to a reality of sheer detachment from the outside world, comfortable only in the cocoon of their rooms, entertained by the Internet, music streaming, DVDs, and computer games. Kaye calls this cocoon "subterrania," and the narrator gives us a picture of its many incarnations: "We found many small Subterranias. There was the underpass at Lawton, with its graffiti, its snack and cigarette vendors, its distinctive smell. The unfinished top floor of our old high school's Humanities building—we went up there once, during a reunion—it was a network of bare, unpainted classrooms, with metal rods and concrete blocks on the floor; that was Subterrania too, even though it was five stories up. And Kaye discovered one day, while waiting for a bus, that a crack in the wall, if you stay still and stare at it long enough, if you can somehow imagine yourself, feel yourself inside it, squeeze your mind into that space—that jagged gap can be Subterrania too."
Subterrania was escape—and always a fatal one.
The story asks difficult questions such as: what is it about the world that deadens us, that we are made comfortable with an early burial in our cocoons? It offers only the most vicarious pleasures, in television, in CD players, and their ilk. Kaye explains: "I love these things, these stories, these songs — because even the worst of them, in their own way, are perfect. Better than a life of uncertainty. They have beginnings and endings. I get the world distilled, you know, in its purer form. Even news stories on CNN have lifespans. They don't cover certain events forever. Everything begins and everything ends, and that's wonderful."
In "Silences," also from
Dear Distance
, "subterrania" is quietude. We read: "The silence of our grade school library is perhaps the silence that I miss the most. I recall afternoons spent mostly alone among the stacks of one-minute mysteries and illustrated books of rhyme. Dust-mote days, breathers between the noise of school and home, like blank spaces cradled between parentheses. I hold those silences lonely and precious and distant."
It is a melancholy theme that embraces much of
Dear Distance
, but we find beginnings of it even in Happy Endings. For the Luis of the early 2000s, sometimes "subterrania" is not a place but an in-between moment where we realize a whole universe of chance, of what-could-be, becomes immediately apparent, but is just immediately taken away from us. In "Renegade Eyeballs," the story that opens
Happy Endings
, the protagonist—a young college student living in a boarding house together with other strange characters, finds himself stuck in jeepney traffic in the rain, and in the doldrums of waiting everything out, realizes a minor but a most incriminating choice: "It occurred to me that I would probably get home faster if I got off the jeep and walked. After all, U.P. wasn't so far away, and I did have an umbrella. I thought about this for thirty minutes and then decided, well, hell, I've been here half an hour … might as well wait it out. It's never too hard to choose between action and inaction."
Inaction is often the choice to make for the characters in Luis' fictional world, but action itself is defined very much by a wish for escape. In
Happy Endings
, that escape is made manifest in the titular object in "Postcards," where a girl named Anna finds a way to travel to parallel worlds through a magical process of folding these postal items, leaving a humdrum reality behind to "taste of wild fruit on an unknown shore, listening to strange music in a floating concert all in the sky; riding a long-necked, multi-colored beast across a field of pleasant green." Sometimes escape means losing the memory of who one is. In "Birthdays," a guy suffers from amnesia and finds himself, sans wallet and identification, in a mall, where he tries to reconstruct who he could possibly be by analyzing the things he encounters—music, movies, etc.—that he responds to, imagining all sorts of possible lives he could be leading. His wallet is soon found, and inside it the final recourse to know who he really is—and then he makes a fateful decision.
The escapes
Happy Endings
offers are almost always escapes from the dullness of young lives being wasted on dispassion. In the title story, "Happy Endings"—the first in Luis' cycle of First Graphics stories—this means the eventual kowtowing that is done towards a demanding world of bills and ugly responsibilities. Its narrator muses: "I wonder about [everyone and our] little dreams and failures and snatches of happiness. I think about all of us, speeding or lurching or trudging towards our individual endings, catching glimpses of them now and then, planning for the future, wishing, hoping, never really knowing for sure whether our endings will be happy or tragic."
These tragedies are often small but comes with a wallop of existential consequences—and sometimes they come in the shape of timid inaction, of missed chances, of unfortunate miscommunication or misreading. For Luis, these are gaping distances between you and me—and nobody really connects.
In "Away," another one of Luis's First Graphics stories, a girl in an advertising firm, has a crush on a colleague, someone who seems to like her—but she brushes off these signs, convinced they would lead to nowhere, until she decides it wouldn't hurt to find out if there was some reciprocation. And then something happens.
"The Rain, Rachel, and a Wednesday Afternoon" is about a boy thinking about the girl who got away, and the random encounters and the drudgery of living that happen after.
In "Kara's Place," a girl commiserates about living in a ratty boarding house—but she is comforted from that reality by a former high school classmate who constantly visits her. The kindness she returns for this attention is mistaken for a permission to be carnal—and she rebuffs his kiss, wanting only to be alone, even if being alone meant just having the company of the boarding house's plentiful rats. The story ends with her on the verge of a sad insight: "And outside, there's the constant roar of the rain, as if the sky itself is laughing at some great joke that I just don't get."
The denial of love, for Luis, is our greatest tragedy, and the stories in
Happy Endings
that explore this are the ironic and opposite showcases of the book's titular promise. When love is not denied, however, the endings become truly happy, as in the high school romance unfolding over a science fair project in "What the World is Waiting For," or the sweet anarchy of "The End," another First Graphics story, where the narrator discovers he has been appointed herald of the apocalypse. The world, he is told by alien voices, is ending in seven days—and he goes about the rest of the week struggling through the regular routine of his days, and allows himself to fall in love. When he asks the alien voices what this all meant, he is told: "Far be it for me to fathom the mysterious ways of the higher power, but, in my opinion—well, I guess it was a test, of sorts. And if it was, you did well. You did a lot more than most people could have. You tried to warn as many people as you could. You didn't despair. You laughed quite a bit. You got drunk. Fell in love."
I've seen Luis fall head over heels in love, twice.
* * *
We called ourselves the Kumags—after novelist Alain Derain's literary creatures—because the idea of it to define us seemed utterly insidious, and on the whole, wishfully deflective.
Kumag
, after all, is Tagalog that means a "fool," a "loser" even. But beyond the word's street usage, it also means the fine powder that clings to the grains of polished rice, or perhaps, and even more insidiously, the tiny insects in our lives—you might call them mites—that are barely visible but can nevertheless make their presence be felt with the havoc of the rashes they provoke.
We needed to be "kumags," because we had just been told that we were the most behaved batch of workshoppers in the University of the Philippines National Writers Workshop. This was in 2008, and we were in Baguio. "We," of course, is a bunch of writers that included Luis, Rica Bolipata Santos, Frank Cimatu, Mookie Katigbak Lacuesta, Vincenz Serrano, Tara FT Sering, Jun Lana, Nicholas Pichay, Abdon Balde, Roberto Anonuevo, Alain of course, and I—and we then proceeded to get drunk not just on words. We raided a convenience store near Camp John Hay for its alcohol, and tried our best to be wild.
"We are lightning!" Luis roared.
"We are
kumags
!" Tara exclaimed.
We were very, very proper in our version of wildness.
There are still pictures of us in Facebook—Luis, Vincenz, Jun, and I—dancing to the music of our tipsiness. We were dressed to the nines.
* * *
In the stories of Luis Joaquin Katigbak, people yearn for connection in the disconnection—although sometimes they don't know it, or perhaps deny it. And sometimes, when the chance for connection does come, rejection is the answer that greets it. We've seen this theme in inchoate incarnations in
Happy Endings
; in
Dear Distance
, we find its ultimate deepening.
The character of Kaye in "Subterrania," of course, is the very illustration of this disconnect, a cipher of a girl that is typical of the many girls that populate Luis's stories. "More Than I Ever Wanted Anything" follows up on that theme, and ropes in the element of remembrance in this story of disconnection, about a very talented girl who burns out fast, and sinks deeper into a kind of invisibility—shades of "Document"—by not showing at all for anything. The story muses: "Somebody once said that ninety percent of life is just showing up. That makes me wonder what happens when you decide to stop showing up." But what for? Even the crutch of nostalgia doesn't help: "Nostalgia and a vague sense that things could have or should have turned out differently are not the best things to steer one's life or thoughts by."
In "Passengers," we find a great articulation of the world, which has disappointed the many personas in Luis' stories. Kaye in "Subterrania" knew this, and the narrator of "Passengers" echo it—that perhaps the only good thing about this world is its canned stories—in movies, in music, in books, in computer games: the manufactured truer than the real. Again, like in "Postcards," the characters in this story thinks of the multiverse as a dream of getting away from here. And yet, the final realization: "But what does it matter? Maybe that's all we're meant to do, enjoy the trip while it lasts. Maybe luck or faith are the only things that keep us from delays, transfers, fatal crashes."
In "Little Fears," also reminiscent of "Postcards," "Subterrania," and "Documents," our narrator longs for escape from the ugly city he lives in. He intones: "I live in a city crammed with too many bodies," and the wish is refuge from all these shifty bodies—but a refuge that never ultimately comes: "I find myself looking everywhere in this ugly city for little fragments of temporary sanctuary: sunlight streaming through a bit of glass; a tree, not blackened or stunted, spread against the sky. They never last. I never stop looking."
In "Day Devoid," Ada accompanies her erstwhile boyfriend Miko in buying a gift for his ex—a cellphone. The unexplained purchase underlines the disconnection between them: they just is. Later, the ex-girlfriend, frazzled and angry, seeks them out to return the gift, shattered to pieces in its cheap little box.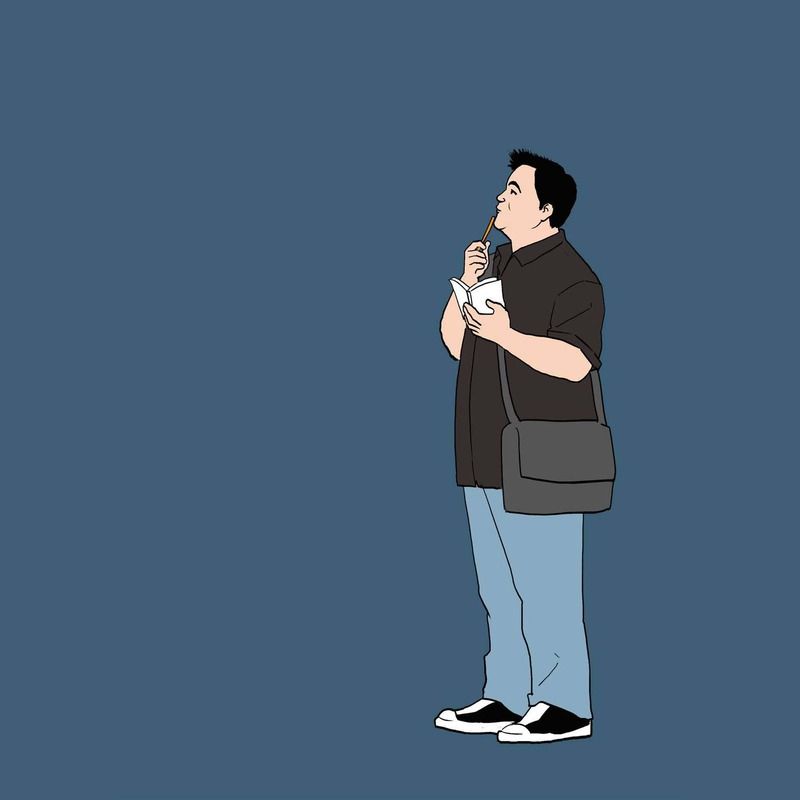 Sometimes, connection is promised with the fulfillment of a fantasy to be with another person—but the fantasy often remains just that: a fantasy. Or worse: a disappointing embodiment of that fantasy. In "It's Not Me," a girl named Nema believes firmly that she has a long, lost twin. It is more or less just terrible wishful thinking.
In "Visitors," a beautifully vague flash fiction piece about aliens manifesting as ethereal images of the best of ourselves (and often the best of our remembrances), the narrator is gifted by them with the embodiment of a girl he secretly misses. But their reunion is all too brief, and in the end it is unconsummated even by mere conversation: "I stared at her and she stared back and I could not speak. I lost all sense of who I was. There was only an indefinable world-sized emotion balanced on the line of our gaze. And then the moment faded and I returned to the familiar weight and limitation of myself."
In "Tell Me Do, Something True," we do get a clue to what could fill this deadening distance, and it comes bundled in this question: "… [I]n a world of sullied wonder, what would be worth losing your heart to[?]" What indeed?
In "Robot Boy and Hepa," the answer lies in the recovery of abandoned passions. Here a suicidal boy gets visited by imaginary friends from his childhood, and he is forced to take stock of his life. Remember your old passions before real life took over, he is told. They are his salvation.
In the final story, "Dear Distance," however, the fulfillment of that distance may just as simple as an acceptance that distance exist—and must exist, because in the final analysis, it is still very much a part of living. We read this admonition in the end: "Whether you are too young and I am inexcusably older or vice versa, there will always be things we have in common, and things we will never understand about each other. In the end, distances and surfaces are all we can ever be sure of, and this is no sad thing. In a world that has accelerated almost beyond recognition, it may be the only comforting thought of which I am capable."
The title piece, set in a near future where humans give themselves genetic enhancements to stand out from the crowd, is very much a good summing up of all Luis's themes. It makes us realize that Luis's stories come off as ruminations, of the deep philosophical sort—these stories in search of big answers, using the guise of fiction to get at the glimpse of what life is all about.
* * *
Things I will miss about Luis now that he is gone.
1. His obsession over fonts.
2. His love for hamsters.
3. His kindness.
4. The stories he had yet to tell.
Perhaps one of the most chilling stories Luis has ever written—especially if you are, like a him, a writer—is "Tell the Sky" from
Dear Distance
. In this magnificent fantasy piece, our protagonist gets a surprising advice from a fortune-teller who mysteriously tells him: "You have eight stories … Use them well."
He then spends the rest of his life doling out, piece by piece, this finite number of narratives—sometimes wasting them away, sometimes forgetting the import of their telling, and finally realizes the truth about writers and writing: "There are stories inside everyone, of course, some are like caged birds of varying hues, some like ripe slimy pods ready to burst at a touch. Most people have no idea how many they contain. Some people think they have limitless tales, when really, they recount the same one over and over with insipid variations… No one ever notices. Some people actually do have a large and wonderful variety of stories within them, and whenever one is released, it sparkles and dazzles and hangs in the air for a slow moment, like a December-sky firework."
And I couldn't help but ask myself: Did Luis know? Did he know he would die young, and as such, was he racing to complete the stories he felt he needed to tell before passing on?
Perhaps. Yet I cannot help but think of the possibilities of the stories he is now unable to tell.
I can no longer look forward to the First Graphics novel he kept promising he'd finish.
I can no longer look forward to him editing and coming out with this quirky anthology of essays about things—music, movies, books—that do not actually exist.
I can no longer look forward to future collaborations on stories.
In the last few months before he succumbed to that final stroke, our missives to each other floated around editorial reminders of deadlines to be beaten—and the occasional musings about typefaces and hamsters. I check out our last messages to each other in Facebook, and I come across this chat from 4 October 2015.
"Hello Ian! I hope all is well with you," Luis began, a smile emoticon immediately following, the rest of the message telling me that he was professional to the very end. "I must apologize for taking forever to get back to you regarding your story. I liked it right away, of course, and was determined to feature it in
Esquire
's annual fiction issue. Unfortunately said issue was delayed and delayed, while my health worsened and worsened. Long story short, due to my deteriorated capacities, I can no longer continue working on the magazine, and the next issue will be my last. Sarge is still on board though, and we still want to run the stories we've gathered, though whether individually or in a Fiction issue (which I wound have preferred) remains to be seen. Again, my apologies for these unfortunate circumstances… It is an excellent story." "Are you okay?" I asked him.
"Not really, not for a long time now. Every day is difficult for me to get through. I can't leave my apartment. I can barely walk, and on particularly bad days, I can barely see. I'm working with a doctor though to get better. Luckily she makes house calls."
"Oh no. I'm sorry, I had no idea!"
"No worries, Ian."
"
Magpagaling ka
. And thanks for telling me."
"I'm just glad I finished my book," Luis wrote. "It took forever."
"Yes! Finally!" I replied.
"Thanks, Ian."
"
Happy Endings
was seminal for me. It was the first story collection by somebody from my generation that I read—and it was one of those things that made me want to become a writer."
"I'm so happy to know that! Glad I played some little part in your becoming [a] writer. Thank you."
"And that cover was a killer."
"I had the gall to put my face on the cover of my own book, haha! Well, half my face anyway."
* * *
On January 26th, I wrote him again, hoping for one last chat: "How are you?" I typed.
What did I expect?
He never replied.
Luis will be missed.
Art by Arnold Arre
Labels: books, life, memories, people, philippine literature, review, writers, writing
[0] This is Where You Bite the Sandwich
---