Sunday, March 18, 2007
9:42 AM | What Cripples Filipino Cinema (and a Goodbye to the 'Temptation Island' Man)
What ails the Filipino national cinema is
not
piracy -- although that is part of the problem.
It is the lack of appreciation for our film heritage.
How does a national cinema progress and make a decisive mark on a people if it is mostly an ephemeral phenomenon, a flickering light show that one watches for only two hours in a darkened movie theater, which then mostly disappears from the rest our lives? If film immortality and progress must be marked, memory becomes vital. The French, the British, and the Americans must have known this, because most have made sure their film heritage will not go the way of vinegary nitrate and gooey celluloid by
(1)
undertaking the hardy task of film preservation,
(2)
propagating a strong sense of heritage through film studies, and producing books upon countless books exploring old [and new] directors, film genres and styles, movie stars, criticism, and many others, and
(3)
making old titles available for sale or rent so that every generation of filmgoers will know not only their contemporary moviemakers but the old guards as well.
In all three considerations, Philippine cinema
largely
falls flat on its face.
And we complain why our industry is dying a slow but sure death.
I remember the National Artist for Film
Eddie Romero
once lamenting during a talk in his (and my) alma mater Silliman University that most of our films produced before the 1950s have all vanished, have turned to mulch. That's more than 50 years of heritage lost forever. (
The writer Ed Cabagnot gives a talk about this once in a while.
) Today, we can only hear and read about Manuel Conde's
Juan Tamad Goes to Congress
(1960), but we will never get to see an inch of the film because it's irrevocably lost. The late Fernando Poe Jr. seemed to be the only person in the whole country who had the foresight to fight film degeneration. Today, the only good print of Romero's
Aguila
can be found in the Poe archives. (Then again, the film starred him.)
Where is Philippine Film Studies? Sure, the University of the Philippines offers this, but the rest of the country's academic community still does not seem to consider it vital to tackle this significant part of our culture. There are film books here and there being published by some of the top presses (most notably by Rolando Tolentino, Nick Deocampo, Nicanor Tiongson, Mario Bautista, Ricky Lee, and Bienvenido Lumbera), but nothing much to make for a considerable avalanche of interest.
Then, of course, we come to availability. Today, it is so much easier for any Filipino to go to any video store (or pirate stall) and get a full set of the films of Akira Kurosawa, Ingmar Bergman, Martin Scorsese, Charlie Chaplin, or Francois Truffaut. But to get the complete Lino Brocka? Ishmael Bernal? Lamberto Avellana? Mike de Leon? Eddie Romero? Peque Gallaga? Marilou Diaz-Abaya? Gerry de Leon? They are largely absent. (And for a few titles that do come to light, one sees film stock bearing the marks of eventual degradation. Even films released as early as the 1980s have colors slowly turning to rust-red. The old black and white films being shown in ABC 5 and Cinema One are shadowy and murky, the soundtrack miserable.) A few weeks ago, an Italian movie critic who was finishing a landmark book of international horror cinema, emailed me that he wanted to include several iconic Filipino films, one of which was the first
Shake, Rattle, and Roll
, produced by Regal and directed by Gallaga, Bernal, and Emmanuel Borlaza. He told horror stories about being passed on to this and that contact, who would further pass him on to other contacts. In the end, he became frustrated. Not even Regal Films could help him. He simply could not get a copy of the film.
And this was a film released in
1984
.
I'm writing this because I just learned that director
Joey Gosiengfiao has recently died
(read the breaking story
here
), and I very much want to honor the director by watching some of his "masterpieces." Gosiengfiao, after all, preceded (or at least paralleled) the campiness and the biting (and humorous) social commentary of Pedro Almodovar and Francois Ozon. If I must have copies of
only
three pre-1990s Filipino films, I will include in this unforgivably
short
list Gallaga's
Oro Plata Mata
(1982), Abaya's
Moral
(1982), and Gosiengfiao's
Temptation Island
(1981).
(What?
No Romero, Avellana, Brocka, Bernal, Mario O'Hara, or even an Eddie Garcia?
Yes.
)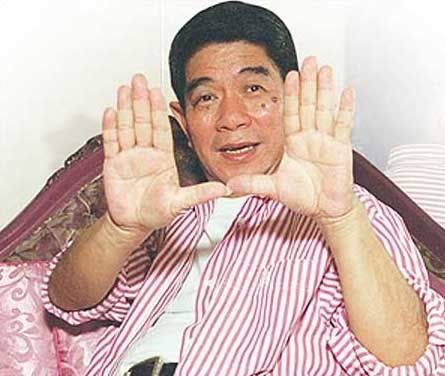 (

In photo:

Director Joey mugging for the camera, and the shipwrecked scene in
Temptation Island
)
The movie may be "bad," however you may define the term, but
Temptation Island
has become a surprise icon of Philippine cinema, embodying all elements of camp and transcending its tacky filmmaking to become, without doubt, one of the best Filipino films ever made. (Ogg's Movie Thoughts has a thoughtful review of
Temptation Island
here
.)
And the dialogue! Who makes dialogue (credited to screenwriter
Toto Belano
) like that these days?
Suzanne:

(to

Maria

, the maid who's applying lotion) Careful! Careful now!

Huwag mong masyadong idiin at baka masira ang

beauty

ng

complexion

ko

.

Alam mo naman, ang hirap hirap ma

-achieve

ang

golden tan!

~



Suzanne:

(after bumping Bambi on purpose) Sorry

ha, di kita napansin.





Bambi:

Bakit? Nalula ka ba sa aking

towering height? It must be your failing eyesight.



Suzanne:

Excuse me! 20-20

yata ang

vision

ko

!



Bambi:

Ay

sorry

ha

, I thought it is your bustline. So it must have been my fault after all, bitch!



Suzanne:

Double bitch!



Joshua

(the flamboyant gay organizer)

:

Rub-a-dub-dub, two bitches in a tub!

~



Azenith:

(trying to seduce Alfie Anido upon their first meeting) I'm a crook, a damn good crook, and I can tell by your big brown eyes that you're a crook, too!

~

Bambi is whining about missing her mother.



Suzanne:

I have no time for middle-class sentiments!

~

Joshua is whining about how difficult it is to build a grass hut.



Suzanne:

I have no carpenter complex so I don't know what you are talking about.

~

Suzanne is bitching to Azenith whom she caught sleeping with the waiter.



Azenith:

Nanganganib na nga buhay natin, pa

-bitch-bitch

ka pa diyan!





Suzanne:

What are bitches for, but to bitch around their fellow bitches!

~



Ricky:

Hindi tayo makakahuli ng isda ng ganito! Kailangan ng isang mistulang lambat!





Maria:

Bakit di na lang natin gamitin ang panty natin?





Suzanne:

Hoy, Maria! Huwag ka ngang boba! Gamitin mo ang panty mo kung gusto mo!





Maria:

Eh, ma'am, mas maraming panty mas maraming isda!





Suzanne:

Gaga! Gamitin nyo na ang mga panty nyo,

but my panty stays right where it is!

~



Suzanne:

Ang sabihin mo, mahilig ka lang talaga sa mga

laborers, those poor proletariat, indigent men.

~



Azenith:

(looking into the man's eyes)

Alam ko ang iniisip mo.





She kisses him.





Azenith:

Tama ba?



~



Azenith:

(supposedly weak from hunger and thirst)

Ang sabi nila, ang pag-ibig ay pagkain din... Halika, mahalin mo ako...



~

Everyone is desperately hungry and weak since they have not eaten in days.



Azenith:

Wala tayong pagkain, wala ding tubig, bakit di na lang tyo mag sayawan?



And so they dance, Bambi slaps Suzanne, and they end up in a catfight that Maria and Dina try to stop. Azenith just keeps on dancing right smack in the middle.

~

Everyone is seriously praying while eating the barbecued flesh of the deceased gay organizer Joshua so they can survive.



Azenith:

Kumanta kaya tayo para mas madali natin malunok?



And so they sing Barbra Streisand's "Somewhere." Even the boys sing along.
All these remind me of the dark, queer humor of Tennessee Williams, whom Gosiengfiao identified with. (He said so himself.) The cannibalization of the gay organizer Joshua at the end of the film is a send-up of Williams' own
Suddenly, Last Summer
,
the 1959 film version
of which starred Elizabeth Taylor, Katharine Hepburn, and Montgomery Clift -- and ended with the now infamous shot of the gay poet/predator Sebastian Venable (whose face we do not see at all) being eaten by island boys.
Eternal thanks to
SleepyHead29
for uploading these immortal lines in his LiveJournal, and for posting this collage of scenes from the movie...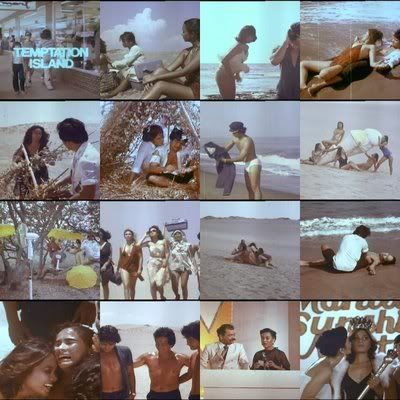 There seems to be
a video for sale
somewhere. It's sometimes on cable, but I can't seem to catch it. I can't seem to find any copy in
any
video store either. And it stars a virginal Dina Bonnevie and the late matinee idol
Alfie Anido
,
for God's sake!
[the director's photo was swiped from the
Inquirer
website, while the film still photo is courtesy of
ogg
and the collage from
sari-saring sineng pinoy
]
Labels: camp, criticism, directors, film, history
[0] This is Where You Bite the Sandwich
---