Monday, September 06, 2010
11:09 AM | Three Days of Cinema That Will Make You Cringe, Laugh, Think.
The Silliman University Cultural Affairs Committee, in cooperation with the College of Mass Communication, brings you three days of contemporary Filipino cinema's most dazzling voices in the
Active Vista Film Festival
, set to begin on September 7. The film festival showcases the controversial Cannes Film Festival award-winner, Brillante Mendoza's Kinatay as the opening film, to be followed by Lino Brocka's classic "immorality tale" Insiang (also a Cannes Film Festival favorite) on September 8, and Veronica Velasco's Last Supper No. 3, the Best Picture winner of the 2009 Cinemalaya Film Festival.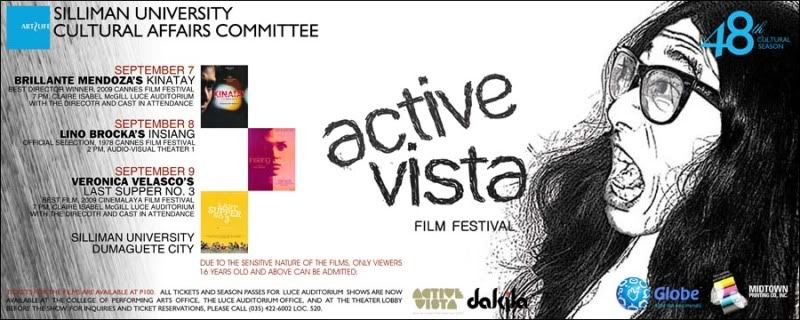 All films, except for
Insiang
, will have screenings at the Luce Auditorium at 7 PM. The Brocka film will screen at the Audio-Visual Theater 1 of the Multimedia Center at 2 PM of September 8. A program of short films -- ANC and Storyline's omnibus
AmBisyon 2010
by such directors as Ditsi Carolino, Emmanuel Dela Cruz, Kiri Dalena, Henry Frejas, Jeffrey Jeturian, Jade Castro, Jim Libiran, Erik Matti, Brillante Mendoza, Ellen Ramos, John Red, Raymond Red, Jerrold Tarog, John Torres, and Paolo Villaluna -- will also be screened.
The
Active Vista Film Festival
is organized by DAKILA: Philippine Collective for Modern Heroism. It is an avenue to promote a vision of society that respects, upholds and values the dignity, rights and freedom of its people.
The
Active Vista Film Festival
challenges to define a spectrum in the use of cinema as a powerful tool in shaping the consciousness of a new generation into the importance of knowing and understanding human rights as an integral foundation of responsible citizenship and nation building.
Active Vista encourages critical thinking and dynamism in views as fundamental requirements in addressing methods and directions of social transformation. It allows an opportunity to debate, discuss and shape society as we arrive at a collective understanding of human rights as the backbone of the development of our nation.
While Active Vista recognizes that no film, no song, no painting, no novel or no poem has ever stopped a tank, prevented a bullet, fed a hungry child or overthrown a corrupt government, the power of every art form cannot be rivaled. While art may not change the world, it can change the way we view the world. True revolution begins in the imagination.
The
Active Vista Film Festival
is not your ordinary film festival. It presents a dynamic vision that empowers its public towards relevant social change.
SCREENING SCHEDULE:
SEPTEMBER 7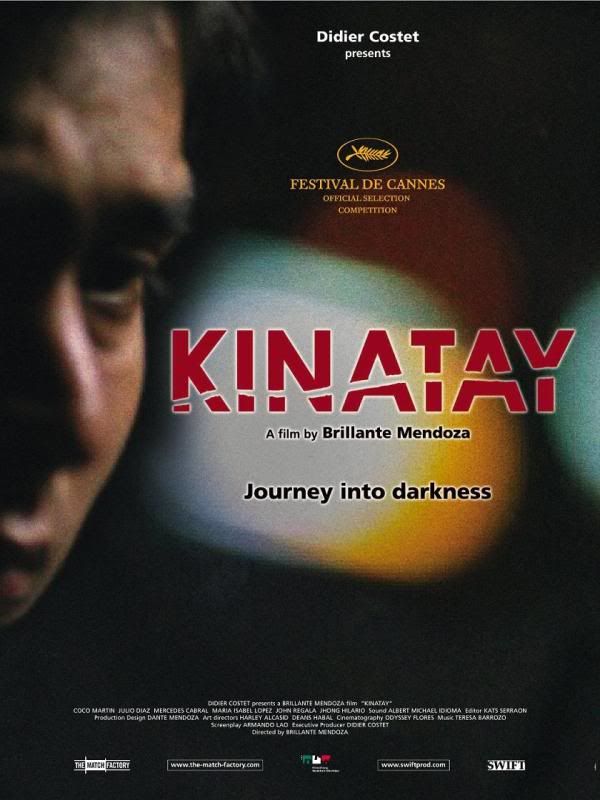 Kinatay
by Brillante Mendoza
7 PM
Claire Isabel McGill Luce Auditorium
Mr. Mendoza and some of the cast will be in attendance to present the film.
A young cop descends into Manila's dark underworld as he accompanies rogue colleagues in a harrowing night that involves butchering a prostitute who has crossed her drug lords.
"I understand the hatred for the film (when it premiered in Cannes where notwithstanding Mendoza's winning the Best Director prize, the film was met with harsh critical receptionc) but I don't necessarily subscribe to it. In Mendoza's quest to depict reality, he tramples upon established concepts of what it is to be human. He relentlessly maps the transition of man to monster, and given the straight-line matter-of-factly process that the film explores, the transition is as easy and automatic as night turning into day. Unlike in Mendoza's other films where poverty is a blatant motivation and a nagging visual motif, in Kinatay, while we know that Peping is poor, poverty remains a subtle omnipresent force. What is explored in the film is not how poverty destroys us, but how humanity is too fragile, that by a mere twist of fate where we succumb to merely surviving notwithstanding the repercussions of our minor and major delinquencies, we are forced to relax it and inevitably decide to lose it." (From Francis Cruz's
Lessons From the School of Inattention
)
SEPTEMBER 8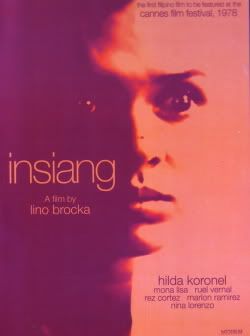 Insiang
by Lino Brocka
2 PM
Audio-Visual Theater 1, Multimedia Center
This classic from the late National Artist for Film is a tragedy involving an abusive mother, her predatory lover, and her innocent daughter -- who is slowly losing her innocence in the teaming poverty of Manila's slums.
"The first Filipino picture to show at Cannes, Insiang enjoyed a warm reception, and Positif's Alain Garsault wrote a three-page review that attempted to preempt the dismissal of the film as exotica or art naïf by expounding on the film's leitmotifs, noting the director's skillful appropriation of melodrama and Greek tragedy. Brocka's work continued to be well received by French cinéphiles in the years that followed but in the U.S. had no such luck. Only with
Macho Dancer
(1988) did he find a sizeable American audience. Even then the appraisal of his artistry continued to be marred by two persistent factors: a curious disdain among American critics for his melodramatic predilections; and the faulty (and contradictory) premise that his work aspires toward either neorealism or cinéma vérité.
Insiang
demonstrates that Brocka's handling of melodrama is nothing short of virtuoso and that the trappings of documentary, neorealism, and Third World exotica only obscure more fundamental affinities to the Hollywood pictures that Brocka saw as a youth in the former American colony and regarded as a formative influence on his cinematic sensibility." (From José B. Capino's
The Damned
in the Film Society of the Lincoln Center website)
SEPTEMBER 9
Last Supper No. 3
by Veronica Velasco
7 PM
Claire Isabel McGill Luce Auditorium
Ms. Velasco and some of the cast will be in attendance to present the film.
A furious comedy based on a true story, it tells the unbelievable story of a gay man who works in advertising, who finds himself in an increasingly Kafka-esque legal battle involving the loss of a Last Supper and various other crimes.
"This is Velasco's outstanding feat. She decides to expose a rotten system through humor yet instead of completely fabricating the story, she allows the case to speak for itself, making the absurdity several notches more alarming. In an inspired decision, she made use (surprisingly with the permission of the Supreme Court) of Manila's Hall of Justice, a building ripe for condemnation that houses the fiscal's offices and trial courts that service an ever-expanding population. The architecture of the building, several floors (connected by stairs because the elevator is usually out of service) of spaces that encircle a useless and unkempt courtyard, further emphasize the system that has been rendered inutile by red tape and bureaucratic complications. Thus,
Last Supper No. 3
is funny not only because it centers on a man who was showered with a downpour of misfortune but also because we know it is very real, and the only plausible thing we can do about it is laugh." (From Francis Cruz's
Lessons From the School of Inattention
)

Due to the sensitive nature of the films, only viewers aged 16 years old and above can be admitted.

TICKETS ARE AVAILABLE AT P100.
Labels: art and culture, cultural affairs committee, directors, dumaguete, festivals, film, negros, silliman
[0] This is Where You Bite the Sandwich
---